Official Name:
United Republic of Tanzania, formerly United Republic of Tanganyika and Zanzibar
Alternate Names:
Tanzania
Former Names:
United Republic of Tanganyika and Zanzibar
Capital City:
Dodoma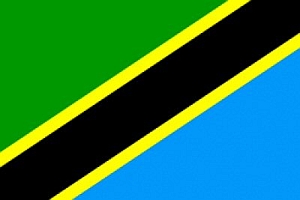 This flag can be purchased
at AfricaImports.com
Flag:
Divided diagonally by a yellow-edged black band from the lower hoist-side corner; the upper triangle (hoist side) is green and the lower triangle is blue
Date of Independence:
April 26,1964 (National Day); Tanganyika became independent December 9, 1961 from a UK-administered UN trusteeship; Zanzibar became independent December 19, 1963 (from UK); Tanganyika united with Zanzibar April 26, 1964 to form the United Republic of Tanganyika and Zanzibar; renamed United Republic of Tanzania October 29, 1964
National Anthem:
Mungu Ibariki Afrika (God Bless Africa)
Population:
35 million
Size/Area:
365,000 sq miles (including the islands of Mafia, Pemba and Zanzibar) — about twice the size of California
Land Locked:
No
Coastline:
1,424 km
Bordering Countries:
Kenya, Uganda, Democratic Republic of the Congo (Zaire), Rwanda, Burundi, Zambia, Malawi and Mozambique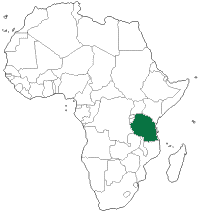 Administrative Divisions:
25 regions; Arusha, Dar es Salaam, Dodoma, Iringa, Kagera, Kigoma, Kilimanjaro, Lindi, Mara, Mbeya, Morogoro, Mtwara, Mwanza, Pemba North, Pemba South, Pwani, Rukwa, Ruvuma, Shinyanga, Singida, Tabora, Tanga, Zanzibar Central/South, Zanzibar North, Zanzibar Urban/West
Major Cities:
Dar es Salaam, Mbeya, Morogoro, Mwanza, Zanzibar
Languages:
Swahili (official) and English; some Arabic is also spoken in Zanzibar
Religions:
Mainland - Christian 45%, Muslim 35%, indigenous beliefs 20%; Zanzibar — more than 99% Muslim
Major Holidays:
Saba Saba Day
, July 7. Also called Peasants' Day.
Union Day
, April 26. Commemorates the unification of Zanzibar and Tanganyika in 1964.
Naming Day
, October 29. The United Republic of Tanganyika and Zanzibar officially changed its name to the United Republic of Tanzania on October 29, 1964.
Independence Day
, December 9.
Heroes' Day
, September 1. Dedicated to the heroes who defended the nation against colonization, and the Tanzania Defense Force.
Sultan's Birthday
, August 26. Observed in Zanzibar.
Zanzibar Revolution Day
, January 12.
Chama Cha Mapinduzi Day
, February 5. Birthday of Chama Cha Mapinduzi.
Good Friday
,
Easter Monday
,
Labor Day
(May 1),
Christmas
,
Mouloud
,
Id al-Fitr
,
Id al-Hajj
(Id al-Adha).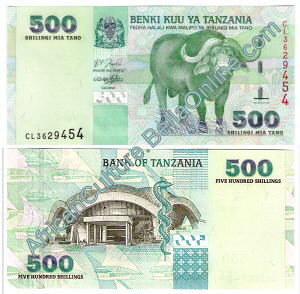 Currency:
Tanzanian Shillings
Currency Code:
TZS
Highest Point:
Mount Kilimanjaro at 5,895 meters above sea-level
Lowest Point:
Indian Ocean, 0 m
Bordering Bodies of Water:
Indian Ocean and Lake Nyasa
Bodies of Water:
Lake Victoria, Lake Tanganyika
Climate:
Varies from tropical along coast to temperate in highlands. The rainy seasons are from November to early January and from March to May.
Major Industries:
Agricultural processing (sugar, beer, cigarettes, sisal twine), diamond and gold mining, oil refining, shoes, cement, textiles, wood products, fertilizer, salt
Major Agricultural Products:
Coffee, sisal, tea, cotton, pyrethrum (insecticide made from chrysanthemums), cashew nuts, tobacco, cloves, corn, wheat, cassava (tapioca), bananas, fruits, vegetables; cattle, sheep, goats
Natural Resources:
Hydropower, tin, phosphates, iron ore, coal, diamonds, gemstones, gold, natural gas, nickel
Native Animals:
Lion, giraffe, hippopotamus, elephant, colobus monkeys, wildebeest, zebra, rhinos, cape buffaloes, leopards, jackals, hyenas, baboons, vervet monkeys, impalas

Tribes of Africa eBook
This eBook is the most complete listing of African tribes available on the internet. The first section of this book is the tribes sorted alphabetically by country. The second section is the tribes sorted alphabetically by tribe name.
This site needs an editor - click to learn more!

You Should Also Read:
Rough Guide to Music of Kenya / Tanzania - Review
Tribes of Africa from Reunion through Zimbabwe
Tribes of Africa eBook




Related Articles
Editor's Picks Articles
Top Ten Articles
Previous Features
Site Map





Content copyright © 2021 by Jeanne Egbosiuba Ukwendu. All rights reserved.
This content was written by Jeanne Egbosiuba Ukwendu. If you wish to use this content in any manner, you need written permission. Contact BellaOnline Administration for details.