Parenting a Defiant Teen?
Five years ago, Abby Lederman lived in what felt like a nightmare of crises: her youngest child had been diagnosed with ODD (Oppositional Defiant Disorder) and her family was at a breaking point. Yet six-months later her child had blossomed into (as she now puts it) a "cooperative, wise and loving adolescent." How did she help her child do that?
Not only has she found a way to turn her family's situation around, she now has published her experience in a book for parents. Abby took some time to share her path in an interview, and I thank her.
* * *
C.S.: Please tell us a little about yourself.
ABBY: I often thank my 20-year-old daughter for being what is loosely termed a "challenging" adolescent. If it weren't for her early, vehement rebellion and strong will, I never would have met Dr. Jeff Kaplan, become a convert to his "Love-Based Parenting" approach to relating to teens, or found my true vocation and avocation - helping other parents develop fulfilling, loving relationships with their adolescents.
C.S.: You have co-authored a book, Finding the Path: A Novel for Parents of Teenagers, with Dr. Jeff Kaplan. Yet it is really a novel. How did that come about?
ABBY: Since I am a journalist and public relations specialist by trade, I approached Jeff about writing a book together. He agreed, and we spent several years conceptualizing, writing, rewriting and editing before we published
FINDING THE PATH
in December 2002.
From the first day we sat down to write, Jeff and I had one goal in mind -- to make Love-Based Parenting available to as wide an audience as possible. We eventually came up with the idea of writing an easy-to-read novel so parents wouldn't have to wade through pages of uninteresting text to learn techniques, but could experience them through the trials and tribulations of an ordinary parent. We added endnotes and appendices to clarify points made within the text. The idea really caught on. We sold out of our first edition by shipping large quantities to adult education programs, new age bookstores, and to court systems that mandated parents of incarcerated teens read it. By creating our own publishing company, we were able to assure the quality of the final product, convert the book to an e-book, and retain all rights.
C.S.: You have a website to help parents. Please tell us about it and what its purpose is. Why did you create it?
ABBY: We actually have a number of websites! www.ParentingTeensToday.com is
our main one. Having a web presence is another way we disseminate information to parents of teens. Because our e-book can be downloaded and read immediately, twice as many readers choose that option, rather than waiting for the paperback to ship and that would be impossible without a website and web commerce.
Also, there is an amazing amount of free information available through our autoresponders. An autoresponder is an email message that is sent automatically to anyone who opts into our website. We have autoresponders that send mini-articles about teen dating, curfew, talking to teens, anorexia, and many other topics we briefly touch on in the book.
We also offer free teleclasses through our websites on topics like school underachievement, summer trouble, and stress relief for parents of teens. Our paid teleclass series take place 4-5 times a year and are gaining in popularity among parents who don't have time to take a face-to-face class. I really love having a website, and I try to answer every question parents send in, either through direct email or by adding an article to one of our autoresponders. There will never be a lack of topics to write about, I'll tell you that.
C.S.: What do you feel is one of the most important things a parent can do for a teen?
ABBY: The most important thing you can do to help your teens is to love them unconditionally despite their rudeness, lack of motivation, nastiness and uncanny ability to push your buttons. However, as I discovered with my own difficult child, love isn't enough if you don't have good parenting skills adapted to the teen population.
Many loving parents make the mistake of assuming what worked when their children were young will work with adolescents. It doesn't. Giving up the power to punish and letting teens make their own mistakes is one of the hardest things a parent of a teen has to learn.
I had several mantras which I kept saying to myself during the most trying days with my own teens. "It's not my problem, let it go" (stay out of power struggles over homework, time issues, cleaning their rooms, what they choose to wear), "I'm the adult" (I don't need to get even or have the last word, I gain power when I walk away from a power struggle), "It's the relationship that counts" (create a win-win situation by negotiating rather than demanding), "Listen without judgment" (get into the world of a teen, what must it be like to be your teen?)
C.S..: What mistake do you feel most parents make in relating or communicating with their adolescent?
ABBY: Parents are still living an illusion that they are in charge. During adolescence, teens have a job to do, and that is to break away from their parents. Because they don't understand this basic phenomenon, parents set unrealistic goals and limits for their independence-seeking adolescents.
Power struggles, defiance, all sorts of anti-social behaviors result. A more democratic approach to making decisions, setting limits and consequences, and running a household is always a less stressful way to go and sets teens up for adulthood where they are making all the decisions.
C.S.: You have done so much to help parents, with your free autoresponders, a website full of articles, and even your book. But now you have created something more: "Love-A-Teen Day." Please explain what that is and what brought about Love-A-Teen Day?
ABBY: Jeff and I are huge advocates for teens. Jeff has personally worked with thousands of teens in all sorts of different settings, from schools to correctional facilities to private homes. He says he's never met a teen he didn't like, and I believe him. My experience is on a much smaller scale, of course, but as a Quaker I am naturally a believer in innate goodness.
What always shocks us is to go into schools or homes or therapeutic situations and find adults who, through unfortunate personal experience or downright prejudice, don't like teens and have no use for them. AND THESE ARE ADULTS WHO ARE AROUND TEENS EVERY DAY! I find it ludicrous that anyone would discriminate against teens, since being a teen isn't a choice. It is a phase of life we all go through.
With a group of like-minded educators, parents and medical professionals, this past fall Jeff and I decided to found Love-A-Teen Day to honor teens in their struggles to become adult, and when we learned April 20, 2004 is the fifth anniversary of the Columbine High School shootings, we set that date as our kick-off point. If ever there was a time to present the media and the American
public with something positive about adolescence, it is now.
C.S.: I love your phrase, "Being a teen isn't a choice -- it is a phase of life we all go through." Certainly what you are working towards is important for the teens in all of our lives. What can we do to support your efforts? Aren't you sponsoring contests during this celebration?
ABBY: Yes, please pass on the information (available at www.loveateenday.com) about the Poetry and Art Poster Contests to your local schools, libraries, home school associations, and individual pre-teens and teens in grades 5-12. HURRY since the deadline for this year's contest is February 28th, 2004. There are downloadable posters to hang in your meeting places around town going up on our website very soon. (Check on the Templates page.)
We are looking for individuals who honor adolescence in all its many forms to enroll their schools, youth groups, home schooling associations, parent/teacher organizations, places of worship, etc. in bringing a fresh, positive perspective to this stage of life on April 20th.
We also need creative members for a planning committee (to join go to:
https://groups.yahoo.com/group/love-a-teen-day/) to develop events to bring to schools and organizations on Love-A-Teen Day. Some of the ideas that have been bandied around by our committee are:
Movie Day
, where local filmmakers, college film students or film enthusiasts show a movie/movies and hold a discussion that speaks directly to the creative nature of teens. Can be done as a class, school, or after-school youth activity and involve some rudimentary instruction in filmmaking.
A fashion show
where local stores give teens a chance to model their clothes (or teens can put together their own outfits to express themselves). Teens can explain why a certain image is important to them as they model it. The fashion show can be a kick off for discussion on teen culture, the pack mentality, consumerism, individuality, etc.
Parents Associations and individual parents
collect baked goods, flowers, small presents to put on every students' desk on Love-A-Teen Day.
A hip-hop contest
where individual teachers or whole schools assign raps as homework and have the teens present them in an assembly (or at a group activity for home schooled teens) on Love-A-Teen Day.
We are looking for professionals who do workshops on teen issues such as relating to parents and adults, anti-authoritarianism, individuality, independence, creativity, self-esteem, etc. to put their names on a resource list by state at www.loveateenday.com. To be a part of the day's events,
these professionals can contact local schools and youth groups to offer their services.
[C.S.: You can also send Abby an email at abby@parentingteenstoday.com if you want to be included.]
C.S.: Anything else you would like to add?
ABBY: I fully expect Love-A-Teen Day 2004 to be the precursor of many more to come. Your ideas and financial support are welcome. I look forward to working with many of you in the near future!
Abby Lederman is National Coordinator of Love-A-Teen Day 2004, coauthor with Dr. Jeff Kaplan of "Finding the Path: A Novel for Parents of Teenagers," a parenting instructor and coach, and the manager of three websites: www.parentingteenstoday.com, www.advice-parenting-teenagers-adolescents.com, and www.loveateenday.com . She is the mother of three post-teens.
~~~~~~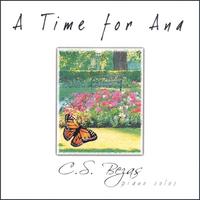 My new CD,
A Time for Ana
, is out! Here are just some of the reviews:
""Your music reminds me of a waterfall. It has a beautiful melody that carries you and leaves you wanting more and never tiring of it." - Anson Service, of Heuristic Productions
Lori Nawyn, of Parker Lane Publishing, says: "
A Time for Ana
is a welcome addition to the music libraries of adults who need to unwind and de-stress, in addition to soothing children who have experienced trauma of any sort."
And business owner, Hayley Fair says: "Our customers absolutely LOVE your music playing in our store!"
For more information, visit my
CDBaby website
. If you'd like signed copies, write me personally to let me know.
This site needs an editor - click to learn more!


Editor's Picks Articles
Top Ten Articles
Previous Features
Site Map





Content copyright © 2021 by C.S. Bezas. All rights reserved.
This content was written by C.S. Bezas. If you wish to use this content in any manner, you need written permission. Contact BellaOnline Administration for details.