Equatorial Guinea Country Facts
Official Name:
Republic of Equatorial Guinea, República de Guinea Ecuatorial (Spanish), République de Guinée équatoriale (French), República da Guiné Equatorial (Portuguese)
Alternate Names:
Equatorial Guinea
Former Names:
Spanish Guinea
Capital City:
Malabo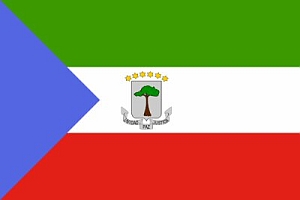 Flag:
The flag of Equatorial Guinea has three equal horizontal bands of green (on the top), white, and red. It has a blue isosceles triangle with its base on the hoist side. The coat of arms is centered in the white band. The coat of arms has six yellow six-pointed stars (representing the mainland and the five islands) above a gray shield that has a silk-cotton tree. Below the tree is a scroll with the motto UNIDAD, PAZ, JUSTICIA (Unity, Peace, Justice).
Date of Independence:
October 12, 1968 from Spain
National Anthem:
"Let Us Walk the Path of our Immense Happiness"
Population:
676,000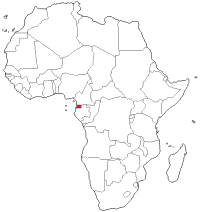 Size/Area:
28,051 sq km - Slightly smaller than Maryland
Land Locked:
No
Coastline:
296 km
Bordering Countries:
Cameroon and Gabon
Administrative Divisions:
Equatorial Guinea is divided into seven provinces: Annobón Province, Bioko Norte Province, Bioko Sur Province, Centro Sur Province, Kié-Ntem Province, Litoral Province, Wele-Nzas Province
Major Cities:
Malabo
Languages:
Spanish, French, Fang, Bubi
Religions:
Roman Catholic, Christian, and pagan practices
Major Holidays:
New Year's Day (Jan 1), Women's Day (Mar 8), Good Friday, Labour Day (May 1), Africa Day (May 25), President's Day (June 5), Corpus Christi (June 7), Armed Forces Day (Aug 3), Constitution Day (Aug 15), Independence Day (Oct 12), Christmas Day
Currency:
Central African CFA franc
Currency Code:
XAF
Highest Point:
Pico Basile at 3,008 m
Lowest Point:
Atlantic Ocean at 0 feet
Bordering Bodies of Water:
Atlantic Ocean
Climate:
The climate is tropical with distinct wet and dry seasons. Rio Muni's dry season is from June to August with the wet season occuring from December to February. In Bioko, the wet and dry seasons are reversed.
Major Industries:
Petroleum, natural gas, sawmilling
Major Agricultural Products:
Coffee, cocoa, rice, yams, cassava, bananas, palm oil nuts, livestock, and timber
Natural Resources:
Petroleum, natural gas, timber, gold, bauxite, diamonds, tantalum, sand, gravel, clay
Time Zone:
UTC +1

Tribes of Africa eBook
This eBook is the most complete listing of African tribes available on the internet. The first section of this book is the tribes sorted alphabetically by country. The second section is the tribes sorted alphabetically by tribe name.
This site needs an editor - click to learn more!

You Should Also Read:
Gabon Country Facts
Flags of Africa - Countries Starting With D - E




Related Articles
Editor's Picks Articles
Top Ten Articles
Previous Features
Site Map





Content copyright © 2021 by Jeanne Egbosiuba Ukwendu. All rights reserved.
This content was written by Jeanne Egbosiuba Ukwendu. If you wish to use this content in any manner, you need written permission. Contact BellaOnline Administration for details.