A to Z U.S. Islands - How Many Are There?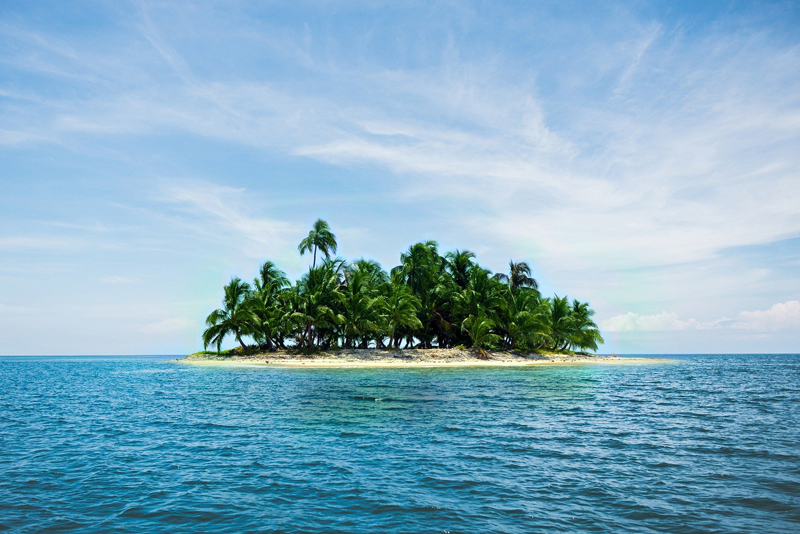 When you think of "island travel", do you immediately think tropical island? And if you're American, do you immediately think foreign travel? Then you might want to think again. There are so many different kinds of islands all over the world in all different climates with a myriad of activity, scenery and experience choices. And even in the U.S. we have so many islands that you may not have thought about.
Admit it – if anyone speaks of the U.S. and "tropical island" in the same breath, then the instant thought goes to Hawaii. And of course, Hawaii is a tropical paradise; but did you know that Hawaii is actually made up of over 150 different named islands? Most tourists think only of one of the major islands – Oahu, Maui, Kauai or the Big Island (Hawaii); and with good cause, since it is only on these islands that you will find tourist lodging and services. But did you know that there are another dozen or so unpopulated small islands and atolls which are protected wildlife refuges? Most of these are not open to the public and can only be visited with a special use permit, but a few do allow visitors for photography and wildlife observation.
And what about the other tropical islands that are part of the United States? The Florida Keys actually comprise about 60 small islands stretching from the tip of Florida out into the Caribbean; like Hawaii only a small number of these islands are actually populated and offer tourism services, the most famous of which is Key West. Then there are the U.S. Virgin Islands. Part of the island chain that forms the border between the Caribbean Sea and the Atlantic Ocean, this unincorporated territory of the U.S. includes the beautiful St. Croix, St. John, St. Thomas and a fair number of smaller, mostly uninhabited, islands. Moving westward from there is another unincorporated territory of the U.S. – Puerto Rico, again a beautiful Caribbean island with a substantial number of small surrounding islands. And what about in the Pacific? Besides the state of Hawaii, there are also the territories of Guam with its small neighbor, Cocos Island, the 26 or so islands that comprise the Northern Marianas Islands, and American Samoa (another 63 islands), all tropical tourist destinations.
And now let's turn our minds to non-tropical islands in the U.S. for those who like a variety of island experiences. First to come to mind is Alaska. Did you know there are over 2500 named islands in the state of Alaska? There is spectacular beauty here and a wide variety of wildlife viewing opportunities. The Pacific coastal states encompass some fascinating islands from the kayaking haven in the San Juan Islands of Washington to the marine sanctuary of the Farallon Islands off the coast of San Francisco to the well-known southern California getaway Catalina Island. And the eastern coast has its own plethora of unique island adventures from the rugged beauty of Mount Desert Island in Acadia National Park in Maine, to the summer "cottages" on Martha's Vineyard off Cape Cod in Massachusetts, to the wind and water sport haven in the Outer Banks of North Carolina. And we can't forget all of the wonderful barrier islands along the Gulf of Mexico.
But what about islands away from salt water beaches? Did you know that the state of Michigan has the second longest shoreline of any U.S. state, following only Alaska? Between its upper and lower peninsulas it is bordered by four of the five Great Lakes. And there are some fantastic islands along that long coast – like the backpackers' paradise on Isle Royale in Lake Superior or the old-fashioned charm of the Grand Hotel on Mackinac Island in Lake Huron. But all of the Great Lakes, both on the U.S. side and the Canada side, harbor a vast number of island destinations just waiting for you to try. In fact, the Great Lakes contain over 35,000 islands!
So, if you're looking for an island vacation, but want to stay in the U.S., you still have thousands of choices. And that means thousands of opportunities for adventure, relaxation and fun!
And now for the answer....... (drum roll, please!)..... According to the U.S. Geological Survey there are 18,617 named islands that are part of the United States and its territories!
For more details on just where all of these islands are, feel free to join the discussion in our
Island Travel Forum
Note: no promotional consideration was provided or paid for this article.


Related Articles
Editor's Picks Articles
Top Ten Articles
Previous Features
Site Map





Content copyright © 2022 by Laura Hartney. All rights reserved.
This content was written by Laura Hartney. If you wish to use this content in any manner, you need written permission. Contact Malika Bowling for details.