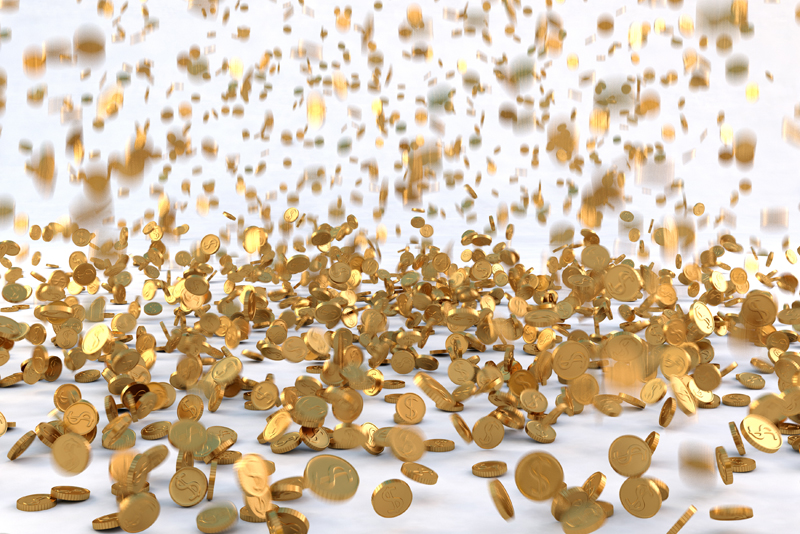 Many beginning coin collectors have found coins with what appears to be a raised area of metal one side of the coin. The first question that comes to their minds is whether the coin has any special value. Unfortunately, the coin won't have any special value because of the raised "metal." The raised "metal" is more likely "glue."

Glue of one type or another is one of the more common accidents that is mistaken for a minting variety, especially when another coin has been pressed into the surface of the glue. You should always be suspicious of anything raised above the normal surface of a coin, especially if it doesn't look like the metals commonly used to mint coins.

Liquid solder is the most frequently encountered culprit. n most cases, you can use one of your fingernails to separate the glue from the coin's surface. Don't use anything harder, or you will risk damaging the coin's surface. Topping the list of confusing coins are ones with glue on them, as they are often mistaken for misstrikes.

Any kind of damage that changes the appearance of part of a coin's design is another confusing issue with novice coin collectors. Acid-treated coins are also high on the list of problem coins along with many "replica" coins that are often distributed as promotional items.

There isn't anything wrong with replica coins, as long as they are clearly marked as such. However, many crooks will pass replica coins, that are not clearly marked as such as being the "real" thing. Also coins that have been altered by adding punched-in designs are another type of coin that is often confused with the real ones.

One example of this type of coin was one that had a very thick edge but no reeding. The coins had been edge hammered. This thickened the coin and eliminated any reeding it may have had in the beginning, and made the coin look like it was under-sized.

Many GI's in the Second World War used a mess kit spoon to repeatedly hammer the edge until it was quite thick. This is different from a genuine reedless coin, which should show a rough, broken edge surface and no thickening. Hammering on coins has been legal since 1909. At least one commercial firm was known to be making hammered coins back in the 1960s.

If your coin is out of round, wrong weight with areas of weak or missing design, then it may be the wrong metal or wrong planchet strike with some possible value. If it is plated, it is virtually impossible to cut through the plating short of cutting a notch in the coin with a file. Weigh the coin instead. Weighing is a non-destructive test that will usually tell you far more about the coin without cutting or filing into the coin.




Related Articles
Editor's Picks Articles
Top Ten Articles
Previous Features
Site Map





Content copyright © 2021 by Gary Eggleston. All rights reserved.
This content was written by Gary Eggleston. If you wish to use this content in any manner, you need written permission. Contact Gary Eggleston for details.