American Bullion Coin Facts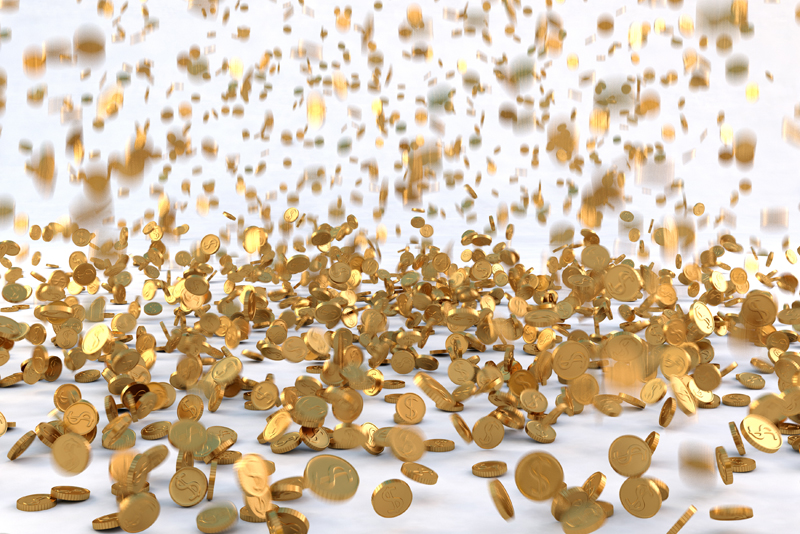 American Eagle gold coins are very easy to identify and to figure out their value. These have become popular with collectors since they have been introduced. The gold weight of the bullion coin is clearly stamped on the reverse side of the coin. The values are 1/10 ounce, 1/4 ounce, 1/2 ounce, and 1 ounce fine gold. You shouldn't be too surprised that there are a number of fake and counterfeit American Eagle gold coins out in circulation. So be aware of the weight of the American Eagle gold coins that you have.

Like most bullion coins, the American Eagle gold coins have their weights in troy ounces, which is not to be confused with the normal ounce of weight standard you are used to using in your daily life. A troy ounce weighed on a digital scale should show a weight value of 1.09 avoirdupois, which is the ounce you are familiar with. In a metric measure, 1 troy ounce equals 33.33 grams.

While the actual gold weight of an American Eagle gold coin is 1 troy ounce, the actual composition of the coin is an alloy of 91.67 gold, 5.33 percent copper, and 3 percent silver, which means that the coin weighs a bit more than its actual fine gold weight. Other gold coins will have differing degrees of fineness and alloy composition. The value of an American Eagle gold coin is closely tied to the daily spot price of gold. You can check the daily spot prices of precious metals such as gold and silver at www.kitco.com.

If the lack of a digital scale is an obstacle, another alternative is to have your coins examined by a reputable and knowledgeable person such as a trusted jeweler or coin dealer. If you have a genuine American Eagle gold coin, they should be able to verify this for you.

The other series of American gold coins can prove to be more of a challenge to identify and value. For example if you have an 1890 gold coin that measures roughly 34 millimeters in diameter, a little over an ounce in weight, and it has stars and a profile of Liberty on the obverse and an eagle, shield, the motto "IN GOD WE TRUST," the legend "UNITED STATES OF AMERICA," and the denomination "TWENTY DOLLARS" on the reverse.

Assuming that the coin is a genuine specimen, what you have is a Coronet gold $20 double eagle struck in 1890 and is composed of 90 percent gold and 10 percent copper, with an actual gold weight of 30.09 grams. The value of this coin is going to vary depending on the condition and grade of the coin. If you looked this coin up in a recent coin magazine guide, the coin could have values ranging from $1,575 in Very Fine 20 condition to $12,000 in Mint State 63.



Related Articles
Editor's Picks Articles
Top Ten Articles
Previous Features
Site Map





Content copyright © 2021 by Gary Eggleston. All rights reserved.
This content was written by Gary Eggleston. If you wish to use this content in any manner, you need written permission. Contact Gary Eggleston for details.