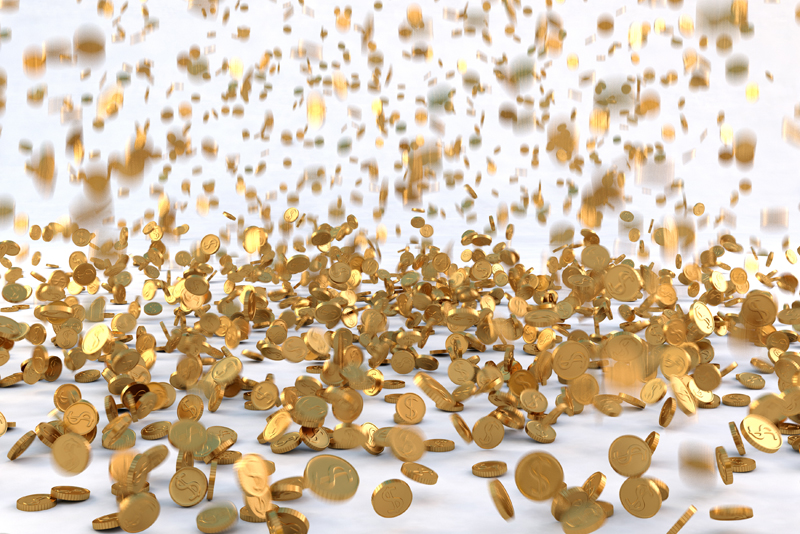 The motto "In God We Trust" was first used in 1864. This motto was first used on the two-cent piece that was minted from 1864-1873. All of these two-cent coins were minted at the Philadelphia Mint. The design of a shield on the obverse and a wreath on the reverse has never made the list of best coin designs.
The Act of April 22, 1864 provided for the mintage of a two-cent coin, struck in bronze. James Long acre designed the coin, which is about as simple of a design as one can imagine. Along with the name of the country, the coin's denomination and the date. This was the first time that motto "In God We Trust" has appeared on any U.S. coin. It was featured quite conspicuously above the shield on the obverse side. It couldn't have been made more prominent.
Secretary of the Treasury Salmon P. Chase received a letter from a Baptist minister urging him to consider adopting the name of God on our nation's coinage. With the religious sentiment during the Civil War period this idea was adopted after a bit of bureaucratic deliberating. Various patterns were considered bearing different mottos: "God Our Trust," "God and our Country," "In God We Trust."
The two-cent pieces were struck each year from 1864-1873. Mintage figures tapered off a bit every year with the final year produced in proof only. It isn't certain what the proof mintage numbers are. You shouldn't have too much trouble putting together a set of two-cent pieces. There are no impossible rarities and the coin normally isn't in that high of demand.
Proofs were struck every year of the issue. Unfortunately, mintage figures are not exact and are rather small at best. The proof mintage for the 1864 two-cent piece is estimated at around a hundred or so. It is possible to put together a proof set of two-cent coins for a reasonable price.
If you find that you enjoy collecting two-cent pieces, you can choose to collect a number of patterns to add further interest to a date set. Pattern two-cent pieces dated 1836 are available, showing a very different design from the one used in 1864. The 1836 design features a small eagle with a wreath on the reverse. These patterns were struck in silver of less than 50 percent purity, copper-nickel, copper and white metal. 1863 patterns appear similar to the adopted design, but have the motto "God Our Trust and a more curved word "Cents."



Related Articles
Editor's Picks Articles
Top Ten Articles
Previous Features
Site Map





Content copyright © 2021 by Gary Eggleston. All rights reserved.
This content was written by Gary Eggleston. If you wish to use this content in any manner, you need written permission. Contact Gary Eggleston for details.