Central African Republic Country Facts
Official Name:
Central African Republic
Former Names:
Ubangi-Shari, Central African Empire
Capital City:
Bangui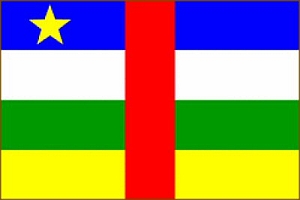 This flag can be purchased
at AfricaImports.com
Flag:
four equal horizontal bands of blue (top), white, green, and yellow with a vertical red band in center; there is a yellow five-pointed star on the hoist side of the blue band
Date of Independence:
13 August 1960 (from France)
National Anthem:
The Revival
Population:
3,683,538
Size/Area:
622,984 sq km, slightly smaller than Texas
Land Locked:
Yes
Bordering Countries:
Cameroon, Chad, Democratic Republic of the Congo, Republic of the Congo, Sudan
Administrative Divisions:
14 prefectures (prefectures, singular - prefecture), 2 economic prefectures* (prefectures economiques, singular - prefecture economique), and 1 commune**; Bamingui-Bangoran, Bangui**, Basse-Kotto, Haute-Kotto, Haut-Mbomou, Kemo, Lobaye, Mambere-Kadei, Mbomou, Nana-Grebizi*, Nana-Mambere, Ombella-Mpoko, Ouaka, Ouham, Ouham-Pende, Sangha-Mbaere*, Vakaga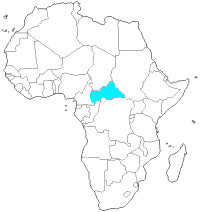 Major Cities:
Bangui, Berbérati, Bambari, Bossangoa, Bouar
Languages:
French (official), Sangho (lingua franca and national language), tribal languages
Religions:
indigenous beliefs 35%, Protestant 25%, Roman Catholic 25%, Muslim 15%
Major Holidays:
New Year's Day, Boganda Day, Easter Monday, Labor Day, anniversary of first government, Ascension Day, Pentecost, Independence Day, Assumption, All Saints' Day, national holiday,Republic Day, the day after Republic Day, and Christmas.
Currency:
Communaute Financiere Africaine franc
Currency Code:
XAF
Highest Point:
Mont Ngaoui 1,420 m
Lowest Point:
Oubangui River 335 m
Bordering Bodies of Water:
Oubangui River
Bodies of Water:
Oubangui River, Ugangi River, Ubangi River, Sangha River, Shari River
Climate:
tropical; hot, dry winters; mild to hot, wet summers
Major Industries:
diamond mining, logging, brewing, textiles, footwear, assembly of bicycles and motorcycles
Major Agricultural Products:
cotton, coffee, tobacco, manioc (tapioca), yams, millet, corn, bananas; timber
Natural Resources:
diamonds, uranium, timber, gold, oil, hydropower

Tribes of Africa eBook
This eBook is the most complete listing of African tribes available on the internet. The first section of this book is the tribes sorted alphabetically by country. The second section is the tribes sorted alphabetically by tribe name.
This site needs an editor - click to learn more!

You Should Also Read:
More about Central Africa
Tribes of Africa from Algeria through Congo (DRC)
Tribes of Africa eBook




Related Articles
Editor's Picks Articles
Top Ten Articles
Previous Features
Site Map





Content copyright © 2021 by Jeanne Egbosiuba Ukwendu. All rights reserved.
This content was written by Jeanne Egbosiuba Ukwendu. If you wish to use this content in any manner, you need written permission. Contact BellaOnline Administration for details.