Sweet and Sour Pork Skewers Recipe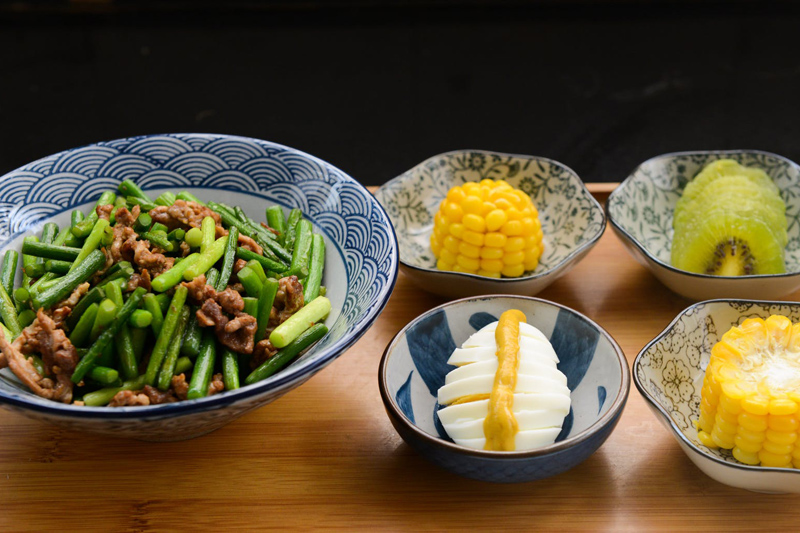 1.5 lbs lean pork
½ tsp ground ginger
½ tsp salt
15 ¼ oz can pineapple chunks
1 red bell pepper
1 small onion
¼ cup sweet and sour sauce
Skewers (metal or bamboo)
First cut all of the excess fat off the pork. Then cut the it into ½ inch to 1 inch square pieces and place these pieces in a bowl.


Then sprinkle the pork with the ground ginger and salt, and use mix these in thoroughly.


Next drain the pineapple chunks thoroughly and set them aside.


Rinse the pepper under cold running water and dry it thoroughly. Then cut off the stem and cut the pepper in half. Remove all of the seeds and inner white meat and discard. Then cut the pepper halves into large squares the same size as the pork pieces.


Then peel the onion thoroughly and cut it into pieces the same size as the peppers and pork.


Now it's time to make the skewers. I usually use long metal skewers when grilling which don't need any pre preparation. If you are using bamboo skewers you will need to soak them in cold water about a half an hour before using them. Place the pork, pineapple, red pepper, and onion pieces on the skewers alternating them as you go. I usually do this over a large baking sheet and then place the finished skewers on the baking sheet. This way the baking sheet captures all of the drippings from the raw meat.


Once the skewers are done heat a grill on high. When the grill is hot add the skewers and let them cook for about 3 minutes on one side, or just until they have nice grill marks. Keep in mind that different grills may cook differently so adjust your heat settings according to the type of grill you have.


Once the skewers have grill marks on one side, flip them over and then baste the tops of the skewers with the sweet and sour sauce and let the cook another 3 minutes.


Then flip them again and baste the other side. Let them cook for about 1 to 2 minutes, making sure that the sweet and sour sauce does not burn – adjust the temperature if necessary.


Then flip them one more time and let them cook another 1 to 2 minutes.


Then you can remove them from the heat and serve, this makes about 4 to 5 long metal skewers and about 8 to 10 small bamboo skewers.


Related Articles
Editor's Picks Articles
Top Ten Articles
Previous Features
Site Map





Content copyright © 2019 by Lila Voo. All rights reserved.
This content was written by Lila Voo. If you wish to use this content in any manner, you need written permission. Contact Lila Voo for details.