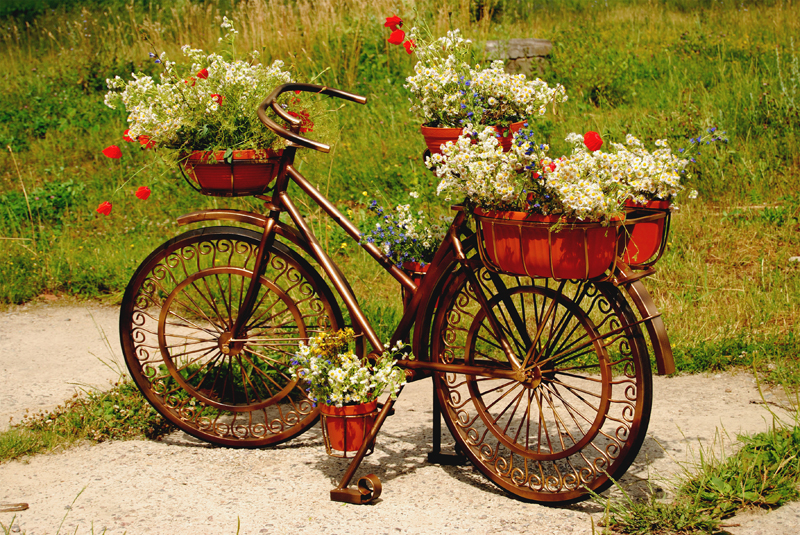 Gardening with Kids (both big one and small ones) can be a real pleasure, and besides the fun, it could mean a learning experience in humanity, an introduction to gardening of course and a chance to get some life lessons thrown in for good measure. Life lessons? Well there are many really, and you as 'Mom' get to choose, but those that spring to mind right now include time management, respect for others' property, finishing what you started, planning a project, creativity, an introduction to seasonal gardening and to plant names - oh there are a lot more one can add. It could also be a good introduction to the idea of green living and responsible care for our earth.

More so, it's a chance to be inventive, an exercise in creativity and it's a really good introduction 'growing things' for quizzy young minds.

When I was a kid these miniature gardens were great and easy to make. Back then we had those bakelite playing records that could be heated meltingly and shaped in several ways. My poor Mom gave away so much of her music as our appetites were seemingly insatiable. I always liked making wavy edges to my gardens which also kept the soil in place, especially when we wanted to grow things. And the centre hole was all we needed for drainage. Other times, we used sand and pebbles etc. and just made a temporary garden scene with cut flowers. We would use tin foil for rivers and ponds, match boxes for planters, peat moss (or sphagnum) to trim to make hedges. We would make clay thingies like snakes (the easiest) and birds (the hardest) and may have little bridges or play play picnic spots with cut-out-from-a-magazine people. How time flew 'cos were having fun.

Then, there was the annual flower show when we would enter to win prizes and cups and things – we had our own kids' categories and the competition was fierce. Generally afterwards, there might have been a braai or some kind of party – and if your entry was really nice – well someone may have bought it. Hoo Boy, more pocket money!

What do you need for this activity?

Containers - anything goes really
Go for cracked bake ware, or shallow tin dishes; biscuit and cookie tins (no lids required). Just use your imagination and the imagination of the kids – but you may have to say no when they bring out your prized silver souptereen "because it's the right shape Mom!" Any container will do as long as it's around 2-3 inches deep and light enough for little hands to carry. Bonsai pots no longer in use? Broken ceramic pots on their sides? Home-made hypertufa creations?

Soil
If you are going to grow anything (a temporary decision) then go for a nice potting soil. Remember that there must be drainage, so punch some holes in the bottom. Biscuit tins are good here as you can use the lids as a drip tray. Otherwise, for quick miniature gardens, fill your container with wet river sand (get it at the garden centre) and then you can poke some holes in this to hold the flowers and bits and pieces in place. We had a few tricks to keep our competition entries fresh for a couple of days by making tinfoil finger thimbles, sinking them into the 'ground' as a water source for our fresh cut flowers. In general though, if your creations are more permanent, remember the watering and feeding with liquid fertilisers – use sprays to help here; that way you will not flood or upset your arrangements.

Materials:
This will depend on your theme if you have one or your colour scheme if you choose one or the availability of scratchings and findings and so on. Flower heads, pebbles or crushed aquarium sand for pathways, green-coloured desiccated coconut for grass, squirly pasta shapes for fencing, uncooked rice, lentils and split peas, matchsticks for trellises, small green leaves, sticks ... really, the list is nearly endless.

Fixings and findings?
Doll's house furniture, glass beads, feature beads, buttons, coins, bits of chain, bits of anything that you can shape into the things you need - like cane for garden arches, or lolly sticks for people or props. Just let your imagination go, you will see as a big kid you might just get as caught up in the project as the little ones.

Who can play?
Anybody really – and as sophisticated as children are today with the electronic revolution embedded in their lifestyles, there is always a 'let me play please' factor in every child and that this creative activity will appeal to. And then too, you can use your imagination and invite the Faeries - they will be pleased to visit I am sure.

I know a Mom who has just had this as a 9-year-old birthday party event, and she is still getting comments like "It was the best birthday party ever!" Her daughter, Talula also had a doll icecream cake – now how old-fashioned is that?

Plants to use;
Anything small! There are garden centres that specialise in miniature plants – so if there is one in your area go see what you see. But see, if the kids are making a miniature garden for fun, then half of that fun is in finding bits and bobs already growing or laying around in the garden somewhere ... but if you seriously want to design and grow tiny gardens – then know that it is a whole art form and can be a very serious endeavour. It's a really nice addition to your container gardening work, balcony decor and for sure, a fine talking point.

If this is the case, wanting to grow serious, then you may want to find that specialist garden centre that focuses on the many many miniature plants available to the serious gardener. I met someone the other day at my garden club circle meeting who actually planned her whole garden by making miniature versions of it. She now uses the 'last' one to keep on being innovative and to work with her gardener when changing seasons dictate different actions and so on.

Try miniature ivy, preserved moss, creeping Jenny ground cover, vygies and their flowers (aka mums); dwarf and miniature conifers; Scotch moss or Irish moss; miniature daisies, tiny dianthus; thyme; sedums and baby succulents – surprisingly, there are very many to choose from. Again, the list seems endless and you can spend a really fascinating day just sussing out what is available and choosing to buy some favourites to be.

What do you want your container garden to do?

............................................................................

CASUAL VISITOR … and just browsing? Why not sign up to the Container Garden newsletter? It won't matter what space or how many pots you have or even how much time you have to spend in your container garden; what will matter is that you get our reminders hot off the press and get good advice and ideas all in one easy read.

Join now, it's easy and your privacy is guaranteed.


You Should Also Read:
Decor - only Urns
Cactus Containers
Terrariums and Mini-Gardens


Related Articles
Editor's Picks Articles
Top Ten Articles
Previous Features
Site Map





Content copyright © 2023 by Lestie Mulholland. All rights reserved.
This content was written by Lestie Mulholland. If you wish to use this content in any manner, you need written permission. Contact Lestie Mulholland for details.