Why Did You Start Gardening?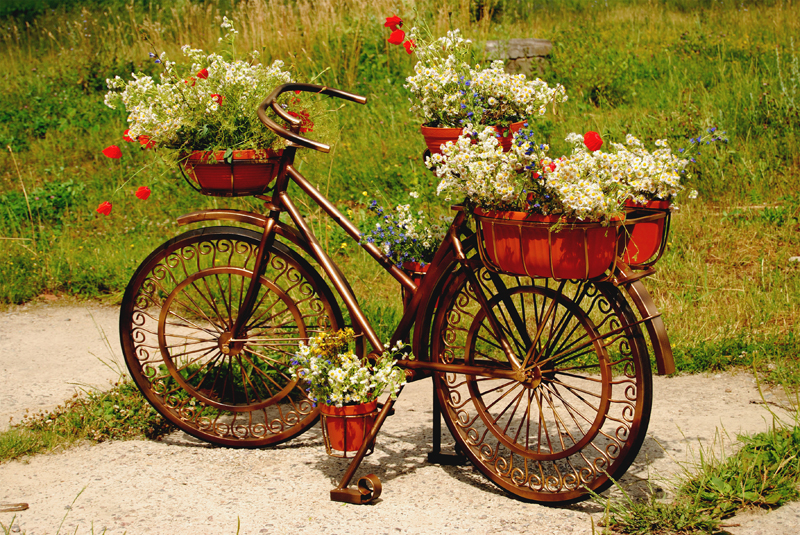 Why am I a gardener? What were the influences that made me fall in love with all things green. Well there are and were many influences of course, but the two voices that stand out most for me belong to my childhood.

"So where do you think you're going to missy?" It was my Mom's voice I heard while on her knees, weeding in the front garden. There I was, in the hot near midday Zambian sun about to run away from home with my red gingham Dick Whittington pack on a stick, and a jersey just in case. "I am running away" I said with five year-old tearful gravitas. "Well, don't forget your hat," she said as she went back to the weeds. And that was all. Not a 'don't go.' Not a 'why my darling?' Not even a 'Don't be a silly goose.' Just a 'don't forget your hat.'

Briefly, I was in high dudgeon because of something I don't remember now, but going to discuss it with the Queen of England to tell her about it, like Dick Whittington, appealed to me except I hadn't reckoned on the common sense of my Mom to change my mind. So, to say I was sorry for making a fuss, she suggested that I came to help her weed ... wearing my hat of course.

"What's a weed?" I asked and she answered with another momism - "It's an important part of gardening, if you are going to be a gardener, then you can't be a lady gardener, you must work the soil and in turn it will reward you with untold treasures." Well my imagination got going then, and so together with my Mom, on my knees weeding, I learned not to be a lady gardener and I did indeed learn to work the soil. How right she was – the payback has been a life journey of love for things green and colourful, unfolding blossom by flower by plant in profusion.

The second voice of influence came a few years later, unexpectedly and easily.

"...now come along darlins, I know you're going to do just fine. You have your sunshine, you have your own pots, you have the soil you ordered and you have really great neighbours. So now edibles, please show me what you can do"

It was school hols and I had been lazing about in the garden, reading the latest Nancy Drew, mystery. On my way to the kitchen to get something to drink, via our vegetable garden, I heard our ancient gardener Jimmy talking to someone, but when I got closer, there was no-one there. He grinned and told me he had been chatting to his newly planted seedlings – carrots, tomatoes, squash and beans. I laughed and cheekily said he was a nutty person and that he should find a girlfriend to talk to instead.

Well, that comment surprised the nearby scarecrow I think because it suddenly fell over. Jimmy moved fast to pick it up and 'replant' it saying "Sorry old chap, really have to see about getting you a new support stick." Talking to a scarecrow? To carrot seeds? Shame I thought.

But if my Mom started it, Jimmy ended it as far as these early influences went. Jimmy the Gardener and his relationship with the plants in our (or should I say his) garden taught me about gardening from scratch; and he taught me more than the mere techniques and rules and what-to-dos of gardening. He taught me the art of gardening, and he taught me about gardening as a way of seeing, feeling, thinking and living.

He was strict about writing it all down too. "You are only half a gardener unless you know what you did last year so WRITE IT DOWN."

Oh the mystery of a seed becoming a something else – even more magical to me than the making of a butterfly. I fell in love with trees and my thinking soared from acorns to oaks; the unfurling of my first rose bloom; the cascading beauty of fountains of golden shower creeper; the artistry of bonsai, the creativity of containers, the life force of the garden that lifted my spirits daily, even when the compost is not yet ready.

Jimmy said it and it turned out just that way. Gardening and plants in all forms shapes sizes colours and persuasions will teach you lessons that will last forever. He was a hard taskmaster and gobbled up my school holidays and exeunt weekends as if I had nothing else to do. I grumbled, I cried, I laughed but in the end I succumbed to his teaching and mentorship.

"Ask a Eucalyptus tree about fire and survival, or a cactus about conserving water, or an orchid about its pollination tricks" he would say ... " Ask a weed about perseverance or a Rose about thorns and beauty, speak to Mint about greedy roots or a bulb about hibernation" he would offer. How right he was too when he taught me to embrace the change of seasons and the life they breathed into my world and the garden.

Life is a casserole of garden influences – there have been so many more in my life, but my Mom and Master Gardener Jimmy started it all ... and here I am today in my beloved garden, satisfaction personified, with my gardening journal clutched in my hand, talking to my plants and of course, wearing my hat!

What do you want your container garden to do?

................................................................................

Are you a CASUAL VISITOR … and just browsing? Why not sign up to the Container Garden newsletter? It won't matter what space or how many pots you have or even how much time you have to spend in your container garden; what matters is you, as you are what makes this container gardening site all work when you come and join in the conversations on the forum.




Related Articles
Editor's Picks Articles
Top Ten Articles
Previous Features
Site Map





Content copyright © 2023 by Lestie Mulholland. All rights reserved.
This content was written by Lestie Mulholland. If you wish to use this content in any manner, you need written permission. Contact Lestie Mulholland for details.