Cattlemen's Ranch Black Angus Patties Review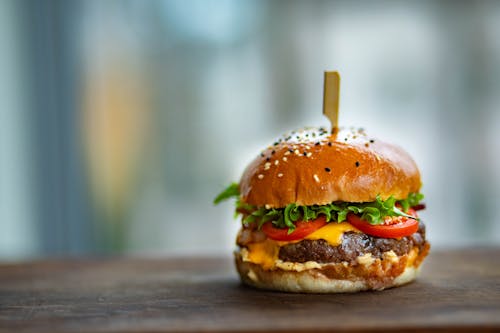 What can you do if you want a burger, but you don't feel like grubbing around in a package of raw hamburger? Aldi, also known as the "stock-up store," has frozen 1/3 pound burgers ready to cook. Just grab a box of Cattlemen's Ranch Black Angus Burgers. This review will give you some details about this product and ideas for those special burgers.

The Unseasoned Black Angus Beef Patties are packaged with six in a box, divided into two packages of three. The patties have paper pieces as dividers and are easily separated with the twist of a knife point inserted between them. Patties are cooked from frozen, and there are instructions for pan frying, grilling, and broiling. In an iron skillet, I found that it took about 12 minutes to cook the burger until it was done.

These patties are cost effective at just over a dollar apiece. Each Angus pattie has a whopping 470 calories, with 360 calories from fat. It's no surprise that each burger provides 62% of the daily value of fat. The 26 grams of protein amount to 110 calories. Included in the beef is 15% of the daily value of iron.

The burger fried up to a crispy outside and a juicy interior. It was chewy, but not dry. The unseasoned beef pattie was flavorful. I added Worcestershire sauce and pepper. The taste stood up to a grilled club roll that I used for a bun.

With such a high fat content, I saw no need for mayo on the burger. Catsup and mustard combined to add moisture and flavor. Lettuce, a thick slice of tomato, and thinly sliced Vidalia onion finished the sandwich. It was a keeper.

I will buy these Cattlemen's Ranch Black Angus Beef Patties again. They were flavorful, and I enjoyed my sandwich. With such a high calorie and fat count, I recommend them for an occasional treat.

Here are some serving suggestions adapted from the Sandwiches Name Game:
* Lettuce, garden fresh tomatoes, spicy grainy mustard, Angus burger, and crispy bacon on sourdough bread.
* Onions and peppers sautéed and piled on a grilled Angus pattie, with honey mustard and sliced fresh tomato on a soft Ciabatta roll.
* Angus pattie, pizza sauce with sliced mushrooms and string cheese on a Ciabatta roll.
*Angus pattie served on a soft roll,covered with mashed potatoes and brown gravy for a hot beef sandwich.
* Sautéed onions, peppers, basil, artichoke hearts, olives, roasted tomatoes in olive oil added to a crumbled Angus burger in a flour tortilla wrap.


Related links: The Related Links below this article may be of interest to you.

When I mention stores or products by brand name, these are the ones that I use. I have not received free products from the manufacturers, nor have I been paid to mention the products or stores by name.

NEWSLETTER: I invite you to subscribe to our free weekly newsletter. This gives you all of the updates for the Sandwiches site. Sometimes, this newsletter has information and variations on sandwiches that are not in the articles. Fill in the blank below the article with your email address - which is never passed on beyond this site. We never sell or trade your personal information.

You Should Also Read:
Creamy Coleslaw Recipe
Pickled Hot Potato Salad Recipe
Italian Cucumber Salad Recipe


Related Articles
Editor's Picks Articles
Top Ten Articles
Previous Features
Site Map





Content copyright © 2022 by Connie Mistler Davidson. All rights reserved.
This content was written by Connie Mistler Davidson. If you wish to use this content in any manner, you need written permission. Contact Connie Mistler Davidson for details.