Official Name:
Gabonese Republic
Alternate Names:
Gabon
Capital City:
Libreville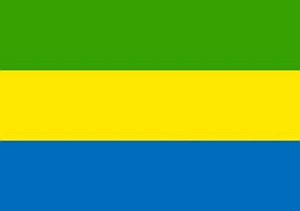 This flag can be purchased
at AfricaImports.com
Flag:
Three equal horizontal bands of green (top), yellow, and blue
Date of Independence:
17 August 1960 (from France)
National Anthem:
La Concorde
Population:
1,321,560
Size/Area:
267,667 sq km slightly smaller than Colorado
Land Locked:
No
Coastline:
885 km
Bordering Countries:
Cameroon, Republic of the Congo, Equatorial Guinea
Administrative Divisions:
9 provinces; Estuaire, Haut-Ogooue, Moyen-Ogooue, Ngounie, Nyanga, Ogooue-Ivindo, Ogooue-Lolo, Ogooue-Maritime, Woleu-Ntem
Major Cities:
Libreville, Masuku, Moanda, Oyem, Port-Gentil
Languages:
French (official), Fang, Myene, Nzebi, Bapounou/Eschira, Bandjabi
Religions:
Christian 55%-75%, animist, Muslim less than 1%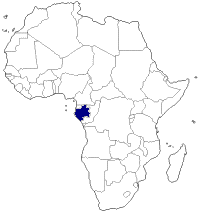 Major Holidays:
Independence Day (August 17), Constitution Day (February 19), Renovation Day (March 12), New Year's Day, Renovation Day, Easter Monday, Id al-Fitr, Labor Day (May 1), Whit Monday, Id al-Adha, Independence Day, Mouloud, All Saints' Day, and Christmas.
Currency:
Communaute Financiere Africaine franc
Currency Code:
XAF
Highest Point:
Mont Iboundji 1,575 m
Lowest Point:
Atlantic Ocean 0 m
Bordering Bodies of Water:
Atlantic Ocean
Bodies of Water:
Atlantic Ocean, Ogouué River, Ngounié River
Climate:
tropical; always hot, humid
Major Industries:
petroleum extraction and refining; manganese, and gold mining; chemicals; ship repair; food and beverage; textile; lumbering and plywood; cement
Major Agricultural Products:
cocoa, coffee, sugar, palm oil, rubber; cattle; okoume (a tropical softwood); fish
Natural Resources:
petroleum, manganese, uranium, gold, timber, iron ore, hydropower

Tribes of Africa eBook
This eBook is the most complete listing of African tribes available on the internet. The first section of this book is the tribes sorted alphabetically by country. The second section is the tribes sorted alphabetically by tribe name.
This site needs an editor - click to learn more!

You Should Also Read:
More about Central Africa
Tribes of Africa from Djibouti through Ivory Coast
Tribes of Africa eBook




Related Articles
Editor's Picks Articles
Top Ten Articles
Previous Features
Site Map





Content copyright © 2021 by Jeanne Egbosiuba Ukwendu. All rights reserved.
This content was written by Jeanne Egbosiuba Ukwendu. If you wish to use this content in any manner, you need written permission. Contact BellaOnline Administration for details.