Teaching Kids to Love Reading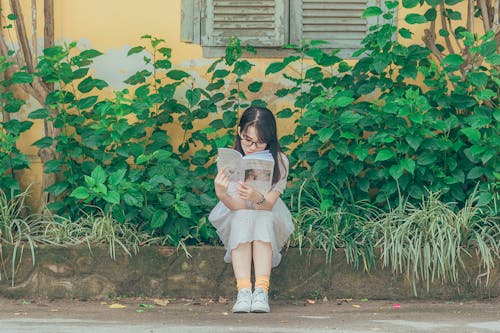 My husband and I always modeled the love of reading for our children. Our home had bookshelves in every room. It was like living in a library with thousands of books. We read books at home where our kids could see us. As tiny babies, we read aloud to them. Family reading was a daily activity. We would all sit on the couch and read books together. They each had their personal libraries from the day that they were born. Their bookshelves held hundreds of books. Each of our children easily learned to read in school.
They both knew how to read and enjoyed books, but would they read independently for pleasure? No, they would not. We couldn't even bribe them with money! They were offered money for each book that they would read, and still they wouldn't read books in their spare time. They would rather watch TV or play video games. Then, our elementary school had a program called "Cold Turkey" early in the school year. It was a challenge! If a family would commit to one month without electronics such as television, videos, video games, or computers, they could win a turkey for Thanksgiving. I was all over that! Free turkey? You bet!!
We tried to break the news gently to the kids. They were incredulous. Then, they cried, real tears. Literally tears! "No cartoons?" "No Ninja Turtles or Power Rangers?" "Please, mom," they sobbed. "No Mario Brothers or Duck Hunt? You're kidding, right?" The kids could do the things they had always done. That meant playing outside, street hockey, riding bikes, building with LEGOS, imaginative figure play, but just no electronics of any kind. That went for the adults, too. We couldn't watch our favorite TV shows. Our home was "Sobbing Central" for about two weeks after the television went to live in the unfinished basement. Gradually, a miracle happened. With no television or electronics to amuse them, our children discovered the books in their personal libraries. We also rediscovered the joy of going to our local library to supplement our huge stash of books. Our family was one of the few to win the Cold Turkey challenge that year. That was a mighty tasty Thanksgiving turkey!
Victory was sweet! We found that leaving the electronics in lock-up freed our family to do other things. We went to the movies, instead of watching television. Sundays were spent walking the dog, looking at the student art work at our local community college, or hiking, when the weather was good. The boys continued to read, as did my husband and I. Over the years growing up, our sons have read thousands of books. Being good readers made college coursework easier to handle. As thirty-something men, they continue to be avid readers. I am convinced that it never would have happened, if we had not put the electronics away.
Here are a couple of the classic books that we read to our children when they were young. Even at a young age, they enjoyed them a lot. Parts of the books needed to be the subjects of serious discussion. Those discussions helped them to become discerning readers and caring adults.
The Adventures of Huckleberry Finn
The Secret Garden
NEWSLETTER:
I invite you to subscribe to our free weekly newsletter. This gives you all of the updates for the Reading Site. Sometimes, this newsletter has information on books and reading that is not in the articles. Fill in the blank below the article with your email address -
which is never passed on beyond this site. We never sell or trade your personal information.
Related links:
The Related Links below this article may be of interest to you.
There are times when I recommend an item related to my article and add an Amazon link, so that you can check it out. I am an Amazon Associate, and when you purchase an item after clicking on my link, I do make a commission for purchases made through that link.
You Should Also Read:
Babies Love Reading
Reading is a Skill for Life's Activities
Reading for Pleasure Enhances Comprehension


Related Articles
Editor's Picks Articles
Top Ten Articles
Previous Features
Site Map





Content copyright © 2022 by Connie Mistler Davidson. All rights reserved.
This content was written by Connie Mistler Davidson. If you wish to use this content in any manner, you need written permission. Contact Connie Mistler Davidson for details.