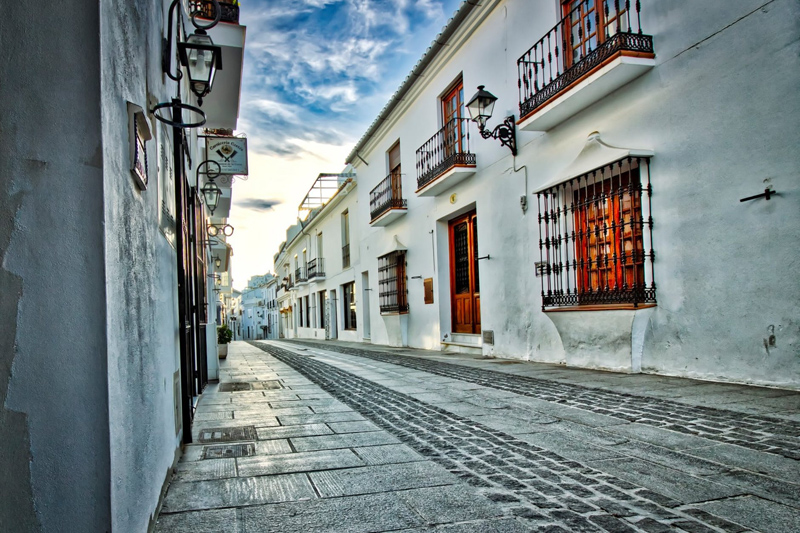 Spanish verbs "Ser" and "Estar" are both translated as "To be". The differences in use between these two Spanish verbs is a difficult point for a lot students of Spanish. Through this lesson we'll review and learn how to use the verb "Ser".
First of all, let's conjugate Ser:
VERB "SER"
(Present tense)
Yo
soy
(I am)
Tú
eres
(You are)
Él
es
(He is )
Ella
es
(She is)
Nosotros
somos
(We are)
Vosotros
sois
(You are)
Ellos
son
(They are)
(Spanish verbs show different forms depending on the person (subject). In English, there are not many differences, as you can see: are, am and is. In Spanish every form is different. )
But when should we use "Ser"? Below you'll find some general helpful rules:
1
.
"Ser" is used to show a quality
:
El niño es alto
. (The boy is tall)
Nosotros somos inteligentes
. (We are intelligent)
The verbs in these sentences are: "es" and "somos".
2
.
The verb "Ser" can also indicate property (if followed by a possessive pronoun)
:
Los libros son míos
. (The books are mine)
3
.
This verb is also used to introduce oneself
, i.e.:
Yo soy Angeles
. (I am Angeles – My name is Angeles)
4
.
"Ser" is also used to express the date, day and time
.
¿Qué hora es? Son las cuatro
.. (What time is it? It is four o'clock)
Hoy es miércoles
. (Today is Wednesday)
5
.
To express occupation
:
Yo soy un estudiante.
(I am a student)
Tu eres médico.
(You are a doctor)
6
.
The verb "Ser" is also used to express origin or nationality
:
Nosotros somos de España.
(We are from Spain)
Vosotros sois mejicanos.
(You are Mexican)
7
.
Ser also is used to express religious / political / ideological relationship.
Ella es hindú.
(She is Hindu)
Ellas son comunistas.
(They –feminine- are communists)
8
.
Another use of "Ser": to tell the material something is made of
:
La casa es de madera.
(The house is made of wood)
9
.
Ser is used to express the relashion between people
:
Ana es mi madre.
(Ana is my mother)
Those nine points are the basic ones, if we want to use the verb Ser correctly.
Anyway, remember I'm here to help you with any question or comment you may have. Feel free to e-mail me or just post a message at the message board.
Have a nice week!
Angeles.
---
Recommended material:
You can find below some materials / web pages that, from my point of view, can be useful and interesting:
---
| | |
| --- | --- |
| Think Spanish Magazine | I write monthly articles for 'Think Spanish' ('Piensa en español') about Spain, its culture, travel issues... But this magazine also covers all Latin American countries. Articles include a glossary. You can also listen to all the articles as they also publish a monthly CD. |
---
| | |
| --- | --- |
| Puerta del Sol - Audio Magazine | A very interesting way of learning or reviewing not just Spanish grammar and vocabulary, but also a great way to find out about Spain and its culture. |
---
| | |
| --- | --- |
| Lo más TV | Such a funny, intelligent and useful way to learn and enjoy the Spanish language!! It is a web based activity and offers new videos, on a weekly basis, with Spanish / English captions, dictionary and games. |
---
| | |
| --- | --- |
| Angeles' Blog: "Spanish Word of the Day" | I'm adding a new Spanish word, everyday, including its sound file, translation, uses and descriptions. You can send your messages with questions, examples to be reviewed, etc. |
---
| | |
| --- | --- |
| Visual Link Spanish | Visual Link Spanish™ - Just click, listen and repeat! Don't just learn Spanish; put it into practice with a unique guided, step-by-step system. I've tested it and I wish I'd had something similar when I studied English!! |
You Should Also Read:
1-1 Spanish tutoring.
Practical Spanish - Online course.


Related Articles
Editor's Picks Articles
Top Ten Articles
Previous Features
Site Map





Content copyright © 2021 by Angeles Fernández. All rights reserved.
This content was written by Angeles Fernández. If you wish to use this content in any manner, you need written permission. Contact Angeles Fernández for details.