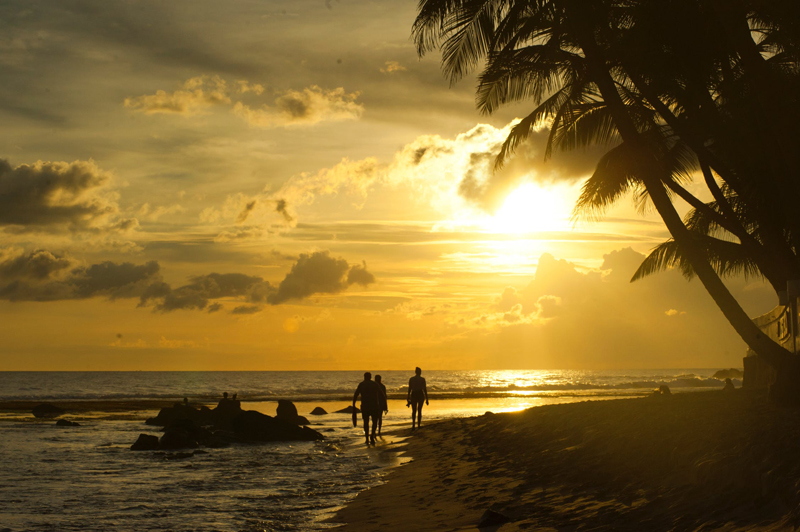 Behind every great Latin Caribbean dish there is a miracle green seasoning that inevitably takes pride of place in the fridge of any home where cooking is a passion rather than a duty. Sofrito is simple to make and markedly improves any meat or sauce, bean stew or even rice.

Although sofrito, also called sazon, can be bought ready prepared in a jar, there is nothing to challenge the aroma of fresh herbs when making it at home. The main components are aromatics, acid and salt. Take a substantial bunch or two of fresh cilantro, garlic, red onions and green bell peppers (sweet rather than fiery) and blend along with vinegar, lime juice and salt. Some cooks choose to add tomato paste too, particularly in Cuba. Once blended, the mixture will be watery and moist, but will keep in the fridge for a few weeks. Alternatively, some cooks spoon it into ice cube trays and freeze it for later. Use the sofrito to marinate beef, chicken and pork or to add to stews. By default, many Latin Caribbean dishes start with a dollop of sofrito into the oil at the bottom of a cast iron pot, setting the tone for subsequent inspiration.

Sofrito came to the Caribbean from Spain, where it is a staple of Spanish and Catalan cuisine, but it also crops up in Middle Eastern dishes. In Puerto Ricon cuisine, the sauce starts by sautéing annatto seeds in pork fat, which gives a golden color. Expect too to see some spicy bell peppers enter the equation, too. Ultimately, there's little difference in principle between the Spanish sofrito and the French mire poix of onion, celery and carrots, or the Cajun Holy Trinity which subs in bell peppers instead of the carrots. Authentic Caribbean cooks would pound the chopped ingredients in a mortar rather than blending, and roast the peppers beforehand for a more intense flavor, and imbuing the seasoning with sweetness and smokiness rather than the sharper, watery consistency of cheap shop-bought salsas.

Even if you're far from the Caribbean, a home-made sofrito will raise any mediocre stew to greatness. Any time of year is sazon season. Try it on stewed chicken wings, flank steak, stewed pork chops or even to counter the earthy blandness of fish such as tilapia. While it's good to get into the habit of preparing a batch each month, it's also a worthy solution in an emergency to a shelf full of vegetables that might otherwise go to waste.



Related Articles
Editor's Picks Articles
Top Ten Articles
Previous Features
Site Map





Content copyright © 2023 by Nick Marshall. All rights reserved.
This content was written by Nick Marshall. If you wish to use this content in any manner, you need written permission. Contact Nick Marshall for details.