Spanish Regular Verbs Conjugation: Present Indicative.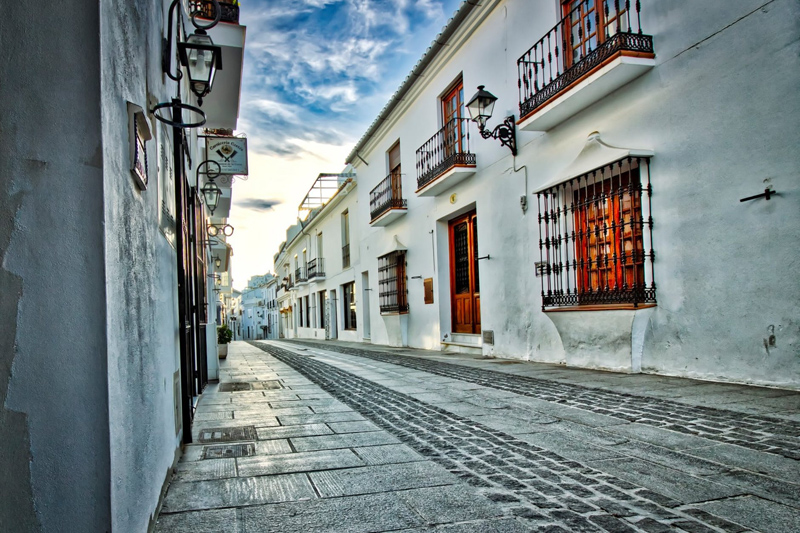 Present Indicative is a verbal tense that indicates what is happening now. English examples for this tense are:
I eat (yo como); I walk (yo ando); I talk (yo hablo).
In fact, the Spanish present tense is used to express the following English forms:
To indicate something that is happening at this moment:
We are dancing right now (Nosotros bailamos ahora)



The present tense is also used when we want to express a request:
Will you please close the door? (¿Quiere cerrar la puerta, por favor?)


To ask for instructions:
Shall I buy some water? (¿Compro algo de agua?)



To express an action that will be done in a very near future.
I'll be available in two hours (Estoy disponible en dos horas)
PRESENT INDICATIVE TENSE CONJUGATION
Do you remember those three Spanish verb types?
Yes, that's it: Infinitives ending in -
ar
, -
er
or -
ir
. (i.e.: habl
ar
- com
er
- viv
ir
)
Spanish Present Indicative tense isn't as "easy" to conjugate as it is in English, because in Spanish every from has its own ending.
Let's see how it works:
For example, we'll form the Present tense of the verb
Andar
. First, we take the infinitive (andar) and remove its final
-ar
:
And-
Then, we have to add the specific endings for this tense:
Yo And
o
Tu And
as
El / Ella / Usted and
a
Nosotros and
amos
Vosotros and
áis
Ellos / Ellas / Ustedes and
an
So, those endings are for infinitives finishing in -ar.
The following table shows the conjugation for three verbs:
Andar
-
Comer
-
Existir
, examples for the Present Indicative conjugation of
regular
verbs belonging to the First, Second and Third Conjugation types (-ar, -er and -ir).
PRONOUN
1st Conjugation
ANDAR (TO WALK)
2nd Conjugation
COMER (TO EAT)
3rd Conjugation
EXISTIR (TO EXIST)
Yo

Tú

El/Ella/Ud.

Nosotros

Vosotros

Ellos/Ellas
/Uds.
ando (I walk)

andas (you walk)

anda (he/she walks)

andamos (we walk)

andáis (you walk)

andan (they/you walk)


como (I eat)

comes (you eat)

come (he/she eats)

comemos (we eat)

coméis (you eat)

comen (they/you eat)


existo (I exist)

existes (you exist)

existe (he/she exists)

existimos (we exist)

existís (you exist)

existen (they/you exist)
Note that the present endings for infinitives ending in -er and -ir are identical, except for "nosotros" (we) and "vosotros" (you - plural).
All these present tense endings not only show the tense of the verb, but also the subject pronoun. So, it is important to notice that those pronouns can be omitted:
Comemos y bebemos todos los días
(We eat and drink everyday)
As you can see, it is not necessary to use the personal (subject) pronouns, as the endings of the verbs (com
emos
and beb
emos
) refer us, in this case, to the first person plural (nosotros - we).
The only exception is that subject pronouns
must be used
when there are two subjects and two verbs:
Nosotros comemos y vosotros bebéis todos los días
(We eat and you drink everyday)
For any question or doubt, feel free to e-mail me or just post a message at the forum.
¡Que tenga un buen día!
Angeles F.
---
VOCABULARY IN THIS LESSON (alphabetical order)
:
Agua (f)
: water
Ahora
: Now
Andar
: To walk
Bailar
: To dance
Cerrar
: To close
Comer
: To eat
Comprar
: To buy
Existir
: To exist
Disponible
: Available
Hablar
: To talk
Hora (f)
: hour
Puerta (f)
: door
Todos los días
: Every day
Vivir
: To live
---
Recommended material

I write monthly articles for "Think Spanish" ("Piensa en español") since 2002. All "Think Spanish" articles are written in Spanish, and they include a Spanish/English glossary. You'll also have the option to buy this magazine including a CD. Nice way to learn about Spanish language and customs!


Editor's Picks Articles
Top Ten Articles
Previous Features
Site Map





Content copyright © 2019 by Angeles Fernández. All rights reserved.
This content was written by Angeles Fernández. If you wish to use this content in any manner, you need written permission. Contact Angeles Fernández for details.