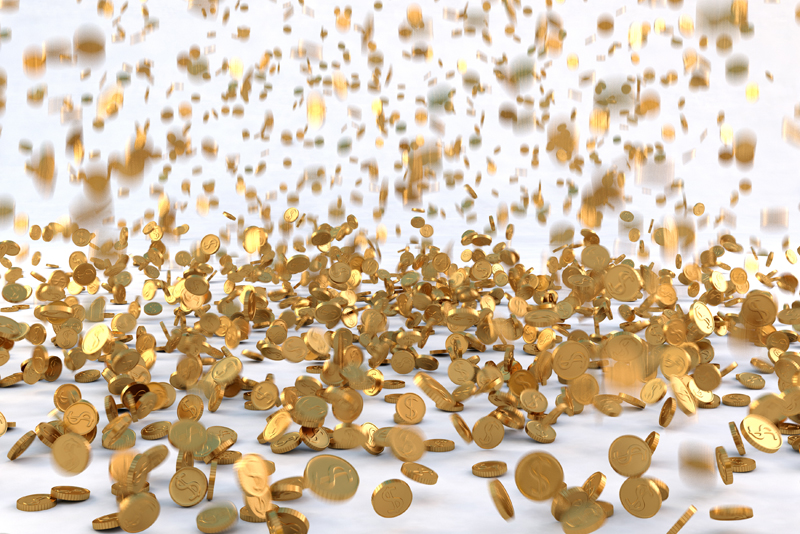 Upon his return from the Yalta Conference, President Franklin D. Roosevelt addressed a joint session of Congress on March 1, 1945. The President's health was deteriorating rapidly. President Roosevelt went to a therapeutic spa he frequented since 1924 in Warm Springs, GA, for some much needed rest and recuperation. On April 12th, of the same year, he died.

The American public was devastated, and desperately needed some kind of memorial to their fallen President of four-terms. In response, the Treasury officials proposed that Roosevelt's portrait be placed on a regular issue coin, immediately. The only coin denominations that were available to be changed without special legislation were the Lincoln Cent, the "Mercury" dime, and the Walking Liberty half dollar. It does not take an enormous leap of logic to ascertain why the dime was the perfect choice.

Having contracted Infantile Paralysis (polio) as a boy, and sensitive to the toll that decades of increased polio were taking on America's young, President Roosevelt established the National Foundation for Infantile Paralysis in 1938. A national crusade against polio was established because President Roosevelt felt that people could solve any problem if they worked together. Playing on a popular newsreel feature seen in the movie theaters called "The March of Time," actor/singer/comedian Eddie Cantor coined the phrase "March of Dimes." Cantor led an extremely successful national radio campaign by appealing to his listeners to send their dimes directly to the White House. The U.S. Mint rushed the new Roosevelt dimes into production so that they would be available for the 1946 "March of Dimes" fund raising campaign, which began on January 30, the birthday of FDR.

The design of the new Roosevelt dime was assigned to Mint Engraver John R. Sinnock. This broke a 40-year tradition of inviting outside artists to compete in the design of U.S. coins. Sinnock's models were submitted to the Commission of Fine Arts for their approval in October of 1945, and they were rejected. The commission wanted to have an invitational competition, but the mint was up against a deadline. Mint Director Nellie T. Ross rejected the commission's suggestion. John Sinnock went back to work on the designs, and finally on January 8, 1946, approval was granted on his designs, and production on the dime commenced.

Once the new Roosevelt dimes were released for circulation, a controversy arose. It seems a celebrated black sculptor Selma Burke claimed that Sinnock based his design on her bas-relief of President Roosevelt completed five years earlier. The resemblance between the two was very close. Some numismatist say this will be a subject for debate for years to come, but other experts feel differently. It has been brought to the forefront that Sinnock had adapted the design for the 1926 Sesquicentennial Half Dollar from John Frederick Lewis' work, and if that is the case, then he most likely copied the work of Selma Burke.

One of the most embarrassing eras in U.S. history was during the time of Senator Joseph McCarthy and the "Red Scare." Once again, the Roosevelt dime was a target. It seems Senator McCarthy and his anticommunist crusade was aimed, in part, at President Franklin D. Roosevelt, and a number of his former cabinet members and aides. Unfounded and malicious rumors were spread. When President Roosevelt died, Stalin permitted the President's picture and the story of his death to appear on the front page of the Russian newspapers. This was space reserved only for national stories about Russia itself; therefore, Roosevelt must have been in Stalin's pocket. Besides, what are those initials, 'JS,' at the truncation of Roosevelt's neck on the dime? It must stand for Joseph Stalin. Finally, the U.S. Mint issued a press release stating the initials were those of the designer, John Sinnock. The rumors were squelched, and the McCarthy extremists were forced to peruse other avenues of attack.

Roosevelt dimes have been manufactured in huge quantities since 1946, at all three mints: Philadelphia, Denver, and San Francisco. West Point did strike dimes in 1996 with the "W" mint mark, but these were originally issued only in Mint Sets. On the early issues 1946 through 1964, the mint mark was placed on the reverse just left of the torch's base. Since 1968 the mint mark appears on the obverse, just above the date. There were no proofs struck in 1965, 1966, and 1967, but the mint, in San Francisco, did strike 'special mint sets' for those years.

Since the Roosevelt dimes were made in such large numbers, and with a process that differed from previous issues, there are not a large number of varieties to be found within the issue. The more notable ones are:

1950 - S/D mint mark variety
1964 - With the 9 in the date, there is both a pointed and straight tail variety. Some have been found struck on the 1965 clad planchet (error coin).
1964-D - With the 9 in the date, there is both a pointed and straight tail variety. Some found with a Double Die reverse.
1965 - Some have been found struck on the 1964 silver planchet (error coin).
1980-P - Starting with this year, all coins with a denomination above 1¢, and struck at the Philadelphia mint were mandated to carry a "P" mint mark.
1982-P - Some were struck without the "P" mint mark.
2004 D - Some have a Double Die obverse.

SPECIFICATIONS:

1946 through 1964 (SILVER)

DIAMETER: 17.9 mm
COMPOSITION: .900 silver, .100 copper
WEIGHT: 2.50 grams (silver)
EDGE: Reeded


1966 to Date (CLAD)

DIAMETER: 17.9 mm
COMPOSITION: Outer surfaces of copper-nickel (.750 copper & .250 nickel) which is bonded to an inner core of pure copper.
WEIGHT: 2.27 grams (copper-nickel/clad)
EDGE: Reeded

For more specific information on the Roosevelt dime varieties go to:

https://www.coinfacts.com/dimes/roosevelt_dimes.html



Editor's Picks Articles
Top Ten Articles
Previous Features
Site Map





Content copyright © 2022 by Raymond F. Hanisco. All rights reserved.
This content was written by Raymond F. Hanisco. If you wish to use this content in any manner, you need written permission. Contact Gary Eggleston for details.