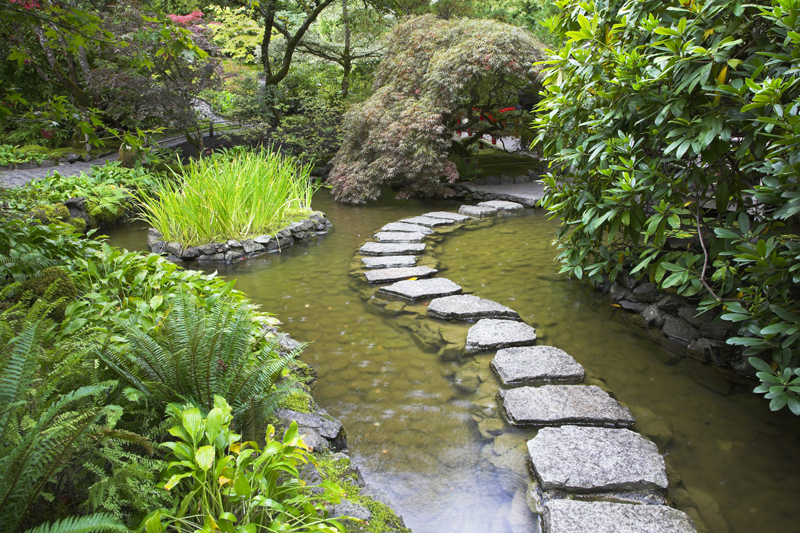 The ideal home landscape meets both our physical and psychological needs.
The goal of most gardeners is to be able to pursue their specific interests through specialty gardens as part of the overall landscape. The key factor for this is also planning to be sure the gardener has the needed space for this activity.

Some gardeners specialize in a specific type of plant, such as roses. Or they may have a broader interest like butterfly or hummingbird gardens. Other gardeners may really be plant collectors at heart. These just love plants and never saw one they didn't like. For them, expansive areas are needed to accommodate their somewhat eclectic plant collections. And the ideal garden would allow them lots of space for future use, as new plants are introduced every year.

Increasingly, many gardeners see their gardens as a means of transcending the cares of daily life by creating a garden retreat. For that, there's no better book around than "Peaceful Gardens" by Stephanie Donaldson, which was published by Ryland Peters & Small. The author explains how to design and furnish your tranquil garden with restful sights, soothing sounds, and fragrance. She suggests suitable colors, and provides lists of suitable plants. The book is beautifully illustrated with gorgeous photos of inspiring, tranquil gardens that can serve as examples.

Of the other specialty gardens, butterfly gardens remain very popular. Regional guides to butterflies are usually available. The University of Oklahoma Press has published an authoritative guide to the central U.S. "Butterflies of Oklahoma, Kansas and North Texas" is by John M. Dole et al. It features profiles of one hundred species that are most common in the area. For each, they provide color photos, description, distribution maps, details on their food plants, and natural history. In addition to these profiles, the book has chapters on all aspects of identifying and learning about butterflies as well as invaluable tips on how to photograph them. This title also features many helpful tables and charts that will be helpful, including lists of butterfly plants.

In recent years, children's gardens are really catching on in a big way. "Hershey Children's Garden-A Place to Grow at the Cleveland Botanical Garden" is by Maureen Heffernan, and was published by Ohio University Press in association with the Cleveland Botanical Garden. Anyone interested in establishing a children's garden should read this book because such a venture isn't something to be taken lightly. The author explains how this garden came to be such a special place where children can enjoy nature, explore, and have a jolly good time. She gives the complete background of the garden's history and creation. Every detail was designed with the children in mind, so as a result all the entrances are child-sized along with everything else. The author explains how this half-acre garden has become a favorite destination for children in the area.

Whether your specific interests are wildlife or garden retreats, set aside space in the landscape to pursue these interests.



Editor's Picks Articles
Top Ten Articles
Previous Features
Site Map





Content copyright © 2021 by Connie Krochmal. All rights reserved.
This content was written by Connie Krochmal. If you wish to use this content in any manner, you need written permission. Contact Connie Krochmal for details.