Interview with Designer, Annie Modesitt 2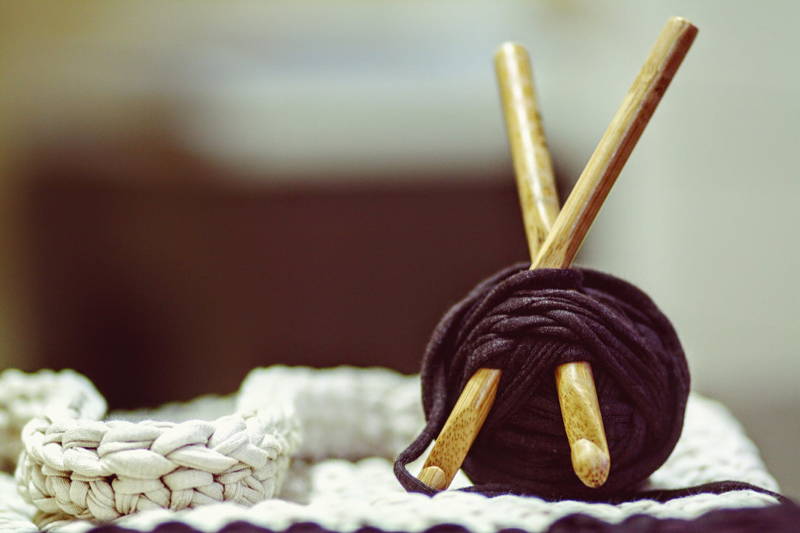 Interview with Annie Modesitt Part One
...Continued
KP: Your most recent book 'Twist and Loop' looks at making jewelry from crocheted and knitted wire. How different is the technique of crocheting with wire from crocheting with yarn. Do you have any hints for crocheters thinking about trying this for the first time?
AM: I love knitting and crocheting with wire, but I feel that wire is perhaps better suited to crochet. Crochet tends to be more sculptural - one can create free form pieces more easily with a hook than with a needle, and fine gauge wire responds beautifully to crochet work. The best hint I can give for working with wire when either knitting or crocheting is to pretend that you're teaching someone to crochet. Exaggerate your movements - the way you do when you show someone a technique - and this will lend the wire the illusion of elasticity as you work it.
KP: I won't ask you if you prefer knit or crochet as I know this is impossible to answer! However what are the features of crochet that particularly appeal to you?
AM: On Tuesdays, Thursdays and Saturdays I like crochet better. On Mondays, Wednesdays and Fridays I prefer knitting. On Sundays I go wild and mix them up.

What appeals to me about crochet is the portability - the ease with which one can make a truly beautiful fabric - and the speed with which it is worked. Crochet uses more fiber than knitting due to the nature of the stitches - both knit and crochet create fabrics made of loops drawn from loops, but when making crochet fabric each stitch is bound off as it's worked, while in knit fabric the stitches are kept live until the end of the piece. Tunisian crochet is a mix of both, with the stitches being bound off at the end of a row instead of after each stitch.
KP: If you had a message for the crochet world what would it be?
AM: Don't let anyone make you feel that you're lesser or not as chic, cool or groovy as anyone else. Like anything else, crochet can be beautiful, or a little frightening depending on the skill and the intention of the stitcher. The main point is that we don't crochet (or knit) to make things - we crochet (and knit) to make ourselves happy!
KP: You've been quoted on the future of knitting. How do you see the future of crochet? Do you feel that it is changing at all?
AM: Will crochet continue to be popular? To those who love it. Folks who embrace something out of an emotion other than love will find it hard to stick with it - but those who love crochet will always find joy and peace in the building up of stitches, one by one, to create a fabric where before there was just a length of yarn.

But - like I tell my daughter - popularity is not a good measure of how loved someone, or something, is. Crochet's certainly not going anywhere, and I'm hopeful that more knitters (and sewers) will begin to explore ways that crochet can add a beautiful finish to non-crochet garments. I'm gratified to see more crochet magazines concentrating on fashion forward concepts, and unusual uses for crochet. However, it's easy to cross the line from cutting edge cool to over the edge weird - which is pretty much in the hook of the beholder.
KP What do you have planned for us for the future – is there anything you can tell us about?
AM: Well, we're moving to Minnesota in a month - to St. Paul (we just found a house - I've been writing about it at my blog, www.anniemodesitt.com/blog) I'm hopeful that the move will mean more freedom for me to pursue my knitting and crochet goals; more designs, more books, perhaps a DVD?

I've recently created a set of knitting flip books, and I have plans to continue with a set of flip books showing single and double crochet, half double, treble, shell stitches, picot and bullion rolls - each technique animated in its' own little 4" x 2-1/2" full color flip book.
KP: Will there by a crochet pattern a day calendar in 2008 and if so when will you be starting to call for submissions and what are your plans for 2008?
AM: Yes, there will be a 2008 calendar and Desiree Scales, the editor, will probably just be in the thick of it right now (late January) Folks can find out more information on submitting at https://www.crochetpatternaday.com
Annie's blog can be found
here
I hope that you have enjoyed this interview with Annie Modesitt - do let me know if there are people that you would like to see interviewed on BellaOnline Crochet, and if you have any comments about this or any other article do not hesitate to drop into the forum or send me an email via the 'contact' button on this site!
You Should Also Read:
Annie Modesitt Blogg
Crochet Pattern A Day
Free Crochet Pattern - Interweave Crochet Magazine, Credit Card Bag


Related Articles
Editor's Picks Articles
Top Ten Articles
Previous Features
Site Map





Content copyright © 2021 by Kate Pullen. All rights reserved.
This content was written by Kate Pullen. If you wish to use this content in any manner, you need written permission. Contact Holly Messenger Aamot for details.