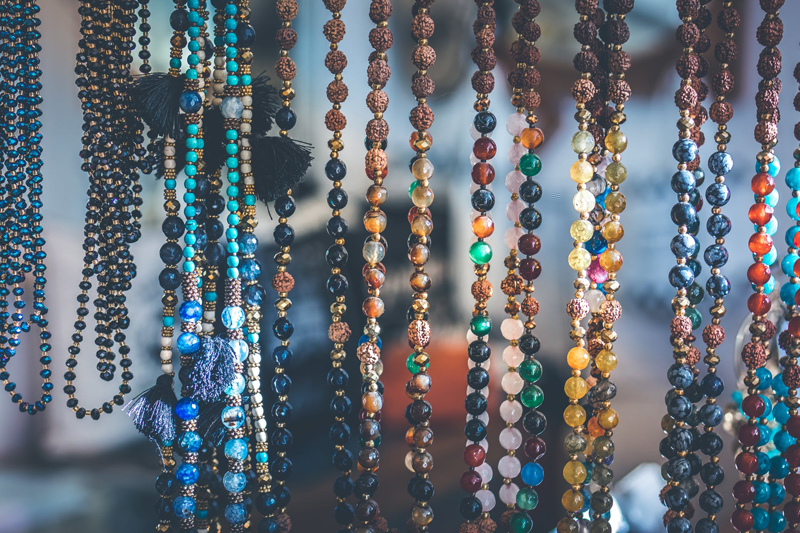 Brick Stitch Variations
Brick stitch is confusing. There seem to be so many versions of it, I don't know which method is best, because I use all of them for different things. They all have thier drawbacks and advantages.
Ann Benson has posted the classic instructions, the type of brick stitch I started with, and that I used for the earrings above. In this method, you do the foundation row, then add one bead at a time, going through the thread between rows on the row beneath, and coming up through your bead. This method does leave thread showing on the outside of edges of your project, but also creates a very stiff stable project with the beads lining up perfectly.

Beltana's
method adds 2 beads at the start of the rows, and then goes, which doesn't leave any thread showing, but sometimes is hard to get the tension just right to line up the beads perfectly. If you use this method, I'd strongly recommend weaving back through the beads on the edges to get them to line up right. It does look nice though!

Beadyboop's instructions, if you scroll down, offer a method that weaves through the beads
on the previous row, rather then looping around the thread, which makes a strong stable weave. Tension on this method can be tricky, if you use too much, the project will cup slightly.

The best thing I can suggest for deciding which method works best for you is to try each of them. Make a diamond with the same number of beads in the foundation row with each stitch, using different types of beads.This way you'll get a feel for how it works in different kinds of beads, and what the drawbacks and advantages are in each method.

Foundation rows can be done 3 different ways too, one of them is making single needle ladders, (shown in the above links), the second method is with 2 needle ladders, where you put a needle on both ends of the thread and cross weave the foundation row, and the third method is the one I use most. Pamela Welborn taught me it.


Start by stringing on the first bead on the second row of your pattern, and then the first 2 beads of your foundation row, then go back up through the first bead. Tie off in a knot leaving a tail long enough to weave in, then do your first two rows of your pattern zig zagging back and forth between the beads. I use this method because it's quick, but it's not quite as stiff as the ladder start is.

Picking thread for brick stitch: I like silamide, I love silamide. But for brickstitch, it's not always appropriate. It works fine with Japanese size 11's, and with delicas, but I would suggest a finer thread, like one of the fine nymos, or fine silk for smaller beads.

When I was a kid, I remember my mom buying brick stitched earrings from the tourist shops locally, or from local craft fairs,she loved them, the long lovely dangle of them. Sometimes they had porcupine quills in the fringe, sometimes not.
After I started beading, a friend I worked with asked me to re-create a pair of earrings for her, that were bugles and seedbeads, except she wanted gemstone chips in the fringe. I made a pair for myself that my mother saw and loved, so I gave them to her.
Every since then, I think of my bugle and seedbead earrings as being mom's earrings. These look truly elegant in black with angled fringe.
Use this graph paper to graph out your own design. Right click to save
it.




Related Articles
Editor's Picks Articles
Top Ten Articles
Previous Features
Site Map



Follow @shala%5Fbeads
Tweet





Content copyright © 2022 by Shala Kerrigan. All rights reserved.
This content was written by Shala Kerrigan. If you wish to use this content in any manner, you need written permission. Contact Shala Kerrigan for details.