Definitions of Numismatic Terms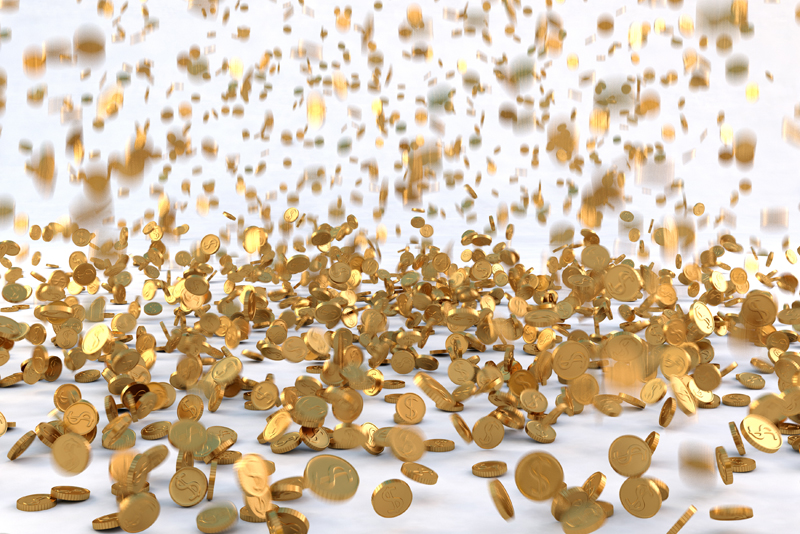 As a coin collector, there is terminology that is commonly used, and one must become familiar with it in order to understand publications, dealers, and other collectors when referring to coinage. Listed below are a few of the more common terms you will find in the Coin Industry.

ABRASION – Friction marks on a coins surface from rubbing or scuffing, usually from one coin on another.

ALLOY – A combination of two or more metals. Used in coinage to slow down wear, and increase the time a coin will stay in circulation.

BAG MARKS – Most commonly seen on larger, heavier silver and gold coins. It is a surface mark or nick found on a coin's surface from one coin coming in contact with another in a mint bag.

BLEMISHES – Any minor markings or discolorations that appear on a coin's surface, which detracts from the appearance.

BRASS – An alloy made up of copper and zinc.

BRONZE – An alloy comprised of copper, zinc and tin.

BUSINESS STRIKE – A coin struck for circulation, and intended to be used in conducting trade.

CERTIFIED COIN -- A coin that has been submitted to an independent grading service and has been encapsulated by that service. It is usually graded by the service as well as being authenticated however, the coin does not have to be graded to be declared certified authentic.

CLAD COIN – A coin manufactured with a center core then layered on both outside surfaces with another metal, example: U.S. quarters from 1965 to present.

CLEANING – The removal of dirt, or changing the appearance of a coin, generally through the use of abrasive materials which will show on the surface of a coin through magnification or in other detectable forms.

COIN – Usually a piece of metal that has been assigned legal tender status for commerce by a governing body.

COMMEMORATIVE – A special coin that has been issued to honor a person, place or thing.

DETAIL – Intricate markings and small features found within a coin's design, e.g. those seen in hair, feathers, leaves, etc.

DEVICE – The main design on the surfaces of a coin.

DIE – A piece of metal that has been engraved with a design, and is used to strike or stamp a coin.

DIE VARIETY – A variations found in a coin's design that can be attributed to the die from which the coin was struck.

DIPPING – The removal of surface grime, or the tampering with the coloration of a coin to make it appear lustrous through the use of chemicals.

DOUBLE EAGLE -- A U.S. $20 Gold piece.

EAGLE – The first U.S. gold coin was a $10 piece, but there wasn't a denomination found on the coin. The general population started to call it an "Eagle." From that point on the $10 Gold piece has been nicknamed an "Eagle."

FIELD – That part of a coin's surface not used for an inscription or a design, i.e. the background.

FINENESS – The purity of the precious metal from which a coin is made. It is usually listed as the number of parts out of a thousand.

FLAN – A coin blank, or planchet used to make a coin.

GRADE – The condition of a coin referenced to the amount of wear appearing on its surface. The less wear on a coin the higher the grade and vice versa.

HALF EAGLE – A U.S. $5 Gold piece.

INCUSE – A coin whose device is cut below the surface rather then appearing in relief.

LEGEND – The lettering or inscription on a coin.

LUSTER – The transference of a glossy bloom appearing on the surface of a coin from the striking process. This can be seen on uncirculated coins, and wears off as a coin circulates.

MINT ERROR – A defective or misstruck coin produced by a mint.

MINT MARK – Usually a letter, or sometimes a symbol to indicate from which mint a coin is struck.

MOTTO – A word or phrase used on a coin.

NUMISMATIST – A student or a collector of coin, medallions and related materials.

OBVERSE – The front surface of a coin. It is usually the side with the date appearing on it.

OVERDATE – A date made by superimposing one over another on the striking die prior to the coin's manufacture.

PATTERN – A trial or experimental coin made of proposed coinage.

PLANCHET – A coin blank or Flan upon which a coin is struck.

PROOF – A special coin made for collectors. These coins are usually struck from dies made to strike only these specimens. The planchets are polished before striking, and the coins are generally struck at least twice with a much greater pressure then normal.

QUARTER EAGLE – A U.S. $2 ½ Gold Piece.

RAW COIN – A coin not graded or certified by an independent grading service.

REEDED EDGE – The edge of a coin with vertical groves around its circumference, as found on the U.S. dime, quarter, half dollar, for example.

REVERSE – The back or tails side of a coin. It is the opposite of obverse.

RIM – The raised outer edge of the obverse and reverse of a coin that protects the design, and allows the coin to be stacked.

SERIES – One coin from each year with mint marks of a specific denomination and design, for example, the Eisenhower Dollar (1971 – 1978).

SLABBED COIN – A coin that has be graded and/or certified by an independent grading service. The term "Slab" refers to the encapsulation in which a coin is sealed by the grading service.

TONING – A natural patina or coloration change on the surface of a coin caused by the environment over a long period of time. Many collectors consider toned coins highly desirable.

TYPE – The basic distinguishing design of a coin.

VARIETY – Minor changes within the basic design of a type coin.



Editor's Picks Articles
Top Ten Articles
Previous Features
Site Map





Content copyright © 2021 by Raymond F. Hanisco. All rights reserved.
This content was written by Raymond F. Hanisco. If you wish to use this content in any manner, you need written permission. Contact Gary Eggleston for details.