Mary Lou Tiffany 1927-2015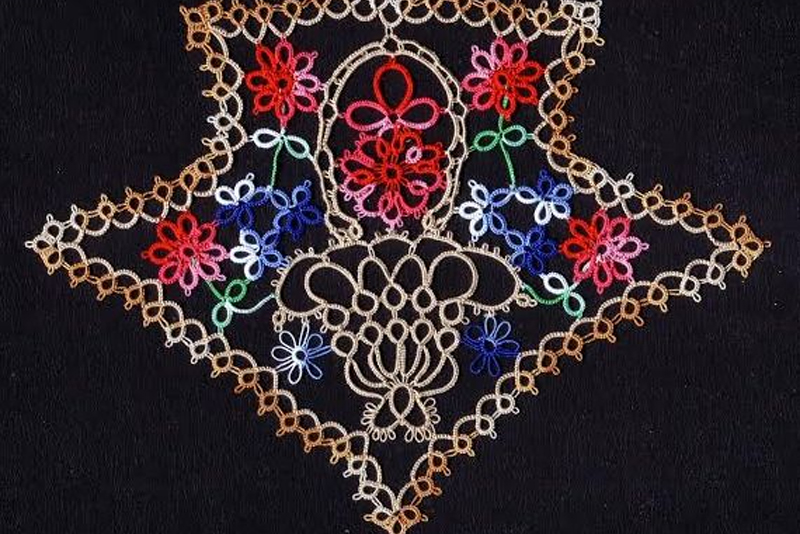 January is often a cold month. This year it is made colder by the loss of the warmth of Mary Lou Tiffany's smile. Her son, John, reported that she has laid down her shuttle for the last time. She was a dear soul, generous to all. She was a participant in the "Tatting with Friends" book (1995.) This was her pattern.



Round Tatted Pillow Cover with Teneriffe Center

by Mary Lucetta Lewis Tiffany




This tatted pillow cover was an entry in an art show in 1980. It was tatted with sturdy thread (Speed-Cro-Sheen?) and the pillow was cobbled from leftover denim. The open center of the tatted lace was filled with Teneriffe lace. The center could also be a tatted round ring of twelve picots separated by three double stitches or even filled with needle weaving.




The first round consists of a basic ring and chain pattern repeated. The second round is all one shuttle work with the small inner rings joining to the two picots of the chain in the first round. The chains of the third round join to the large rings of the second round by the chains. The last two rounds are basic ring and chain repeats joining the chains of both together.




Mary Lou Tiffany's family moved around a great deal when she was young experiencing much of the trials and tribulations of the Depression Era as well as many joys. Her mother, Lillian D. Lewis ( see her tatted bonnet pattern, too), grandmother and an aunt were all talented artists who traded their paintings and needlework for the necessities of life. They would gather in the evenings to teach Mary Lou to knit, crochet and to tat using the strings from the tops of flour sacks and sugar sacks which were themselves transformed into small clothes.




Married over 52 years, she and her husband, Harold, were school teachers for several decades. Suffering a stroke in 1975 she began therapy which included tatting every day to force her fingers to move. As her recovery continued she kept at it and began to teach tatting as well. Over the last 23 years she has taught many students most recently at the 1998 International Old Lacers, Inc. convention in San Diego, California.




Mary Lou may well be best known for (what I consider) the most extensive reference library of tatting books in the world! Beginning with a tattered copy of "Tatting Techniques" by Elgiva Nicholls, she has gathered nearly all of the books of tatting patterns published this century and some of the previous century, too. Truly a labor of love. Mary Lou writes: "I have been blessed by the Lord." (Personally, I feel both blessed and grateful to have met her and I thank her for sharing her knowledge and love of tatting with me.--Georgia Seitz 1995)








Note: pattern used with permission of the editor, G. Seitz.






Related Articles
Editor's Picks Articles
Top Ten Articles
Previous Features
Site Map





Content copyright © 2019 by Georgia Seitz. All rights reserved.
This content was written by Georgia Seitz. If you wish to use this content in any manner, you need written permission. Contact Georgia Seitz for details.