Butterfly Collection Frame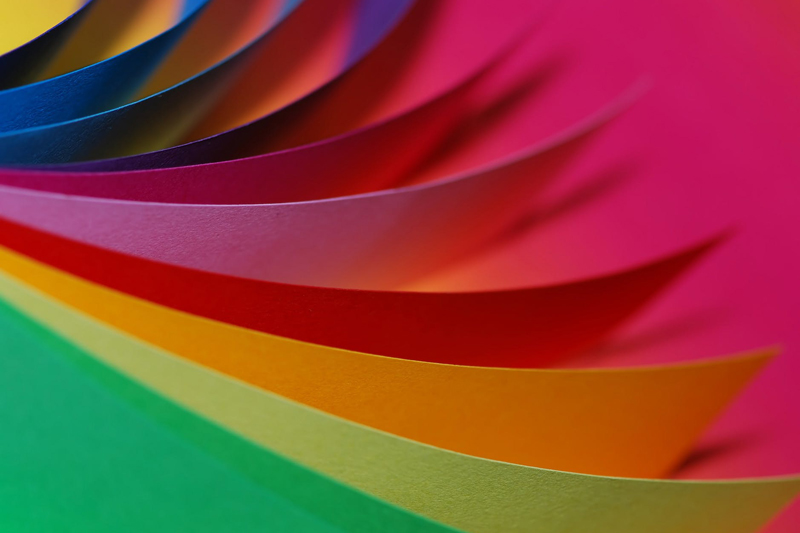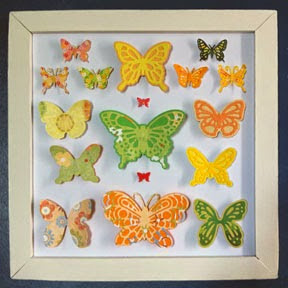 Our project for today was inspired by the work of Helen Ward, a Bristol, UK-based artist who creates, among other things, wall décor that features papercut insects. In her Paper Entomology series, she uses vintage hand marbled paper and 19th century documents, plus gold and silver leafing for her butterflies and bugs. These individually cut insects are then mounted in a deep frame, like the butterfly collections popular during Victorian times.
Here's how you can make a similar butterfly collection frame for your home.
You will need:
* Assorted patterned papers
* Dressmaker pins or double-sided foam tape
* Any of the following:
      - Butterfly template (
available here
, or search the Web for "public domain butterfly templates")
      - Die cutting machine and butterfly cutting dies
      - Butterfly craft punch
* White foam core board, 12 x 12 inches
* White foam core board cut into four strips each measuring 1 x 12 inches
* Ruler
* Craft knife
* Cutting mat
* Strong craft glue
* Gesso
* Paint brush
* Scissors
* Pencil
* Soda can tab or foam board frame hanger
* Glue gun
* Duct tape (optional)
To make the frame:
Measure, mark and cut a piece of foam core board to the indicated sizes using a sharp craft knife, cutting mat and ruler. Miter the corners of the 1 x 12 strips so that they fit together to form the frame. Attach the strips to the 12 x 12 board using strong craft glue. Brush the frame with gesso to make it look like painted wood, and let dry completely.
To attach the hanger, use a pencil to draw a light line side to side across the back of the board, about 2 inches from the top edge. Find the midpoint of the line and adhere the lower half of the soda tab there using a hot glue gun. You can reinforce this by covering the lower half of the tab with a piece of duct tape. If you're using a foam board hanger, attach it to the board following the manufacturer's instructions. Set the frame aside.
To make the butterflies:
Use a die cutting machine and template or a craft punch to cut butterflies from assorted patterned papers. If you don't have either, use a butterfly template, trace several butterflies onto patterned paper, and cut out with scissors. Cut as many butterflies as you need to fill up the space. Arrange the butterflies on the board, and attach them one at a time, using two pins to stabilize them (for small butterflies, use one pin). Alternatively, if you prefer not to use pins (say, if you plan to display this in a child's room), use double-sided foam tape instead. Stick two strips, sticky sides together, to make the tape thicker, and with the backing still on, cut them into pieces small enough to be hidden under the butterflies. Remove the backing and attach the butterflies to the board. You now have your own butterfly collection!


Related Articles
Editor's Picks Articles
Top Ten Articles
Previous Features
Site Map





Content copyright © 2022 by Mia C. Goloy. All rights reserved.
This content was written by Mia C. Goloy. If you wish to use this content in any manner, you need written permission. Contact Mia C. Goloy for details.