Best Dad - Father's Day Card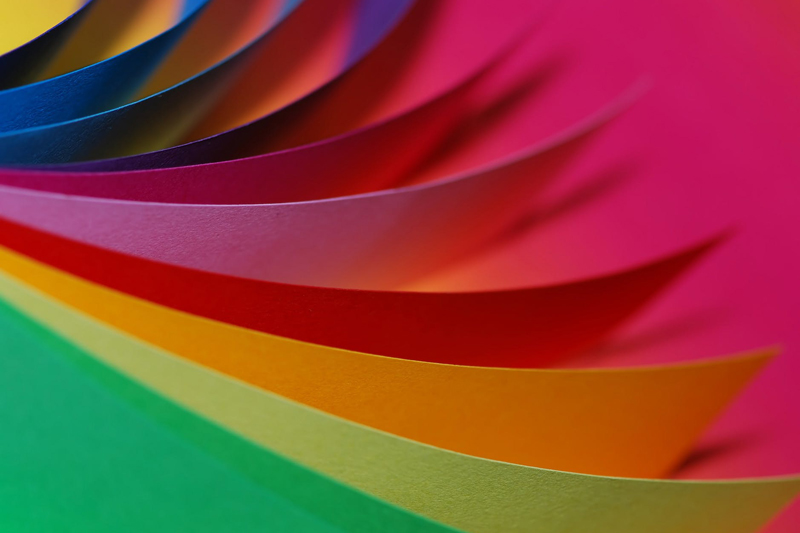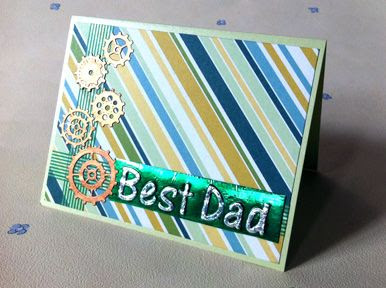 Stripes, gears, and a touch of metal are the order of the day, as we make this greeting card for Dad. Layer some die cut gears over some pinstriped washi tape and patterned paper, and add an embossed foil sentiment for some pizzazz. If you wish, you can substitute the gears with bottle caps, brads, coins - you name it. You could also replace the embossed foil with metallic stickers, a stamped and heat-embossed sentiment, or a greeting handwritten with a metallic marker or gel pen. Happy Father's Day!
You will need:
* Cardstock, 8-1/2 by 5-1/2 inches
* Striped patterned paper
* Washi tape
* Gears, die cut or punched (or use real watch gears!)
* Cardstock, 7/8 by 3-1/2 inches
* Aluminum foil or aluminum tape
* Dry embossing template for sentiment (optional), or tracing paper and pencil
* Stylus or spent ballpoint pen
* Permanent marker in color of choice
* Craft glue
* Double sided tape
* Cutting mat
* Craft knife
* Ruler
Measure, mark and cut a piece of cardstock measuring roughly 7/8 by 3-1/2 inches. Cut a piece of aluminum foil about ¼ inch larger than the cardstock. Apply craft glue on one side of the cardstock, then adhere the foil, smoothing it out with your fingers to remove bubbles and wrinkles. Fold the excess foil behind the cardstock. Using a dry embossing template and stylus, emboss the sentiment from the back of the foil-covered cardstock. Note: If you don't have a dry embossing template, write the sentiment onto a piece of tracing paper, then place the tracing facedown onto the back of the foil-covered cardstock. Trace the writing (which should be in reverse) with a stylus or spent ballpoint pen, applying enough pressure to emboss it. When done, color the foil with a permanent maker, taking care not to color the embossed letters. (If you happen to get ink onto the letters, simply wipe it clean with a cotton bud moistened with rubbing alcohol.) Set this aside.
Measure, mark and cut a sheet of cardstock to 8-1/2 by 5-1/2 inches. Score and fold this in half width-wise to form the card base.
Measure, mark and cut a piece of striped patterned paper to 5-3/8 by 4-1/8, and adhere this to the front of the card using double-sided tape. Take a strip of washi tape and stick it about half an inch from the left edge of the card. Take another strip and stick it half an inch from the bottom edge; the two pieces of tape should cross each other. Using double-sided tape, attach the foil sentiment on top of the washi tape, with the sentiment aligned to the right. Using the photo as a guide, arrange and glue five gears along the left side of the card, overlapping the washi tape, and the bottom gear overlapping the sentiment.


Related Articles
Editor's Picks Articles
Top Ten Articles
Previous Features
Site Map





Content copyright © 2022 by Mia C. Goloy. All rights reserved.
This content was written by Mia C. Goloy. If you wish to use this content in any manner, you need written permission. Contact Mia C. Goloy for details.