Ideas for Sandwiches with Salad Fillings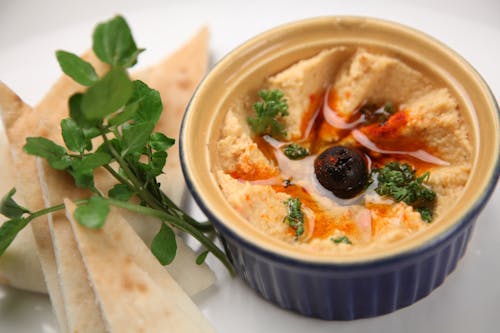 When you are having guest over for a meal, a sandwich buffet is easy to throw together when you make the ingredients ahead of time. Your theme could emphasize salads. Chicken or turkey salad, an egg salad, seafood salad, veggie salad, hummus, or tofu may all be used. With a variety of breads, rolls, wraps, and condiments, your sandwich creations are almost unlimited. Here are some ideas for sandwiches made with salad fillings. The breads and condiments on this ideas list might help you get started with suggestions for your own buffet.

Sandwiches with Salad Fillings

*Egg salad on grilled rye bread with butter lettuce leaves and Black Forest ham.
*Eggplant made into Baba Ganoush and served in a fresh toasted pita.
*Turkey salad with apples, grapes, and pecans on a freshly baked roll.
*Egg salad, deli ham and thinly sliced dill pickle rolled in a lettuce leaf for a wrap.
*Tofu salad served with lettuce and spinach in a grilled flour tortilla.
*Hummus slathered on a tortilla that has been grilled in olive oil with veggies.
*Shrimp salad in a wrap with alfalfa sprouts and seaweed.
*Albacore tuna salad made with mayo, green onions, and fresh dill on a Kim's Magic Pop.
*Egg salad with paprika on a bed of crisp spinach leaves all on dark rye bread.
*Green grapes, scallions, dill, toasted pecans, pineapple habanero sauce, mayo, and chopped chicken breast mixed together as a salad and served on a croissant.
*Egg salad grilled with crispy bacon strips on pumpernickel bread.
*Egg salad with thinly sliced ham rolled into a lettuce leaf.
*Apples, grapes, celery, toasted pecans, mayo, and shredded chicken salad on a croissant.
*Tofu salad served open-face on saltines.
*Ham salad on a grilled bun with thin slices of deli pickle.
*Corned beef mixed with mayo, catsup, horseradish, and pickle relish, served in a grilled bun with a scoop of coleslaw.

The related links below have recipes for some salad fillings for sandwiches. There are many more in the Sandwiches Site. Just use the search function using the main word, such as "turkey" or "chicken." After you have chosen your fillings, breads, and condiments, just find some tasty side dishes. The Sandwiches Site has those, too! Add some chips, fresh fruit, a veggie tray, and cookies for a delicious and interesting buffet. If your time is limited, or you just don't feel like cooking, buy quality premade ingredients. Having a get-together doesn't need to be difficult. Enjoy time with your guests and let everybody serve themselves.


Related links: The Related Links below this article may be of interest to you.

When I mention stores or products by brand name, these are the ones that I use. I have not received free products from the manufacturers, nor have I been paid to mention the products or stores by name.

NEWSLETTER: I invite you to subscribe to our free weekly newsletter. This gives you all of the updates for the Sandwiches site. Sometimes, this newsletter has information and variations on sandwiches that are not in the articles. Fill in the blank below the article with your email address - which is never passed on beyond this site. We never sell or trade your personal information.

You Should Also Read:
Shrimp Salad Recipe
Vegan Tofu Salad Sandwiches Recipe
Classic Chicken Salad Recipe


Related Articles
Editor's Picks Articles
Top Ten Articles
Previous Features
Site Map





Content copyright © 2022 by Connie Mistler Davidson. All rights reserved.
This content was written by Connie Mistler Davidson. If you wish to use this content in any manner, you need written permission. Contact Connie Mistler Davidson for details.