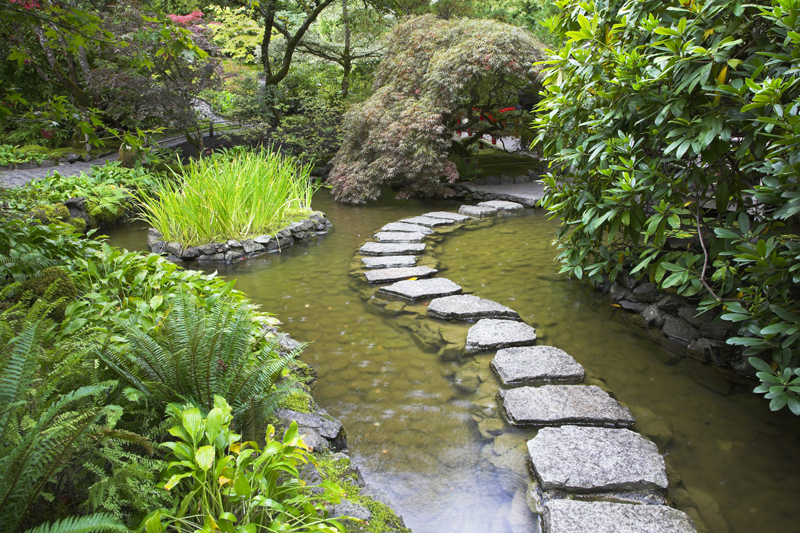 The pomegranate plant largely disappeared in Europe after the fall of the Roman Empire.

Albertus Magnus, author of "De Vegetabilibus et Plantis," published around 1260, had a description of a medieval pleasure garden that included certain trees for shade, including the pomegranate.

A series of medieval health handbooks, based on earlier Arab medicinal and botanical treatises, appeared in the late 14th-early 15th centuries. These had illustrations of plants notable plants,including fruiting pomegranates.

The garden at Olite, built by Carlos III (1387-1425) featured pomegranates, oranges, and other trees that form the cloisters.

A late 14th century European garden illustration for the nobility shows pomegranates and other fruits planted around a marble fountain. This was described by Boccaccio.

Girolamo Fiorenzuola published a book in 1552 that recommended various fruit trees and other plants for espalier. These were grown on low lattice fences. Italian villas dating to the 1600s featured pomegranates grown against garden walls.

Illustrations of Italian gardens dating to the 15th and 16th centuries show pomegranates planted in mixed hedges around flower beds. Pomegranates were also grown on slopes in terraces.

A fictional garden in a work by Pietro Aretino "Pagionamenti" was written some time before 1536. This included pomegranates and other plants forming edging for flower beds.

A 16th century garden Italian garden at the Villa Laute, located at Bagnaia north of Rome, included a planting of pomegranates and quince. The garden had walls planted with various fruits, including pomegranates. The image of the pomegranate fruit appeared on the heraldic symbols of Queen Catherine of Aragon.

One of the early mentions of pomegranates in France was when these were planted in the king's garden in 1618 by Le Notre's father. There are also reports that Jean Robin (1550-1629), the king's gardener at the Jardin du Roi in Paris, was growing the plant in Paris in 1611.

The Grenadiers were named after grenades, which also got their name from pomegranates. These special elite troops specialized in hurling grenades.

Pomegranate fruits were featured in European art, particularly in still lifes. The fruits often symbolized fertility. Sometimes, a mother would be depicted holding the fruit.

For Christians in Europe, the pomegranate plant and fruit were an important symbol. The fruit was seen as a symbol of fertility and eternal life as well as the resurrection and Passion of Christ. The Christ Child was often depicted holding the fruit.

The fruit also appeared in still lives depicting the Eucharist. The fruit typically appears in paintings of the Madonna and child holding the fruits. In some cases when the Madonna is shown with a pomegranate fruit, this represents her chastity. This concept is based on a quotation from Solomon, "Your shoots are an orchard of pomegranates, with all choicest fruits.

Christian art sometimes showed a unicorn with a pomegranate plant. These typically showed a pomegranate inside a low fence. The unicorn is chained to the tree. In this image, the pomegranates symbolize the resurrection and the blood and Passion of Christ.

Christian art depicting meals Christ shared with his followers often depicted pomegranates. The pomegranate seeds signified the blood of Christ as well as that of the martyrs.

Pomegranates appeared on menus during medieval times. In medieval times, people used pomegranates and other fruits in pies, compotes, stuffings, and stews. Both raw and stewed fruits were served at the beginning and end of meals.

"The Medieval Kitchen-Recipes from France and Italy" by Odile Redonet features a dish called Romania. This was a chicken dish cooked with pomegranate juice. This volume also has a medieval recipe for San Vincenzo's Day featuring grilled eel garnished with pomegranate and citrus juices.







Related Articles
Editor's Picks Articles
Top Ten Articles
Previous Features
Site Map





Content copyright © 2021 by Connie Krochmal. All rights reserved.
This content was written by Connie Krochmal. If you wish to use this content in any manner, you need written permission. Contact Connie Krochmal for details.