Vegan Veggie Burger Recipe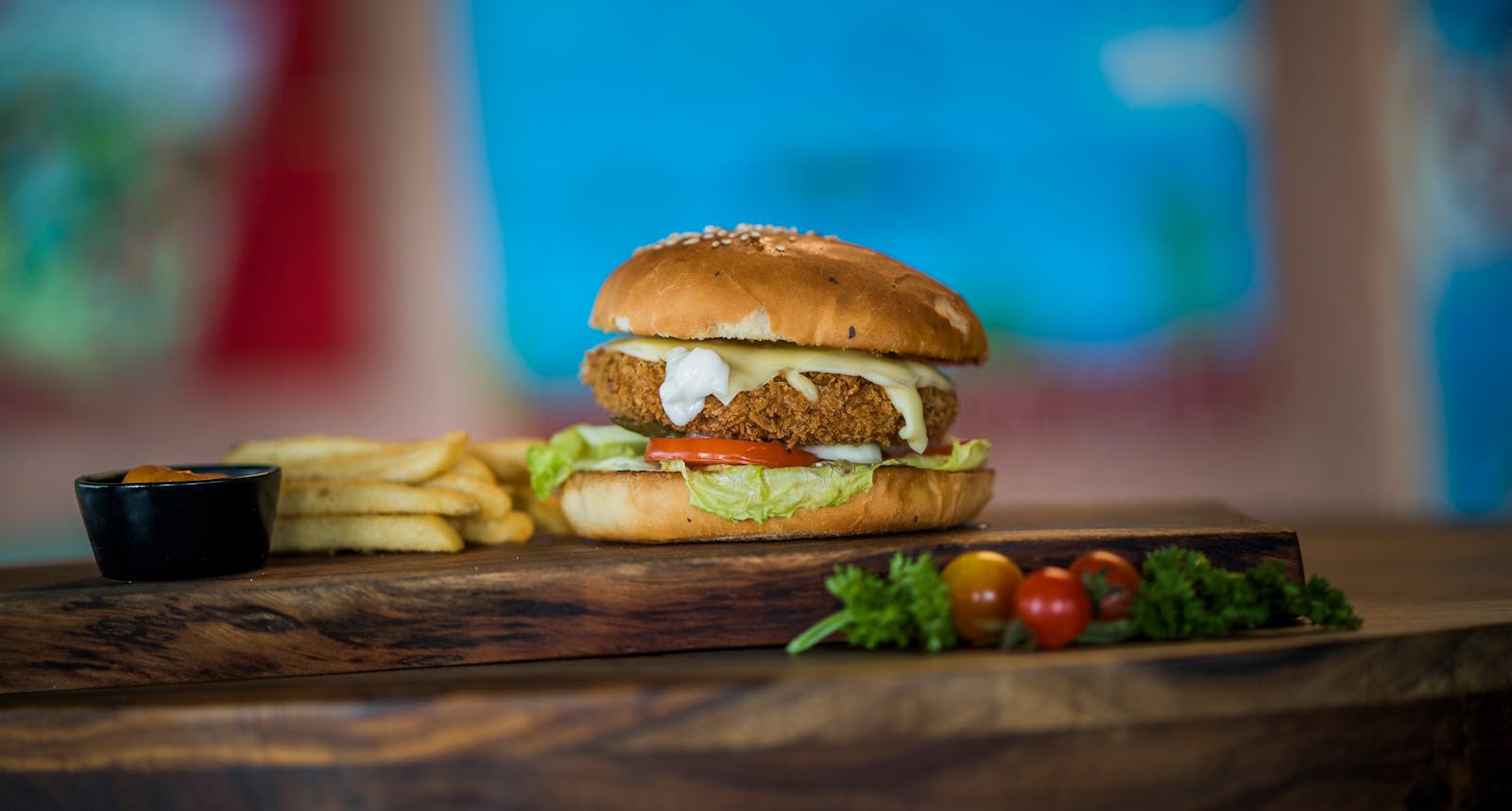 I love my pakora patties, but for the longest time I've wanted to develop a recipe for a veggie burger. As I thought about it, several requirements came to mind. The burger had to be tasty AND healthy. The texture needed to be pleasing. Too often veggie burgers have these hard, chewy inclusions that I find unpleasant. It needed to be able to function as a burger on a bun, yet be versatile enough to work in a pita or a wrap. A vegan burger would be preferred.

The texture eluded me, until I saw a friend's recipe for a quinoa patty. That was the missing piece to the veggie burger puzzle! Quinoa adds bulk and texture. It is a good source of fiber and complete protein. Add the quinoa and vegetables together for taste and texture. Then, stir in garbanzo flour for more protein and a binder, and you have a winning veggie burger. Let me know what you think. I hope that you love these burgers as much as we do at our house.


Vegan Veggie Burger Recipe

Ingredients:

½ cup red quinoa (I used Earthly Choice.)
1 cup water
2 tablespoons ground golden flax meal
½ - 1 teaspoon seasoned salt (I used Lawry's.)
½ teaspoon garlic salt
½ cup medium diced onion (firmly packed)
½ cup medium diced orange or yellow bell pepper (firmly packed)
1 cup medium diced crimini mushrooms (firmly packed)
2-3 cloves finely minced garlic
1/8-1/4 teaspoon Worcestershire flavored pepper
¼-1/2 teaspoon Berbere seasoning (I used Penzey's.)
1 tablespoon dried parsley (rub between your fingers)
1 teaspoon dried cilantro (rub between your fingers)
½ cup coarsely grated sweet potato
½ cup coarsely grated zucchini
1 ¼ - 1 ½ cup of garbanzo flour (I used Bob's Red Mill.)
1 tablespoon of the brine that is on pickled jalapeno peppers (optional)
oil for frying (I used canola.)

Method:

In a medium (2 quart) saucepan, add the quinoa, water, flax meal, seasoned salt, and garlic salt. Stir the ingredients and let them stand. Dice the onions, bell pepper, and mushrooms. Add them to the pan in this order-onions, bell pepper, and mushrooms. Bring the pan to a boil on high heat, then lower the heat to low and cover the pan. Simmer gently for 20 minutes.

Remove the lid and stir the ingredients. Leave the lid on and turn the heat up until the ingredients simmer vigorously. Let the quinoa mixture cook for an additional 10 minutes. Then, remove it from the heat. Add the garlic, pepper, Berbere seasoning, parsley and cilantro and stir these seasonings in. Add the sweet potato and zucchini into the mixture, stir, and cover the pan again. Let the mixture stand for 10 minutes. This allows the sweet potato and zucchini to partially cook without becoming mush.

Add 1 ¼ - 1 ½ cup of garbanzo flour, ¼ cup at a time. There are some differences in various garbanzo flours. You be the judge of how much of the garbanzo flour is needed. Stir the burger mixture well after each addition of garbanzo flour. The vegan burger mixture should be about as thick as biscuit dough.

In a large heavy skillet (I used cast iron), heat the oil. Using a ¼ cup measure, dollop 4 mounds of the mixture into the skillet. I used the back of a greased spoon to flatten the patties to about 3/8 of an inch. Heat on high for 1 minute, then cover the pan and turn the heat down to medium-low. Set the timer for 4 minutes. The patties should be set and a medium to dark brown. Flip them, and let them cook on the second side for 4 more minutes, uncovered. That side will be medium to dark brown, too. Serve these veggie burgers hot on a bun, in a pita, or wrapped in a flour tortilla.

Serving suggestions:
*Dress a wheat bun with Vegenaise, mustard, sliced onion and sliced pickles.
*Stuff the veggie burger into a pita with ranch dressing and chopped butter lettuce.
*Wrap the veggie burger and thin tomato slices in a warm flour tortilla with a dressing of mashed avocado, grated cucumber, and garlic salt.

When they are hot out of the pan, these burgers have a crispy crust on the outside. They may be stored in the refrigerator for two days and reheated in the microwave. They can also be placed on a parchment paper covered cookie sheet and frozen. I wrap them individually in parchment paper and store them in a plastic freezer bag. The burgers can go straight from the freezer to the microwave to reheat them. Except for losing the crispy outside, we did not notice changes in the texture when the Vegan Veggie Burgers were reheated in the microwave.

These take about an hour to make from start to finish. There is some chopping and stirring, but they are not difficult to make. The recipe is pretty forgiving. The recipe made twelve bun-sized burgers. I froze half of them, so that I have some easy meals when I add a salad or soup to my luscious Vegan Veggie Burgers. Do try some soon!


When I mention stores or products by brand name, these are the ones that I use. I have not received free products from the manufacturers, nor have I been paid to mention the products or stores by name.


NEWSLETTER: I invite you to subscribe to our free weekly newsletter. This gives you all of the updates for the Sandwiches site. Sometimes, this newsletter has information and variations on sandwiches that are not in the articles. Fill in the blank below the article with your email address - which is never passed on beyond this site. We never sell or trade your personal information.

Related links: The Related Links below this article may be of interest to you.



You Should Also Read:
CedarLane Quinoa Tabouli Review
Falafel Sauces Recipes


Related Articles
Editor's Picks Articles
Top Ten Articles
Previous Features
Site Map





Content copyright © 2022 by Connie Mistler Davidson. All rights reserved.
This content was written by Connie Mistler Davidson. If you wish to use this content in any manner, you need written permission. Contact Connie Mistler Davidson for details.