Apple Turkey Breakfast Sausage Recipe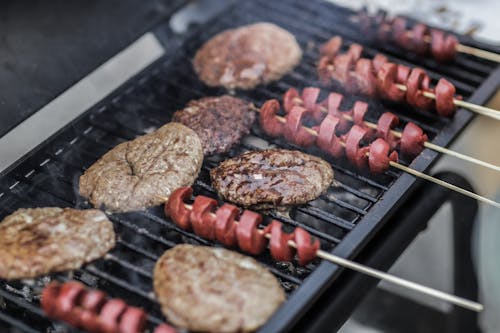 These sausages are a good alternative to expensive premade chicken or turkey sausage. With a few ingredients and a little bit of work, you can have delicious sausage from your own kitchen. The hardest part is grating the apples! How easy is that?


Apple Turkey Breakfast Sausage Recipe

Ingredients:

1 teaspoon garlic salt
1 teaspoon onion salt
1 teaspoon seasoned salt
1 teaspoon Worcestershire ground pepper (You may also use regular ground pepper.)
1 teaspoon sage (I used sage leaves that had dried on my plant. I picked them and rubbed them between my fingers.)
½ teaspoon ground rosemary
½ teaspoon Old Bay Seasoning
¼-½ teaspoon Berbere seasoning or red pepper flakes (I used ¼ teaspoon of Berbere seasoning from Penzeys.)
2 tablespoons olive oil
1 apple, peeled, cored, and coarsely grated (I used a Gala apple.)
2 pounds ground turkey


Method:

Add the ground turkey to a medium bowl. Mix the salts, pepper, sage, and Berbere seasoning in a small bowl. Sprinkle them over the meat with the olive oil and mix thoroughly. Add the apple and work it into the mixture until it is evenly distributed.

Check your seasonings. Put a tablespoon full of the sausage mixture on a microwavable plate. Microwave on high until it is no longer pink. You can cover the plate with a paper towel to prevent splattering. After the sausage has cooled, taste it for seasonings. Adjust to your taste.

After mixing, let the sausage mixture sit in the refrigerator for at least 3 hours or up to overnight. This allows the flavors of the seasonings to infuse into the meat.

Line a rimmed baking sheet with parchment paper. Make thin patties using 1/4 cup of sausage per pattie. Pat the sausages down until they are very thin. Each pattie should be about 4 inches across. They will shrink and thicken during baking.

If you don't want patties, but prefer links, roll the chilled sausage mixture into small logs and bake the same way as the instructions below. Be sure to check for doneness using a thermometer.

Bake at 350 degrees F. for 25-30 minutes. After 15 minutes, pull the baking sheets out of the oven and turn the patties. Put the baking sheets back into the oven, and finish baking the sausage patties. An instant read thermometer should show 165 degrees F when it is inserted into the middle of the pattie. There should be no pink on any pattie. This recipe will make 12 large sausages.

Let the sausages cool on the parchment paper lined pan. After the patties and baking pan have cooled, remove the parchment paper. Then, place the patties in a single layer on a the cooled baking sheet and freeze. Transfer the frozen patties to a plastic freezer bag. To thaw 1-2 patties, place them on a small plate or inside a paper towel and microwave the patties at 50% power for 1 minute. Turn the patties over and repeat for 30 seconds more, or until they are heated through.

These sausages are tender, juicy, and full of flavor. Fold one up in a pancake and drizzle it with maple syrup for an apple turkey sausage breakfast taco. Add a flavorful sausage pattie to a flaky biscuit for a tasty breakfast sausage sandwich. Plus, these Apple Turkey Breakfast Sausage are so simple to make. Try some soon!


When I mention stores or products by brand name, these are the ones that I use. I have not received free products from the manufacturers, nor have I been paid to mention the products or stores by name.

NEWSLETTER: I invite you to subscribe to our free weekly newsletter. This gives you all of the updates for the Sandwiches site. Sometimes, this newsletter has information and variations on sandwiches that are not in the articles. Fill in the blank below the article with your email address - which is never passed on beyond this site. We never sell or trade your personal information.

Related links: The Related Links below this article may be of interest to you.


You Should Also Read:
Biscuit Sandwich Brunch Menu


Related Articles
Editor's Picks Articles
Top Ten Articles
Previous Features
Site Map





Content copyright © 2022 by Connie Mistler Davidson. All rights reserved.
This content was written by Connie Mistler Davidson. If you wish to use this content in any manner, you need written permission. Contact Connie Mistler Davidson for details.