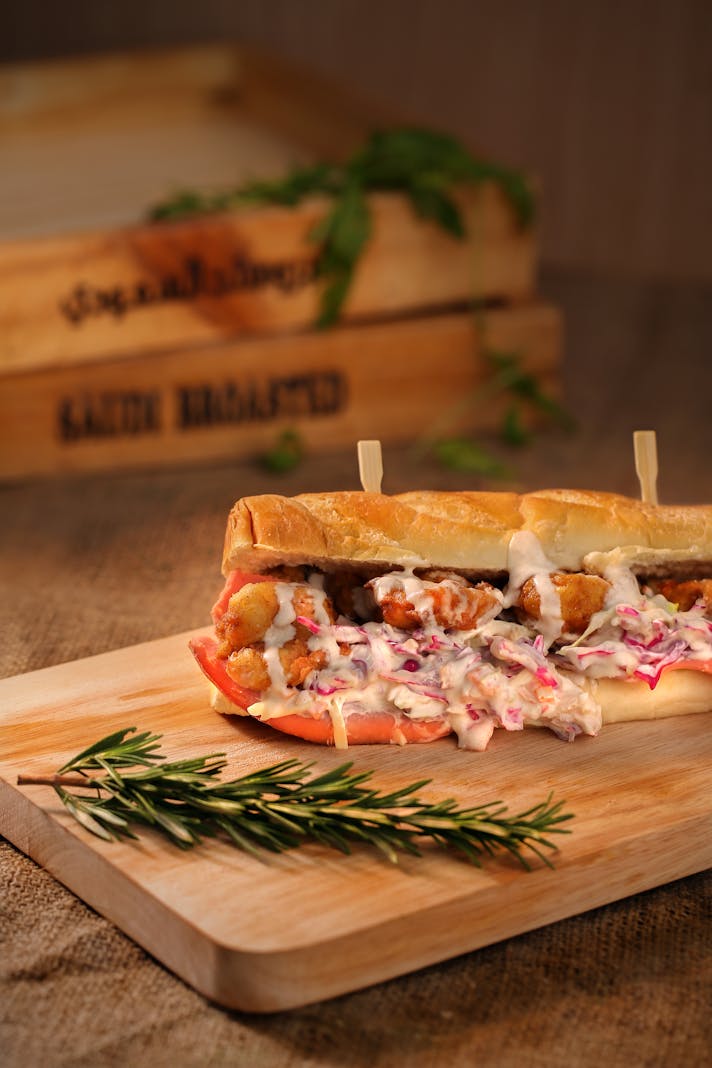 The forty days of Lent might bring some sandwich challenges. Here to the rescue is the BellaOnline Sandwich Name Game from our Sandwiches Forum. Filled with pages of ideas for delicious sandwiches, inspiration is easy to find in the Sandwich Name Game. Try these sandwiches for your Lenten observations or any time of the year when you need a good sandwich.

Lenten Sandwich Ideas:
* Giardiniera, sliced tomatoes, and a falafel pattie wrapped in a flour tortilla with melted mixed cheese.
* Naan with falafel, shredded lettuce and onions with Thousand Island dressing.
* Guacamole on a crispy corn tortilla with melted pepperjack cheese, topped with shredded lettuce and Pico de Gallo.
* Goat cheese mixed with chopped olives and walnuts, and then stuffed in a pita with butter lettuce.
* Artichoke and jalapeno dip with olives, walnuts and scallions spooned into a pita with alfalfa sprouts.
* Egg salad with bib lettuce on a croissant.
*Campari tomato and fresh basil leaves on grilled bread with mayo, salt, and pepper.
* Thick sliced Campari tomato and American cheese on sourdough bread with lettuce and mayo.
*Lentil burger in a pita with cucumber sauce and Pico de Gallo.
* Edam cheese with thinly sliced pears and toasted pecans with pear-infused balsamic mayo on a croissant.
* Yellow squash, breaded and fried, and then served with provolone, marinara sauce, grilled peppers and onions on a bun.
* Nut butter and strawberry jam on sesame sprouted grain bread.
* Nutella with cream cheese and sliced bananas on Ezekiel Sprouted Grain Sesame toast.
* Egg fried in butter, served with cheese, lettuce, tomato, and mayo on a soft bun.
* Yellowfin tuna grilled, drizzled with habanero pineapple mayo, and served in a jalapeno focaccia with spring greens.
* Asian slaw with tiny shrimp wrapped into a flour tortilla.
* Salmon with honey-mustard dill sauce on a croissant with shredded lettuce.
* Salmon salad open face on grilled rye bread.
* Oysters, breaded and fried, with tartar sauce on jalapeno focaccia.
* Tilapia salad (Tilapia mixed with tartar sauce) piled on a fresh, soft roll with spinach leaves.

These sandwiches don't lose a bit of flavor, even though they do not contain meat. Try one today! Don't forget to visit our forum to find more lovely sandwich ideas.

When I mention stores or products by brand name, these are the ones that I use. I have not received free products from the manufacturers, nor have I been paid to mention the products or stores by name.


NEWSLETTER: I invite you to subscribe to our free weekly newsletter. This gives you all of the updates for the Sandwiches site. Sometimes, this newsletter has information and variations on sandwiches that are not in the articles. Fill in the blank below the article with your email address - which is never passed on beyond this site. We never sell or trade your personal information.

Related links: The Related Links below this article may be of interest to you.


You Should Also Read:
Classic Egg Salad Recipe
Tuna Salad Recipe
Fried Tilapia Sandwich Recipe


Related Articles
Editor's Picks Articles
Top Ten Articles
Previous Features
Site Map





Content copyright © 2022 by Connie Mistler Davidson. All rights reserved.
This content was written by Connie Mistler Davidson. If you wish to use this content in any manner, you need written permission. Contact Connie Mistler Davidson for details.