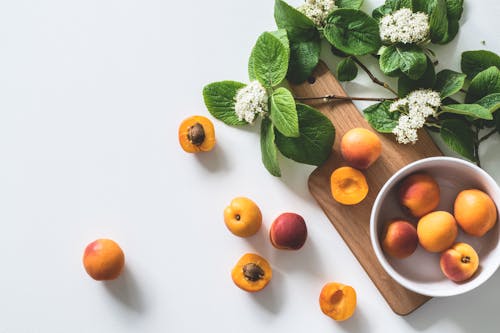 From time to time somebody will give me an idea for a recipe or request a recipe from me. My friend Lestie Mulholland, who is the BellaOnline Container Gardening Editor, lives in South Africa. That's a long way from Kansas, but our friendship transcends the miles. Lestie is an amazingly creative thinker. She sent me an idea for Apricot Dessert Bites. I always love it when she gives me ideas. She does so, knowing full-well that I cannot pass up an opportunity to tinker with a recipe. Also, all of my recipes on this site need to be originals, so I got to play with the idea that Lestie sent to me.

In this recipe, I used bronze-colored Turkish apricots. They are naturally dried without any sulfur. You may also use the orange ones, or even dried peaches. To coat the rolled-up balls, I processed walnuts in my food processor until they were about the size that you roll a cheese ball into. They made a delightful contrast to the sweet and tangy inside of the apricot ball. You may also want to try almond flour or coconut flour for rolling the balls.

This is a tasty little dessert that is delicious at the end of a sandwich meal. These sticky, gooey Apricot Dessert Bites are also great with coffee or tea, especially peach tea. Try making some today!


Apricot Dessert Bites

Ingredients:

(½ cup old-fashioned oats blended with ¼ cup almond flour and ¼ cup coconut flour.)
2- 6-ounce package dried apricots (Use scissors to cut them in half to make sure there are no pits.)
1 tsp cinnamon
½ tsp ground ginger
½ tsp mace or nutmeg (I used mace.)
½ teaspoon of sea salt
¼ cup melted coconut oil or melted butter (I used butter. The fat needs to be hard at room temperature. )
1 teaspoon vanilla
1 tsp lemon zest
1 tablespoon fresh lemon juice
3 heaping tablespoons of agave nectar or honey (I used honey.)
½ cup coconut flour, almond flour, or ground walnuts (Use this to roll the balls in. I used ground walnuts.)


Method:

Put the ½ cup of oats, ¼ cup of almond flour and ¼ cup of coconut flour, cinnamon, ginger, nutmeg, and salt into the bowl of a food processor and process until the oats are completely blended with the other two flours and spices.

Add the apricots and process until it is all combined, then add the honey, butter, lemon juice, vanilla, and lemon zest. Process until the mixture sticks together. It will roll up into a big old ball in the bowl of the food processor. Don't burn your motor out!

Then, roll the mixture up into 1 inch balls, roll in the coconut, almond flour or walnuts. Place these balls into a flat container in a single layer. If you need to do a double layer, it helps to separate them with parchment paper. Refrigerate them in a covered container.


Apricot Dessert Bites are just tiny bits of gooey goodness. They are rich and delicious! If you use the agave nectar and coconut oil options, this can be a vegan dessert. These will last at least a week in the refrigerator, if you can keep them that long!


You Should Also Read:
Corned Beef Sandwich Recipes
Peppery Grilled Corned Beef Sandwich Recipe
Creamy Coleslaw Recipe


Related Articles
Editor's Picks Articles
Top Ten Articles
Previous Features
Site Map





Content copyright © 2022 by Connie Mistler Davidson. All rights reserved.
This content was written by Connie Mistler Davidson. If you wish to use this content in any manner, you need written permission. Contact Connie Mistler Davidson for details.