Amylu Apple & Gouda Chicken Sausage Review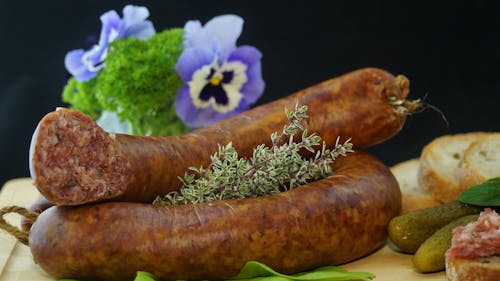 When you look for a tasty chicken sausage, consider Amylu gourmet sausages. In particular, the Apple and Gouda Cheese Sausage has a fabulous taste and healthy ingredients. Sausage is a favorite meat for a lot of people. It is the miraculous melding of chopped meat and spices. One drawback that many sausages have is their nutritional profiles. When compared to a brat, the chicken sausage by Amylu compares very favorably in several different measures.

The Amylu Apple and Gouda Cheese Sausage comes in links of 64 grams. A Johnsonville Brat is 85 grams. To compare the two required using my trusty math skills. The values given are comparisons for 100 grams of each sausage. Per 100 grams of brat, the calories are 333, fat calories 262, 29 grams of fat, 10 grams of saturated fat, 14 grams of protein, and 846 mg of sodium. Per 100 grams of Amylu chicken sausage, the calories are 171, fat calories 70, 8 grams of fat, 2 grams of saturated fat, 19 grams of protein, and 859 mg of sodium. For a slightly higher sodium content, you get more protein, less fat and fewer calories with the Amylu Apple and Gouda Cheese Sausage.

Here is the list of ingredients that makes the Amylu Apple and Gouda Cheese Sausage so special: All-Natural* Chicken, Apples, Gouda Cheese (Pasteurized Part-Skim Milk, Cheese Cultures, Salt, Enzymes, Annatto Color), Contains 2% or less of: Spices, Extract of Rosemary, Kosher Salt, Water, Sugar, Vinegar, Lamb Casing or Pork Casing. CONTAINS: MILK

Nutritional statistics cannot begin to tell the whole story about the delightful Amylu Apple and Gouda Cheese Sausage, although the list of ingredients gives the clues . These sausages do not have nitrates or nitrites. They do not have added MSG, preservatives or anything artificial. The chicken is raised without hormones. Made from skinless thigh meat and chicken breast, these sausages come without casings and with lamb or pork casings.

I buy my Amylu sausages at Costco. They carry these sausages at a great price. The sausages that I buy at Costco have pork casings. The one thing that I don't like about these sausages is the pork casing. It is tough. Let me say that again; it is tough. Many times I pull the casing off. The lamb casings are said to be tender. I do enjoy my Amylu sausages without casings.

We eat these enjoyable sausages several times a week for easy sandwich lunches. We just microwave them and serve them up. Even with the small negative of the tough casing, I highly recommend Amylu Apple and Gouda Cheese Sausage for nutritional value and delicious taste. They are a versatile sandwich filling that is perfect for a luncheon sandwich meal. I like to use a grilled hot dog bun for my sandwiches. Here are some easy sandwich ideas. All of them have a grilled hot dog bun as a foundation.

*Chicken sausage, grilled onions and peppers, with a sauce made from 50/50 mayo and Plochman's spicy horseradish on the grilled hot dog bun.
*Chicken sausage, your favorite barbecue sauce, and coleslaw on a grilled hot dog bun.
*Melt Muenster cheese on the grilled bun, drizzle the sausage with Thousand Island dressing, and cover the whole thing with sauerkraut.

To recap the review: This is a delicious product to use in sandwiches. The Amylu Apple and Gouda Cheese Sausage has a better nutritional profile than a lot of sausage. The ingredients are natural. One thing that I do not like is the toughness of the pork casings. Overall, I love this product and use it several times a week for easy lunch sandwich meals.

When I mention stores or products by brand name, these are the ones that I use. I have not received free products from the manufacturers, nor have I been paid to mention the products or stores by name.


NEWSLETTER: I invite you to subscribe to our free weekly newsletter. This gives you all of the updates for the Sandwiches site. Sometimes, this newsletter has information and variations on sandwiches that are not in the articles. Fill in the blank below the article with your email address - which is never passed on beyond this site. We never sell or trade your personal information.

Related links: The Related Links below this article may be of interest to you.

There are times when I recommend an item related to my article and add an Amazon link, so that you can check it out. I am an Amazon Associate, and when you purchase an item after clicking on my link, I do make a commission for purchases made through that link.



You Should Also Read:
Broccoli Salad Recipe
Creamy Coleslaw Recipe
Rotini Olive Pasta Salad Recipe


Related Articles
Editor's Picks Articles
Top Ten Articles
Previous Features
Site Map





Content copyright © 2022 by Connie Mistler Davidson. All rights reserved.
This content was written by Connie Mistler Davidson. If you wish to use this content in any manner, you need written permission. Contact Connie Mistler Davidson for details.