Six Vacations Of A Lifetime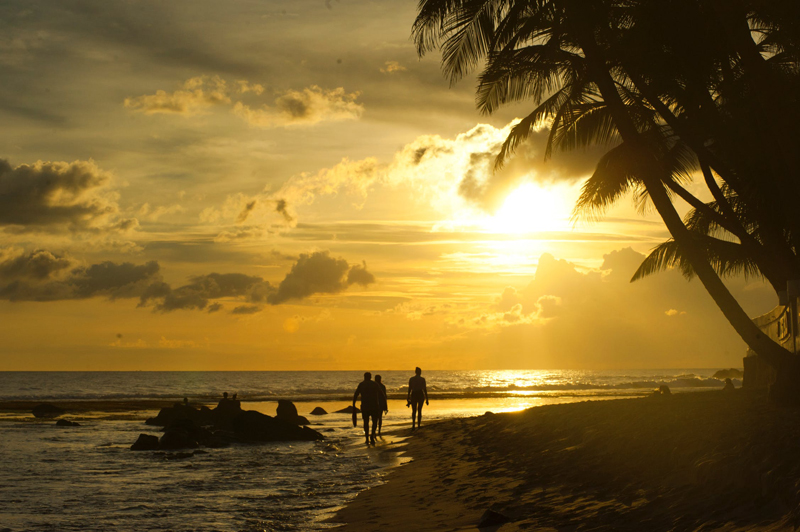 In today's world, travelers place more value on collecting extraordinary experiences rather than things. Many avid vacationers spend their time searching for exceptional destinations and adventures to embark on with those they love. If you're in the market for an amazing vacation filled with immersive experiences and memorable moments, make sure to put these six trips at the top of your bucket list.

1. Enchanting Tahiti and the South Pacific. Some of the world's most beautiful tropical islands are located in French Polynesia and the South Pacific. Paul Gauguin Cruises' luxury cruise ship, the m/s Paul Gauguin, is one of the best ways to explore the stellar landscapes, culture, history, and natural wonders found in this region. This ship was specifically designed for the shallower waters that are prevalent in this area, so guests are able to access smaller ports that are not possible to visit on larger ships. Paul Gauguin's signature 7-night sailing captures the best of French Polynesia, leaving time to linger in paradise for a few days either before or after the cruise. Although all of the Tahiti & South Pacific itineraries are great choices for exploring this relatively untouched region, the best voyages for journeying to remote destinations are the line's 10-night Society Islands & Tuamotus sailings. Guests sailing on this extensive itinerary visit lush Huahine, breathtaking Bora Bora, Rangiroa - home to tiny villages and black pearl farms, and Fakarava - designated by UNESCO as a nature reserve. This voyage is a bucket list travel opportunity for scuba divers as well. The cruise line's award-winning Stewards of Nature Family Program developed in partnership with the Wildlife Conservation Society is available on select voyages during the holiday season and summer months. For more information, visit https://www.pgcruises.com.

2. Unforgettable Vietnam and Cambodia. Discovering new places, enjoying enriching experiences, meeting local people, learning, and expanding one's world view are some of the many reasons why people love to travel. Traveling in Vietnam and Cambodia offers incredible opportunities for exploration, cultural immersion and exploring new destinations. Traveling to marvelous places in Southeast Asia is appealing, but the logistics can sometimes appear daunting. For such a memorable trip, it's important to get all the details right and tap into the local culture as well. Luckily, AmaWaterways makes the adventure easy with their fantastic Mekong River cruises aboard the lovely 124-passenger AmaDara. These river cruises eliminate the logistical issues and stresses of travel in Southeast Asia. AmaWaterways Executive Vice President and Co-Owner Kristin Karst describes her company's river cruise ships as "a little like magic carpets providing a luxurious, stress free means of whisking in and out of world-class destinations," and she's absolutely right. Guests only unpack once and enjoy days filled with unforgettable interactions with locals, enriching cultural experiences and extraordinary opportunities for learning. On an AmaWaterways Mekong River cruise, guests experience riding in oxcarts and trishaws, being blessed at a special Buddhist ceremony at one of Cambodia's largest monasteries, shopping at lively city markets, visiting superb museums and monuments, learning and gaining greater awareness about Cambodia and Vietnam's historic past, and enjoying personal interactions with locals during village visits. In Siem Reap, guests are sure to marvel at the magnificent temples of Angkor Wat, easily making this vacation a trip of a lifetime. The AmaDara's staff and guides are outstanding, personally catering to every guest and treating each one like family. Adding AmaWaterways' exceptional pre- and post-cruise land tours in Ho Chi Minh City, Siem Reap and Hanoi makes the entire experience seamless. For more information, visit https://www.amawaterways.com.

3. Magical Ireland. There are numerous reasons why a trip to the Emerald Isle lands on many travelers' bucket lists. Ireland is filled with amazing experiences, stunning scenery, fascinating history, unique cultural traditions, and some of the friendliest people on earth. Vagabond Tours of Ireland takes guests off the beaten path in Ireland, allowing them to see Ireland like a local, soak up Ireland's culture, and discover hidden gems that most visitors never see. Vagabond's award-winning small group tours are led by outstanding expert guides who help customize each trip to their group's interests, delivering a highly immersive experience while still offering guests plenty of private time to make memories of their own. Travelers can choose from a number of exceptional itineraries including the 7-day World Tour of Ireland and 8-day Wild Irish Rover Tour, named one of the 'Top 50 Tours of a Lifetime' by National Geographic Traveler magazine. Tours depart from Dublin and primarily focus on special spots on the west coast of Ireland along a beautiful coastal route dubbed the Wild Atlantic Way. While Vagabond's tours include well-known sites like the Cliffs of Moher and Blarney Castle, they also offer exciting multi-sport activities and options. Guests are likely to make some of their most vivid memories horseback riding on Ventry Beach, sea kayaking in Dingle Bay, cycling in Killarney National Park and taking a boat trip out to explore Skellig Michael, an incredible UNESCO World Heritage Site. For more information, visit https://vagabondtoursofireland.com.

4. Untouched Panama and Costa Rica. While Costa Rica and Panama are two of today's hottest destinations, few travelers are able to spend their entire vacation visiting these countries' most pristine places. UnCruise Adventures takes guests on memorable voyages of exploration to these places aboard Safari Voyager, a beautifully refurbished exploration vessel with just 32 guest cabins. The expedition guides and crew on this ship are exceptional. An UnCruise Costa Rica & Panama Canal adventure connects guests with nature, wildlife and extraordinary places. Guests spend their days hiking, snorkeling, kayaking, stand-up paddleboarding and wildlife watching in some of the Central America's most stunning spots including Panama's Coiba National Park, Costa Rica's Osa Conservation Area and Curu National Wildlife Refuge. Snorkeling around Panama's spectacular Granito de Oro is one of the many highlights of this voyage. The waters around this isolated islet in Coiba National Park have been named one of the top ten diving destinations in the world. Travelers on these cruises enjoy the biodiversity of this region and its abundant wildlife including multiple species of monkeys, sloths, tapirs, coatis, crocodiles, toucans, scarlet macaws, blue-footed boobies, sea turtles, dolphins, whales and more. These UnCruise Panama and Costa Rica voyages also include a full transit of the historic Panama Canal, truly an unforgettable experience. For more information, visit https://www.uncruise.com.

5. Iconic Machu Picchu. As one of the New 7 Wonders of the World, Machu Picchu is a bucket list destination for many vacationers. Over 3 million travelers from around the globe come to see this UNESCO World Heritage Site each year. Machu Picchu is a deeply moving and spiritual place. Time there should be savored, so plan to spend at least one or two full days taking it all in. Award-winning Austin Adventures offers a wide variety of ways to experience Machu Picchu, catering to the needs and interests of all types of travelers. Visits to Machu Picchu can take several different forms. Travelers can trek in via the Inca Trail, do a lodge-to-lodge journey to Machu Picchu via the Salkantay Trail, take the train from the Sacred Valley to Kilometer 104 to meet the Inca Trail, or travel by train to the town of Aguas Calientes at the base of Machu Picchu and then travel up to the Lost City of the Inca via bus from there. Austin Adventures can plan custom private tours as well. All Austin Adventures tours are accompanied by highly knowledgeable guides to make the most of guests' time at the site. The Inkaterra Machu Picchu Pueblo Hotel in Aguas Calientes is a wonderful place for visitors to stay. The property provides a luxurious home base for exploring the area as well as many unique attractions of its own. These include private nature walks along the resort's orchid trail, bird watching excursions, and visits to the hotel's Spectacled Bear Project to see and learn about these highly endangered animals. For more information, visit https://www.austinadventures.com.

6. Ecuador's Extraordinary Galapagos Islands. Where can you snorkel with penguins, swim with sea lions, kayak with manta rays, lounge with lizards, and get up close to giant tortoises all in one vacation? Only in the Galapagos Islands, a remote and stunning chain of islands located six hundred miles off the coast of Ecuador. A small ship expedition cruise through the Galapagos Islands is the ultimate eco-adventure. Each day spent here is a living lesson in nature and a chance to make memories that will last a lifetime. On Ecoventura's Galapagos cruises, guests have the opportunity to snorkel alongside penguins and sea turtles, get up close to sea lions and ancient 600-pound tortoises, marvel at intricate courtship dances of albatrosses and blue-footed boobies, and explore these pristine waters via sea kayaks and zodiacs. Ecoventura is a top ranked, award-winning company operating comfortable first-class and luxury motor yachts accommodating up to 20 people. The family-owned company's naturalist guides are superb. Ecoventura offers several unique expedition itineraries allowing guests to explore a variety of islands and environments throughout the Galapagos as well as land-based extensions in Ecuador and Peru. For more information, visit https://www.ecoventura.com.





Related Articles
Editor's Picks Articles
Top Ten Articles
Previous Features
Site Map





Content copyright © 2023 by Nancy Schretter. All rights reserved.
This content was written by Nancy Schretter. If you wish to use this content in any manner, you need written permission. Contact Nancy Schretter for details.