Preterite Tense Conjugation - Regular Verbs.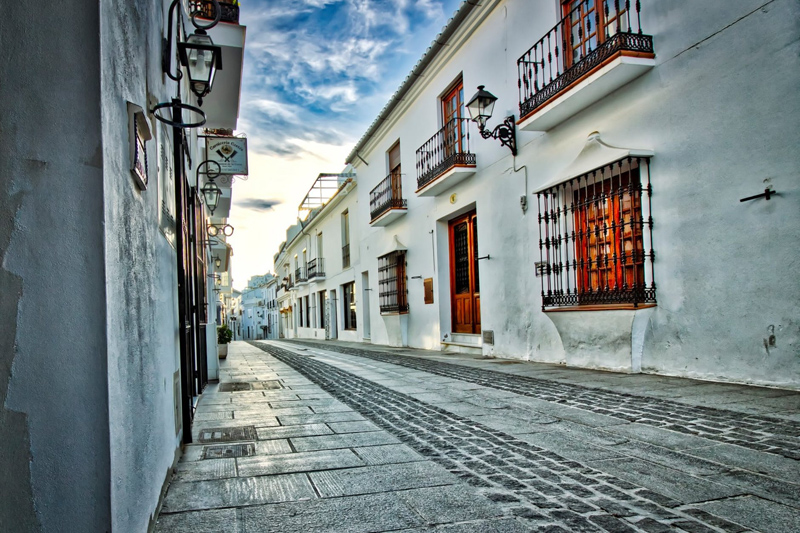 The Spanish Preterite is used to refer or talk about past actions that have a concrete beginning and end in time. (See
Spanish past tenses: Preterit and Imperfect
).
In order to study how to conjugate this tense, we fist have to remember that Spanish verbs are divided in three categories:
First conjugation verbs (-ar), i.e. cantar, amar, bailar
Second conjugation verbs (-er), i.e. beber, correr, and
Third conjugation verbs (-ir) i.e. vivir, escribir.
This classification will help conjugate regular verbs in preterite tense. The table below shows three verbs, belonging each one to one the three Spanish verbs types:
Preterite conjugation - Regular verbs
(Click on these verbal forms and listen!)
Amar
(First conjugation)

Beber
(Second conjugation)

Escribir
(Third conjugation)

Yo

Amé
(I loved)

Bebí
(I drank)

Escribí
(I wrote)

Tu

Amaste
(You loved)

Bebiste
(You drank)

Escribiste
(You wrote)

El / Ella

Amó
(He / She loved)

Bebió
(He / She drank)

Escribió
(He / She wrote)

Nosotros / Nosotras

Amamos
(We loved)

Bebimos
(We drank)

<Escribimos
(We wrote)

Vosotros / Vosotras

Amasteis
(You loved)

Bebisteis
(You drank)

Escribisteis
(You wrote)

Ellos / Ellas - Ustedes

Amaron
(They - You loved)

Bebieron
(They - You drank)

Escribieron
(They - You wrote)
All Spanish Regular verbs are conjugated, in Preterite tense, according to these three regular verbs models on the table above.
To conjugate regular Spanish verbs in the preterite tense, we first take the root (stem) of the verb and then we add the corresponding tense / person ending. So, i.e., looking at "Amar", we take its stem (Am-) and add the corresponding ending (marked in red).
Note that First Conjugation regular verbs (those with infinitives ending in -ar), in this case, the verb Amar, have the same form for the first person plural (We / Nosotros) either in Present or Preterite tenses. That's it:
Verb Amar (First conjugation verb):
Nosotros amamos (We love) (Present tense) = Nosotros amamos (We loved) (Preterite tense)
Another point to help you remember this conjugation is that regular verbs belonging to the Second (infinitives ending in -er) and Third Conjugations (infinitives in -ir) have the same ending for the Preterite tense:
-í
-iste
-ió
-imos
-isteis
-ieron
This is the basic information about the Spanish Preterite tense. Study this table, as it gives you the clue to conjugate most of the Spanish verbs in Preterite tense. In next lessons, we will study how to conjugate the Irregular Spanish verbs' Preterite tense.
For any question or comment, feel free to e-mail me or just post a message at the forum.
¡Que tenga un buen día!
Angeles F.
---
'Click and listen' glossary: (alphabetical order)
:
amar = to love

bailar = to dance

beber = to drink

cantar = to sing
correr = to run

escribir= to write

hablar = to talk

vivir = to live
---
Recommended material:

I write monthly articles for "Think Spanish" ("Piensa en español") since 2002. All "Think Spanish" articles are written in Spanish, and they include a Spanish/English glossary. You'll also have the option to buy this magazine including a CD. Nice way to learn about Spanish language and customs!


---




 Learn Spanish Today  - Learn Spanish on-line for free, using interactive audio/visual lessons.

You Should Also Read:
Spanish Verb Conjugation Trainer > Preterite (Regular verbs)
Preterite Tense Conjugation - Regular -ar, -er, -ir verbs


Related Articles
Editor's Picks Articles
Top Ten Articles
Previous Features
Site Map





Content copyright © 2019 by Angeles Fernández. All rights reserved.
This content was written by Angeles Fernández. If you wish to use this content in any manner, you need written permission. Contact Angeles Fernández for details.