Brined Chicken Thigh Recipe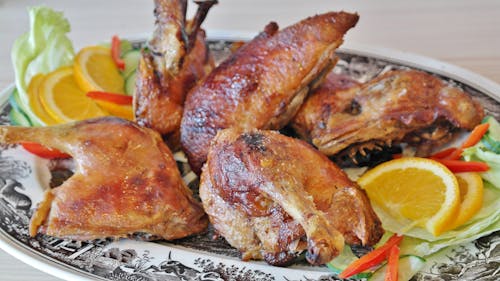 I have friends that rave on and on about their brined turkeys at Thanksgiving. When I wanted some special chicken thighs, it made me think of their accolades. After some trial and error, I developed this recipe for brining chicken thighs. It makes moist and flavorful chicken with just a little kick of heat.
Brined Chicken Thigh Recipe
Ingredients:
½ gallon of water (8 cups)
1/4 cup apple cider vinegar
1/3 cup of lightly packed brown sugar
1/4 cup of salt (I used sea salt. Use salt that is not iodized.)
1 teaspoon onion salt
1 teaspoon garlic powder
1 tablespoon smoked paprika
2 tablespoons Berbere seasoning (or your favorite spicy seasoning)
1 tablespoon Old Bay Seasoning
1 tablespoon red pepper flakes
3-4 pounds of thawed skinless boneless chicken thighs.
Method:
In a large non-reactive covered container, add the water, vinegar, brown sugar, salt, and spices. Whisk them together until the sugar and salt are dissolved and the spices are mixed throughout the liquid.
Cut the thighs into pieces that are about the size of a deck of cards. I cut mine in half. Add them to the brine. Leave the chicken pieces in the brine for 30-60 minutes.
Cook your brined chicken thighs using your favorite method. They take about 6 minutes of heat on a side. The internal temperature of the chicken thighs needs to be 165 degrees F in the thickest part. I found the 6 minutes per side number by grilling mine over charcoal. You can also broil them or grill them in a pan or on a griddle. The amount of time needed to reach 165 degrees F. depends on the temperature of your heat sources, the thickness and temp of your chicken, and how close to the heat source the chicken thighs are. Always use a thermometer to tell you whether they are fully cooked.
Brined Chicken Thigh Sandwich Ideas
*For a simple sandwich, you can put a brined chicken thigh on bread with mayonnaise for a tasty sandwich. Add condiments of your choice. Lettuce, tomatoes, and pickles work well. So do spinach leaves or basil leaves.
*Wrap the brined chicken thigh in a warm flour tortilla with melted Muenster cheese. Add shredded lettuce, Pico de Gallo, guacamole, and salsa.
*Chop the warm chicken thigh up and fill a pocket pita with chicken and slivered sweet onions. Use cucumber-dill sauce to taste. Sprinkle feta cheese on the sauce. Finish the pita with Peppadew peppers on top.
Brining changes the texture of the meat. It loosens the proteins and muscle fibers to make the meat tender. Osmosis moves the liquid, salt, and flavorings into the cells. It is important to brine under refrigeration to avoid food poisoning. Also, know your timing for different cuts of meat. A whole turkey takes a lot longer to brine than chicken pieces. If you over-brine the meat, you risk having a piece of meat with an extremely strange texture. Sometimes, more is not better!
If you want to get serious about brining, these food-grade bucket liners are convenient.
5 Gallon Bucket Liner for Marinading and Brining - Disposable Pail Liner 25 per roll
When I mention stores or products by brand name, these are the ones that I use. I have not received free products from the manufacturers, nor have I been paid to mention the products or stores by name.
NEWSLETTER:
I invite you to subscribe to our free weekly newsletter. This gives you all of the updates for the Sandwiches site. Sometimes, this newsletter has information and variations on sandwiches that are not in the articles. Fill in the blank below the article with your email address -
which is never passed on beyond this site. We never sell or trade your personal information.
Related links:
The Related Links below this article may be of interest to you.
There are times when I recommend an item related to my article and add an Amazon link, so that you can check it out. I am an Amazon Associate, and when you purchase an item after clicking on my link, I do make a commission for purchases made through that link.
You Should Also Read:
Potato Salad with Pickles and Pimentos Recipe
Rotini Olive Pasta Salad Recipe
Orzo Salad Recipe


Related Articles
Editor's Picks Articles
Top Ten Articles
Previous Features
Site Map





Content copyright © 2022 by Connie Mistler Davidson. All rights reserved.
This content was written by Connie Mistler Davidson. If you wish to use this content in any manner, you need written permission. Contact Connie Mistler Davidson for details.