Gluten Free Nut Flour Cookie Recipe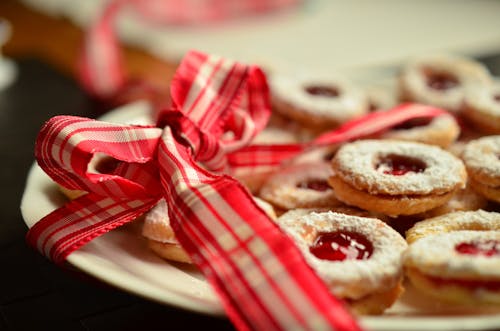 While most people don't need gluten free cookies, those that do can eat these with confidence. There is no gluten here! Don't confuse gluten free with low calorie. Made from nut flour, basically ground nuts, instead of wheat flour, these cookies are nutritionally dense and full of fat. They do have a lower carb profile than cookies made with flour. A container with 150 grams of whole wheat flour has 108 grams of carbohydrate. Pecan flour has 20 grams of carbohydrate for 150 grams of the product. In cookies made with nut flour, almost all of the carbohydrates come from the sweeteners and any add-ins.
For this recipe, rather than use a commercially made nut flour, or nut meal, I toasted the pecan nuts and ground them myself. I used my Vitamix dry bowl, which is made to grind. It made a coarser meal than the commercial. I think food processors would also work. To help the cookies bind together better, I did use a bit of commercially made almond meal flour, too.
I also made my own powdered sugar, just to get away from the white sugar that is in commercial powdered sugar. I put raw, turbinado sugar, which has a lower glycemic index than white sugar, into my Vitamix dry bowl and pulsed it until it was powdery. With the nuts and the sugar, I ground about a cup at a time, until they were the consistency that I wanted them to be.
If your kitchen utensil of choice heats the finished product up, be sure to let it cool before storing it in a closed container. You do not want a condensation build up.
Gluten Free Nut Flour Cookie Recipe
Ingredients:
1 1/3 cups pecan flour (I toasted the pecans and cooled them before I ground them into flour in my Vitamix dry bowl.)
2 tablespoons almond meal flour (I used a finely ground commercial meal from Authentic Foods.)
4 tablespoons soft butter (1/2 stick)
¼ cup + 2 tablespoons of turbinado powdered sugar (I ground turbinado sugar in my Vitamix until it was powdered. You may also use commercial powdered sugar.)
¼ teaspoon sea salt
1 teaspoon vanilla extract
Method:
Using a medium bowl and a spoon, stir all of the ingredients together until they are completely mixed. If necessary, you can use your hands to finish mixing. Chill the dough for 1/2-1 hour, or until you can handle it without it sticking to your hands.
Prepare the baking pan with either a silicone baking sheet or parchment paper. Roll the dough up into ½ inch balls. This is about the size of a shooter marble. Place on the baking pan. Flatten the balls, until they are about ¼ inch thick.
Bake for 9 minutes, turn the oven off, and let stand in the oven until the edges are brown, 2-4 minutes.
If you are using the silicone mat, cool them completely, then store them in an airtight container. They peel right off of the mat! If you use parchment paper, cool them for 10 minutes, then carefully remove them to a rack to finish cooling. They tend to stick to the parchment paper. These cookies are a very delicate, nutty shortbread. Handle gently! If you are talented at handling them gently, you may make fancy jelly cookies!
I like the name Pecan Dandies Shortbread for these cookies, but it isn't a good name for an internet search. Rich and tasty, these simple shortbread cookies are completely gluten free. When you make 18 cookies, they each contain a teaspoon of powdered turbinado sugar. The fat and fiber in the nuts helps to delay the absorption of the sugar. However, these are not a food that you want to eat a lot of at one time. One or two should do with your delicious sandwich meal. Enjoy your sandwich meal dessert!
These silicone baking mats are worth every penny! How did I get to this age and not know about these?
Silicone Baking Mat - Set of 3 Half Sheet (Thick & Large 11 5/8" x 16 1/2")
When I mention stores or products by brand name, these are the ones that I use. I have not received free products from the manufacturers, nor have I been paid to mention the products or stores by name.
NEWSLETTER:
I invite you to subscribe to our free weekly newsletter. This gives you all of the updates for the Sandwiches site. Sometimes, this newsletter has information and variations on sandwiches that are not in the articles. Fill in the blank below the article with your email address -
which is never passed on beyond this site. We never sell or trade your personal information.
Related links:
The Related Links below this article may be of interest to you.
There are times when I recommend an item related to my article and add an Amazon link, so that you can check it out. I am an Amazon Associate, and when you purchase an item after clicking on my link, I do make a commission for purchases made through that link.
You Should Also Read:
Rice Wrapper Soft Rolls Recipe
Romaine Lettuce Wrap Sandwich Ideas
Gluten Free Mediterranean Meatball Recipe


Related Articles
Editor's Picks Articles
Top Ten Articles
Previous Features
Site Map





Content copyright © 2022 by Connie Mistler Davidson. All rights reserved.
This content was written by Connie Mistler Davidson. If you wish to use this content in any manner, you need written permission. Contact Connie Mistler Davidson for details.