Healthy Dips for Sandwich Meals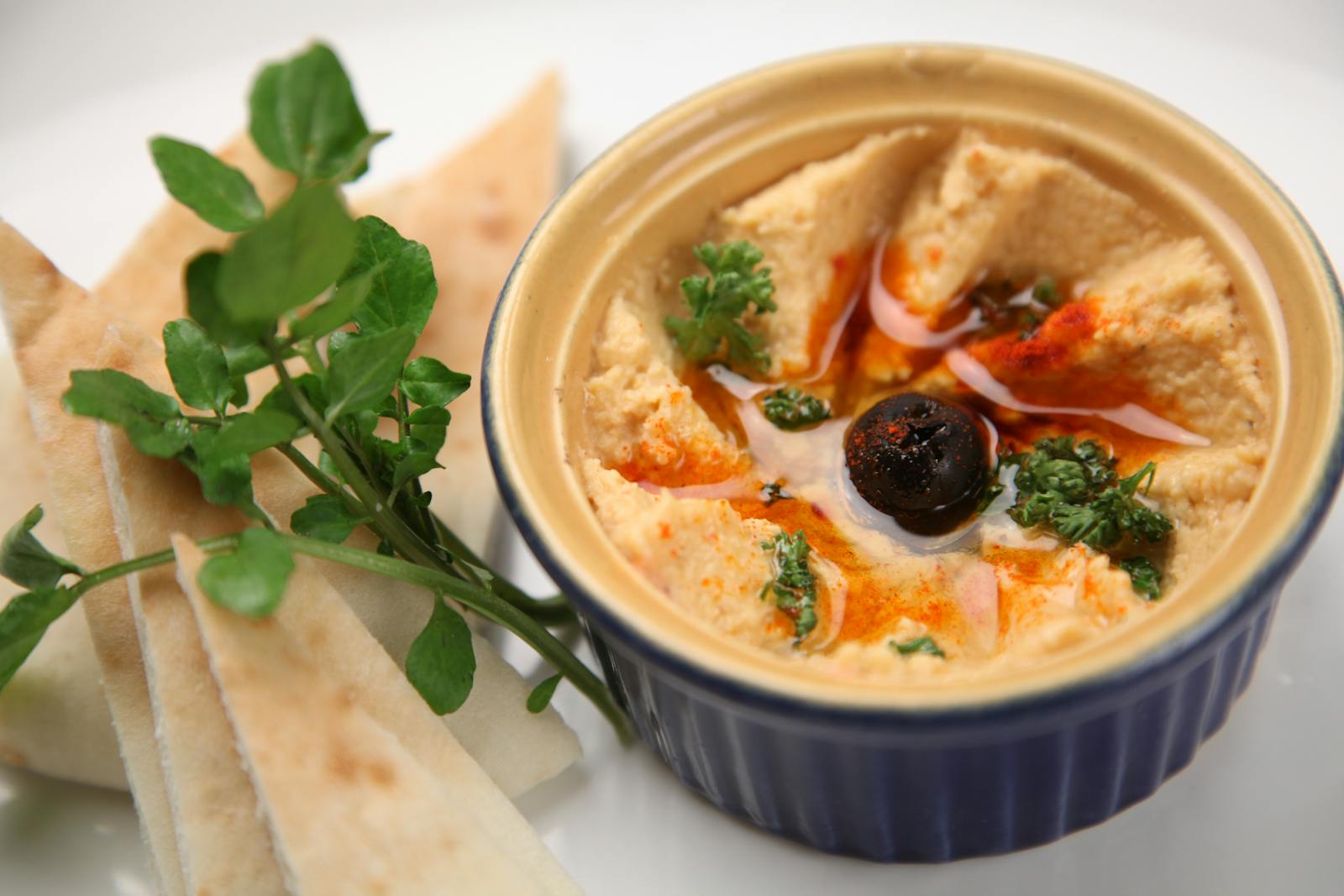 You can serve a sandwich by itself, but why would you do that? While sandwiches are the crowning glory of a sandwich meal, they should be accompanied by equally delightful side dishes. These fresh dips are as delicious as they are filled with healthy ingredients. Great for dipping with veggie dippers and whole grain crackers, these dips may be used in several other ways.

In addition to being lovely dips, the Spicy Chickpea Dip can also be used for a pita and veggie sandwich filling. The Goddess Dip doubles as a spread to replace mayonnaise on your favorite meat or cheese sandwich. It can also be thinned a bit with a liquid of your choice and used as a salad dressing.

Goddess Dip

Ingredients:

1 cup cottage cheese
¼ cup Greek yogurt
1 avocado, peeled, seeded, and chopped into about 6 chunks
1/3 cup fresh snipped chives or ¼ cup scallions (loosely packed
¼ teaspoon balsamic vinegar
1 tablespoons Penzey's Green Goddess seasoning + 2 tablespoons warm water

Method:

Put the Green Goddess seasoning in a cup with the warm water and set it aside. Add the cottage cheese, yogurt, avocado chunks, chives, and balsamic vinegar to the wet bowl of a Vitamix. Blend on medium variable, then high, until everything is smooth. You will want to use the tamper. If you don't have a Vitamix, you could use a blender or food processor. You'll know how to work it to get everything smooth. Stir the Green Goddess Seasoning into the dip. You're done! Isn't it a pretty green color? Store the dip in a covered dish in the refrigerator. This is best if it is used within 2 days.


Spicy Chickpea Dip

Ingredients:

2 cloves of garlic, minced
1/3 cup fresh snipped chives or ¼ cup scallions (loosely packed
2 tablespoons fresh cilantro
3 tablespoons lemon or lime juice (I used 1 of lemon and 2 of lime.)
3 tablespoons extra virgin olive oil
1 small jalapeno and/or a spicy seasoning (I used the jalapeno and some Penzey's Berbere seasoning.)
3 cups cooked chickpeas (These are also called garbanzo beans. You may use drained canned beans. Save some of the liquid for processing the dip. I used 1/3 cup of the liquid for processing.)
1/3 cup almond butter (I used a roasted almond butter.)
salt and pepper to taste

Method:

In the wet blender bowl of a Vitamix, add the chives, cilantro, garlic, citrus juice, olive oil, jalapeno, or seasonings, and 1/3 cup of the reserved chickpea liquid. Blend until the foods are very finely chopped. Add the chickpeas and almond butter. Process the ingredients until smooth. Store the dip in a covered dish in the refrigerator. This is best if it is used within 3 days.


Enjoy these fresh and healthy dips with colorful veggie dippers-sweet mini peppers, celery, yellow summer squash, cucumbers, broccoli, cauliflower, jicama sticks, and carrots. Add some sweet fresh fruit for a complete sandwich meal. Enjoy creating your sandwich meals.


When I mention stores or products by brand name, these are the ones that I use. I have not received free products from the manufacturers, nor have I been paid to mention the products or stores by name.

NEWSLETTER: I invite you to subscribe to our free weekly newsletter. This gives you all of the updates for the Sandwiches site. Sometimes, this newsletter has information and variations on sandwiches that are not in the articles. Fill in the blank below the article with your email address - which is never passed on beyond this site. We never sell or trade your personal information.

Related links: The Related Links below this article may be of interest to you.

There are times when I recommend an item related to my article and add an Amazon link, so that you can check it out. I am an Amazon Associate, and when you purchase an item after clicking on my link, I do make a commission for purchases made through that link.


You Should Also Read:
Deli Meat or Cold Cut Sandwich Ideas
Sausage Sandwich Ideas
Exotic Sandwich Ideas


Related Articles
Editor's Picks Articles
Top Ten Articles
Previous Features
Site Map





Content copyright © 2022 by Connie Mistler Davidson. All rights reserved.
This content was written by Connie Mistler Davidson. If you wish to use this content in any manner, you need written permission. Contact Connie Mistler Davidson for details.