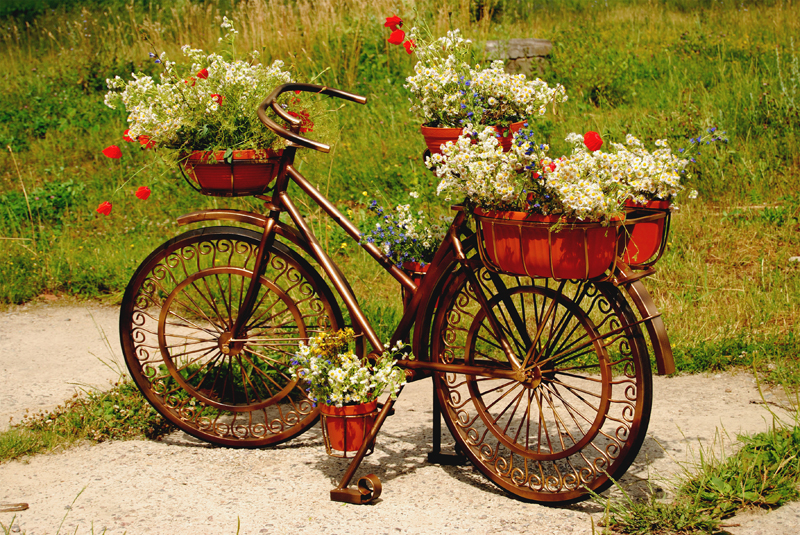 When it comes to encouraging youngsters to spending time outdoors, you should know that it could lead to a lifetime love of gardening and seeing things grow from seed to seed; and with a child's innate curiosity, come lessons that only gardening can teach as it does.

If you love gardening (and who reading this doesn't?) then there is even more good reason to introduce the little people to this wonderful pursuit. Let them join in and this 'hobby' could develop into a real and practical interest.

Is there a gardening club near you or connected to your favourite nursery or garden centre that children can join? It's worth finding out as these types of clubs arrange all sorts of outings and down-to-earth (he he) lessons where friendships are formed amidst the blooms and fruits of eager minds and busy hands. Classes are usually small which allow for individual attention, children from around 3 to 12 find ample to learn and do and material covered includes finding out about various aspects of nature, caring for a garden or a container, digging, planting creating and exploring …weeding too … just up a child's alley. Often you find children of up to 60 years plus joining in with enthusiasm!

Costs are not normally high and many places offering these types of activities often have tools available for participants. All you may need to buy are the pots and plants and soil and so on. Mind you, kitting them out (using birthdays and other celebratory times as excuses) with their own spade or watering can, hat and gumboots is a sound alternative, having your own whatever is such a treat.

Start your kids, her kids, some kids, their kids and grandkids digging today for these reasons!

*** Physical and Productive Activity.
Gardening about includes digging, carrying, bending, exploring, cutting, weeding, pruning, planting and all those sorts of actions so it provides a chance for kids to partake in many interesting outdoor activities. It will certainly not be boring. Yes, we know, children do sports at school but this type of exercise is often more relaxing and pleasurable. Gardening is more collaborative than competitive, it develops imagination and concentration and it encourages teamwork and interaction between children from different age groups, cultures, abilities and levels of expertise. The older ones often love helping and teaching the younger ones and 'peer tuition' is a great way to inspire those who join in.

*** Life Lessons on a Plate or in a Pot!
Gardening has so much to teach all of us so why not start learning early? Children learn about patience when waiting for seeds and seedlings to grow, they learn about responsibility and care, for without water plants die. They learn about consistency, waste-not-want-not, smart use of resources and they realise, even if they can't quite tell you yet, that time invested in an on-going gardening project is well worth the loss of any 'play time'.

*** Lessons about Relationships between People and Nature
Classroom teaching is good and so are lessons learnt from multimedia sources such as TV, cinema and smart phones (etc.), but nothing introduces children to the intricate connections between science, flora and fauna, design, variety, uses, harvesting, preparing and sharing food, telling stores, working together and creating things than gardening. It is far more than just planting or watering. Learning about these aspects of life first-hand does the trick far better than looking at photographs or similar.

*** Lessons about the Journey of food from 'Farm/Garden' to the Table
Where does milk come from if not a supermarket shelf in long life packaging? Where do oranges come from – do we import them all? Is oxtail really the tail of a cow? What does free range mean? Yep, these are some of the questions that have been asked by children, and believe it or not, there are parents out there too who don't know the answers either. It seems that we live in a disconnected world where often little is known about the cycle food takes before it gets to the supermarket or onto our plates. Bad eating habits also start here as we get more detached from the source of natural eating and produce. Gardening will help children to understand this 'garden to table' process, it will give them a greater respect for nature and the time and energy it takes to grow the food that Mom pops down to the supermarket to buy. With gardening, they will also learn a most important life skill … that of knowing how to grow their own food.

*** Lessons on Healthy lifestyles
Nothing beats the pleasure or excitement of eating something you have grown yourself and just harvested. Ah! The sweet squish of a cherry tomato or the slurp of home-grown veggie soup or the anticipation of the first plump and ripe and sweet strawberry. It's a delight to eat the foods you have nurtured and grown and your kids will love the enjoyment this offers just as much as anyone. Fruit and vegetables … more please! Unadulterated, chemical free, additive free, clean and most often organic – nothing can be better for a life time of energy and good health. Wouldn't it be nice if the questions our children asked included 'What's a doctor?' 'What do you do in a hospital?' 'Why are people really fat?' instead of wondering where milk comes from?

Add on activities can be other hobbies like scrapbooking (where pictures/photographs and notes and diagrams show the lifecycle of what was grown); pressing flowers (making a comeback, so save your old telephone directories please) and juicing or learning to cook. Just keep thinking and you will come up with others to be sure – and it all starts with a seedling, some soil, sun, water and a pot!

Start now. Get a child or children into your garden or amidst your containers and watch your pleasure multiply by default.

What do you want your container garden to do?

.............................................................................

CASUAL VISITOR … and just browsing? Why not sign up to the Container Garden newsletter? It won't matter what space or how many pots you have or even how much time you have to spend in your container garden; what will matter is that you get our reminders and good advice and ideas all in one interesting article.

Join now, it's easy and your privacy is guaranteed.


You Should Also Read:
Terrariums and Mini Gardens
Miniature Gardens
Green Thumb Gardening


Related Articles
Editor's Picks Articles
Top Ten Articles
Previous Features
Site Map





Content copyright © 2022 by Lestie Mulholland. All rights reserved.
This content was written by Lestie Mulholland. If you wish to use this content in any manner, you need written permission. Contact Lestie Mulholland for details.