Daddy Hinkle's Original Marinade Review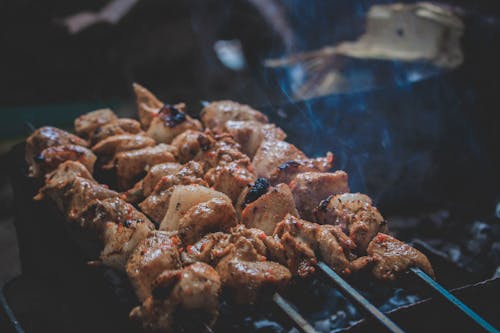 Years ago, our local grocery had meat samples on the weekend. They were prepared by the incomparable Cliff. Cliff was an older gentleman who knew how to cook meat, so that it was always a juicy, flavorful delight. I don't know how many extra pounds of meat that I bought because of those tasty samples! Cliff was a great believer in Daddy Hinkle's Instant Meat Marinades. He converted the unbelieving by assuring them that it helped ensure that their meat would be tender, juicy, and taste wonderful. He was a true fan, and he made believers out of my family.

For years, we marinated in Daddy Hinkle's Hotter Than $700 Marinade, because Cliff assured us that, in spite of the name, "It isn't too hot!" Meat soaked in this marinade had a nice little kick, but it didn't make a person go running in search of a glass of milk to quench the flames. Nope, it just had a great flavor and a little, teensy tongue burn.

Fast forward a few years. I have trouble finding my favorite Daddy Hinkle's flavor. I enjoy the Original Daddy Hinkle's with its mild garlic and onion taste, and I highly recommend it. This marinade does a wonderful job of tenderizing and making my meats juicy. However, I won't lie; I miss the spicy kick that I get from the Hotter Than $700. It is still available online in larger quantities, but I cannot get the individual envelopes that are perfect for my needs.

Knowing that I also enjoy the milder taste of the Daddy Hinkle Original, I bought the 10 ounce bottle of liquid and the 4.9 ounce bottle of dry rub. Then, I had a thought! Why don't I add spices to the dry rub to enhance the heat? Oh, yes! Read about the result below. It is a dandy marinade, and almost as good as my beloved Daddy Hinkle's Hotter Than $700!


Daddy Hinkle's Spiced Up Original Marinade Recipe

Ingredients:

3 pounds skinless boneless chicken thighs (You don't have to do chicken. This is good on pork and beef, too.)
¼ cup Daddy Hinkle's Original Instant Meat Marinade Liquid
1 tablespoon freshly squeezed lemon juice
2 tablespoons Daddy Hinkle's Original Instant Meat Marinade dry rub
1 teaspoon Penzey's Smoked Spanish Paprika
2 teaspoons Penzey's Berbere Seasoning

Method:

Cut the chicken thighs into pieces about the size of a pack of cards. Place them in a medium bowl. Add the liquid marinade and lemon juice. Toss the chicken pieces until each is covered with the liquid.

Mix the Daddy Hinkle's dry rub, the smoked paprika, and the Berbere seasoning together. Sprinkle half of the dry seasoning over the chicken. Turn the pieces and sprinkle the other half of the dry seasoning over the chicken. Turn the pieces in the seasoning blend until they are completely coated. Refrigerate for an hour. Turn the pieces over, so that the other side of each piece will be in the liquid. I marinated for 3 hours and got a very spicy chicken.

Cook the chicken using your favorite method. I usually put mine on a rack under my oven broiler and broil for 6 minutes on a side. Then, test the thickest piece of chicken to make sure that it is at 165 degrees F.

You may also add a coating and pan fry the pieces, bake, or sauté them. They are done when an instant read meat thermometer gives a 165 degree F. reading.


Try some Daddy Hinkle's soon! It's great with or without the extra spice.



When I mention stores or products by brand name, these are the ones that I use. I have not received free products from the manufacturers, nor have I been paid to mention the products or stores by name.


NEWSLETTER: I invite you to subscribe to our free weekly newsletter. This gives you all of the updates for the Sandwiches site. Sometimes, this newsletter has information and variations on sandwiches that are not in the articles. Fill in the blank below the article with your email address - which is never passed on beyond this site. We never sell or trade your personal information.

Related links: The Related Links below this article may be of interest to you.

There are times when I recommend an item related to my article and add an Amazon link, so that you can check it out. I am an Amazon Associate, and when you purchase an item after clicking on my link, I do make a commission for purchases made through that link.

You Should Also Read:
Chopped Salad Recipe
Potato Salad with Pickles and Pimentos
Creamy Cauliflower Edamame Salad Recipe


Related Articles
Editor's Picks Articles
Top Ten Articles
Previous Features
Site Map





Content copyright © 2022 by Connie Mistler Davidson. All rights reserved.
This content was written by Connie Mistler Davidson. If you wish to use this content in any manner, you need written permission. Contact Connie Mistler Davidson for details.