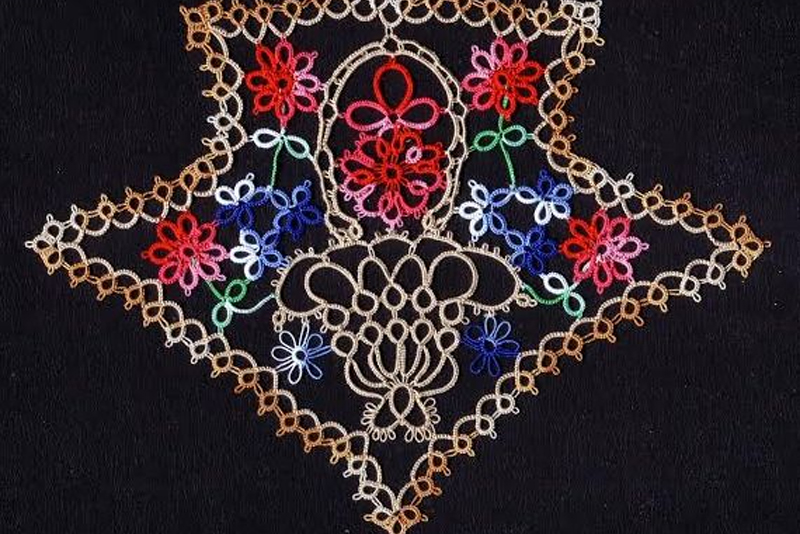 Over the years I have had a few patterns that I have much admired. They are timeless. This snowflake with butterflies is one of these patterns. It was designed by © Emma Crew, 2001 and much enjoyed by the Online Tatting Class.
Two sizes of thread are needed. Size 80: shuttle only. Size 20: Shuttle and ball wound CTM. Sample was worked in size 80 in colors 352 and 745, size 20 in white and measures 3.7'.
Butterflies: Use size 80 thread and 1 shuttle.
R 12-12, R 7-7, R 7-7, R 12-12.
Tie ends together in a reef knot and trim to form antennae. Make 6 butterflies, set aside. Emma made three butterflies in each of two different colors, but she thought this would look great with all one color or six different colors of butterfly!
Snowflake: Use size 20 thread, shuttle and ball wound CTM.
Rosette: R 2-2-2-2-2-2 close.
Picots should be fairly long (about 1/3" inch open)
Leave a space (mock picot) and make a lock stitch before starting chains.
Ch [6 lj (lock join)] 6 times around
Ch [9 lj] 6 times around
* Ch 3+(join to left small butterfly wing) 6+(join to right small wing of same butterfly) 3 lj Repeat from * 5x.
Points: Ch 3¡Ó9+(join to left wing) shoelace trick, RW [direction of chain changes here]
Ch 6-3 RW
R 9-3 RW
Ch 3 RW
Clover: R 3+6-3, R 3+9-3, R 3+6-3 RW
Ch 3 RW
R 3+9 RW
Ch 3+6+(join to right wing), shoelace trick, RW [direction of chain changes here]
Ch 9-3 lj
Repeat for a total of six points, joining final chain of the 6th point to the first chain of the 1st point. Cut, tie and finish ends.
Notes/terms: The snowflake goes around the center several times, but it¡¦s all one "round" in that you only cut and tie once at the very end. Only one set of ends to hide, since the butterflies display their ends proudly!
Instead of performing the shoelace trick to reverse the chains, use two shuttles. You can pull several yards off of the ball, cut and wind them onto a second shuttle when finished with the rosette part of the flake. At the point where the chain direction is reversed simply switch shuttles. To get a slightly nicer join at this point, pull a loop of shuttle 1 thread through the picot on the butterfly wing, then put shuttle 2 through the loop and pull tight. Make this join with the "right side" facing to keep the little dots of contrast color all on one side. The rings and clover on the points would then all be worked with shuttle 2.
lj = Lock join: Make sure chain stitches are snugged up tight before making this join. Bring a loop of shuttle thread through joining point and put shuttle through this loop. Pull tight. After the first six (which are joined to the picots of the original ring), all lock joins are joined to the little bit of ball thread between the end stitches of the chains in the previous round. To make it easier you could make a tiny picot at this point, otherwise just dig your hook in as if there were a picot, there is plenty of joining space there.
Lock stitch: Make a double stitch. Do not allow the first half of the stitch to flip, make the second half of the stitch normally.
Shoelace trick: Make an overhand knot: cross shuttle thread over ball thread, put shuttle through loop thus formed and pull both ends. This is like step 1 of tying your shoes.
Here's a close up of the points being worked. Notice that the flake is pretty ruffled, it needs blocking to lie flat. Also, I haven't trimmed the antennae, I do that after blocking to keep them all even and looking nice. In this photo, I have just finished the inward-facing chain, and am about to do the shoelace trick and then a shuttle join to the next wing picot.
Designed and tatted by Emma Crew for the first snowflake round robin, July 2001.
Note: Restored by the Wayback machine archives.


Related Articles
Editor's Picks Articles
Top Ten Articles
Previous Features
Site Map





Content copyright © 2019 by Georgia Seitz. All rights reserved.
This content was written by Georgia Seitz. If you wish to use this content in any manner, you need written permission. Contact Georgia Seitz for details.