Candied Butternut Squash and Sweet Potatoes Recipe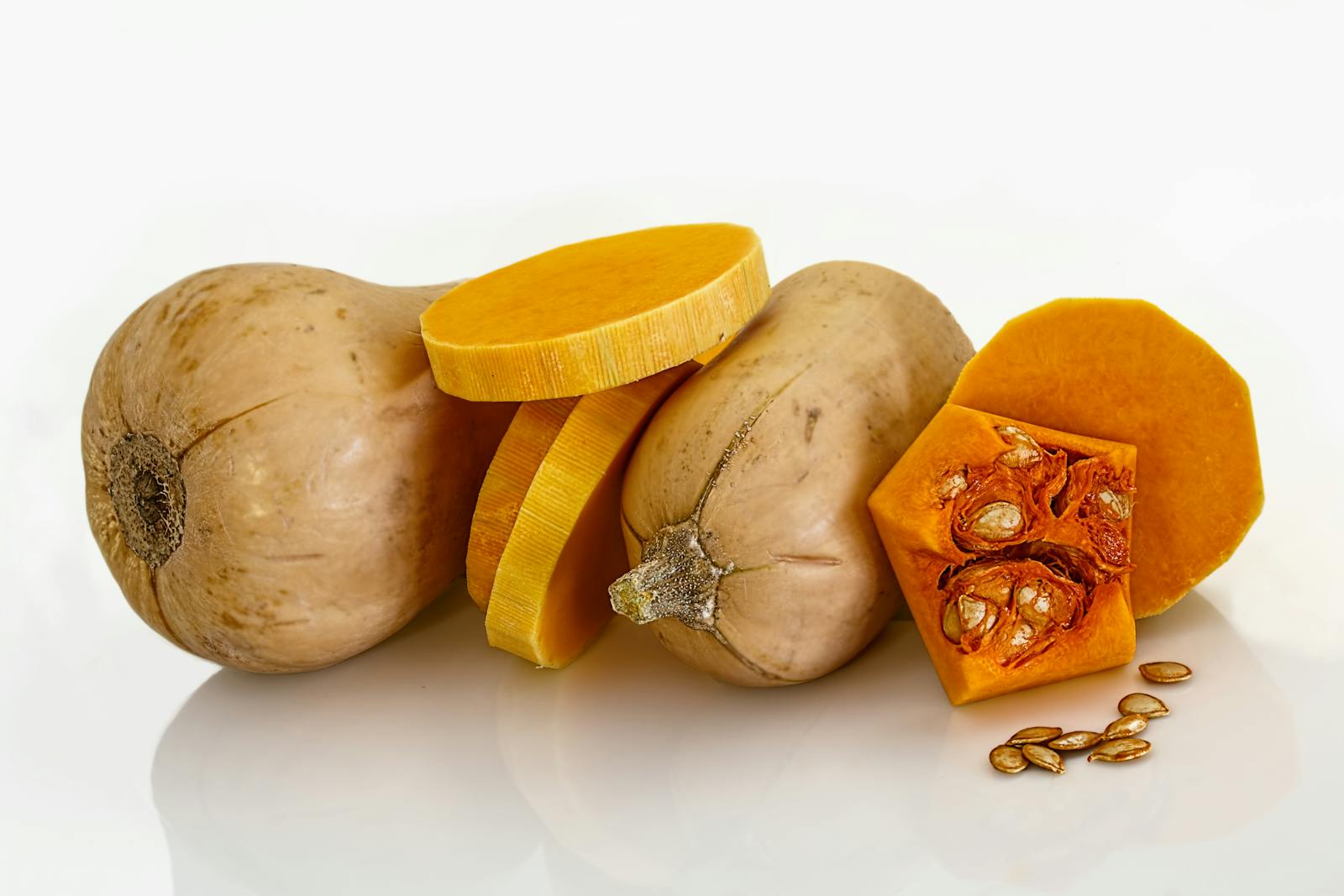 With apologies to all of you who love candied yams with toasted marshmallows on top, I eat them to follow tradition, but they are just too sweet for me. This year, I am starting a new tradition. I love the idea of a sweet potato with a rich, luscious sauce, but I wanted to make a healthier choice. What do I mean by healthier choice? I wanted to lower the sugar, but retain the taste. I also wanted to lower the carbohydrates and the fat. This recipe does all of that.

I started by swapping out some of the sweet potatoes for butternut squash. Butternut squash has a similar taste, but is lower in carbohydrate. Butternut squash is so delicious in this recipe, that you won't even believe how good it is for you! A cup of butternut squash cubes contains 63 calories and 16 grams of carbohydrate. It has almost 3 grams of fiber for a net carb count of 13 grams per cup. That is 10 less than the sweet potato! The Vitamin A is 297% of your Percent Daily Values, which are based on a 2,000 calorie a day food intake. Vitamin C is a whopping 48% and Vitamin B-6 is 10%. Butternut squash contains 6% of your calcium, 5% of iron, and 12% of magnesium. The nutritional profiles for both butternut squash and sweet potatoes are similar.

One cup of sweet potato cubes has 114 calories. They have a total of 27 grams of carbohydrate with 4 grams of fiber. That is a net of 23 grams of carbs per cup. Within that cup, sweet potatoes are a nutritional powerhouse. They contain 377% of your Percent Daily Values for Vitamin A. They also include 5% of your Vitamin C and 15% of your Vitamin B-6. Sweet potatoes have essential minerals, including calcium, iron, and magnesium.

Without sacrificing taste, this dish has a sauce that is lower in fat and sugar than the usual candied yams. This luscious sauce reduces the amount of sugar considerably. Often, candied yams have more than a cup of sugar in them. They might also have a whole stick of butter. That is not necessary to have a great tasting dish. Coconut oil gives a natural sweetness to the dish. If you have vegan friends, use the coconut oil, and get rid of the butter. Give this dish a try, and see what I mean! Delicious and lighter in calories and carbs!


Candied Butternut Squash and Sweet Potatoes Recipe

Ingredients:

2 ½ cups butternut squash cut into ½ inch cubes
2 ½ cups sweet potatoes cut into ½ inch cubes
2-3 tablespoons coconut oil, melted (You could also use butter, but it won't be as sweet tasting.)
3 tablespoons agave nectar
3 tablespoons brown sugar
1/8 teaspoon salt
1/8-1/4 teaspoon cinnamon
2 tablespoons maple balsamic vinegar (You may substitute 2 tablespoons of pure maple syrup and ½-1 teaspoon of balsamic vinegar.)
1 teaspoon vanilla or 1 tablespoon vanilla powder

Method:

Preheat the oven to 350 degrees F.

Spray a baking dish with non-stick cooking spray. Add the butternut squash and sweet potato cubes. If you want a dish that is not quite as sweet, you may increase the amount of squash and sweet potato by ½ cup of each. Stir them together, so that they are mixed.

In a small bowl, mix the melted coconut oil, agave nectar, brown sugar, salt, cinnamon, maple balsamic vinegar, and vanilla. You may choose to add other spices at this time to customize the dish to your taste. Drizzle the oil and sugar mixture over the butternut squash and sweet potatoes. Then, stir the veggies around in the mixture, so that all of the cubes are coated. Cover the dish and place it in the pre-heated oven.

Bake at 350 degrees F. for 45 minutes, covered. Uncover the dish carefully, so that you don't steam your arm, and cook the Candied Butternut Squash and Sweet Potatoes for an additional 15 minutes. Let stand for 10 minutes, then stir before serving.

You might like to sprinkle some toasted pecans over the top before serving. Candied Butternut Squash and Sweet Potatoes are also good with whipped cream. About those marshmallows – if they bring you joy, go ahead and toast them on top. This dish is tasty with ham or turkey sandwiches.


When I mention stores or products by brand name, these are the ones that I use. I have not received free products from the manufacturers, nor have I been paid to mention the products or stores by name.

NEWSLETTER: I invite you to subscribe to our free weekly newsletter. This gives you all of the updates for the Sandwiches site. Sometimes, this newsletter has information and variations on sandwiches that are not in the articles. Fill in the blank below the article with your email address - which is never passed on beyond this site. We never sell or trade your personal information.

Related links: The Related Links below this article may be of interest to you.

There are times when I recommend an item related to my article and add an Amazon link, so that you can check it out. I am an Amazon Associate, and when you purchase an item after clicking on my link, I do make a commission for purchases made through that link.



Related Articles
Editor's Picks Articles
Top Ten Articles
Previous Features
Site Map





Content copyright © 2022 by Connie Mistler Davidson. All rights reserved.
This content was written by Connie Mistler Davidson. If you wish to use this content in any manner, you need written permission. Contact Connie Mistler Davidson for details.