Daniela Mendola Tasseled Fob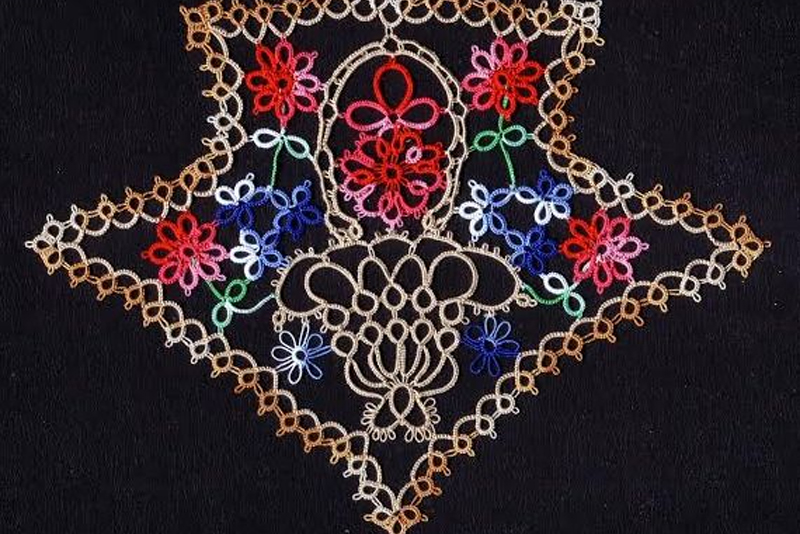 Daniela Mendola's Motif #8
Tasseled Fob May 2018@
This cute tasseled fob is a great pattern to take with you on vacation trips this summer. Easy to tat (you'll soon have the pattern memorized) it would be a great hostess/host gift on your travels. Even if you are staying at home with the air conditioning, this sweet gift is so versatile. It could be a bookmark, a phone fob, or even a pin. Just pull the tassel through your buttonhole on the blouse or jacket and pin in place.
Materials:
Perlè cotton no 8;
2 shuttles or one tatting needle
crochet hook;
scissors;
1 paper clip;
cardboard square cm 7 x cm 7 (for wrapping the tassel thread.)
Abbreviations:
Ring = R
Chain = CH
double stitch = ds
picot = p
long picot = lp; note: 1lp = one long picot
small picot = sp; note: 1sp = one small picot
s = the second half of ds
This pattern is very easy to make. One only tip: be careful to the tension of the work when you close the central large ring.
Wind two shuttles.
R of * 4ds - 1lp (= one long picot) - 4ds - 1sp. *
Repeat from * to * 6 more times.
4ds - 1lp - 4ds. Close.
CH of 4ds - 1sp (= one small picot) - 7ds - 1p - 7ds - 1sp - 4ds, + (join to the first sp of the large R.
* CH of 4ds, + (join to the sp of the previous C) 7ds - 1p - 7ds - 1sp - 4ds, join to the next sp.
* Repeat from * to * 5 more times.
CH 7ds, insert the paper clip and work 200s (second half stitch only) to make the
spiral. Generally, I prefer to work the first half of the ds, but in this case, I worked the second half, naturally, you can use the method that you prefer.
Remove the paper clip, and the long spiral chain will be locked. Continue the CH with 7ds, join to the sp of the first chain worked, 4ds. Cut and hide ends.
Wrap the thread around the cardboard square for 20 times. With a needle, pass a new thread under the threads wrapped and through the bottom picot of the motif, tie and fix the threads together after removing the cardboard.
You can use this motif to decorate keys, bags, pillows or what you prefer.
Enjoy tatting!


Related Articles
Editor's Picks Articles
Top Ten Articles
Previous Features
Site Map





Content copyright © 2019 by Georgia Seitz. All rights reserved.
This content was written by Georgia Seitz. If you wish to use this content in any manner, you need written permission. Contact Georgia Seitz for details.