Storing Your Coins Safely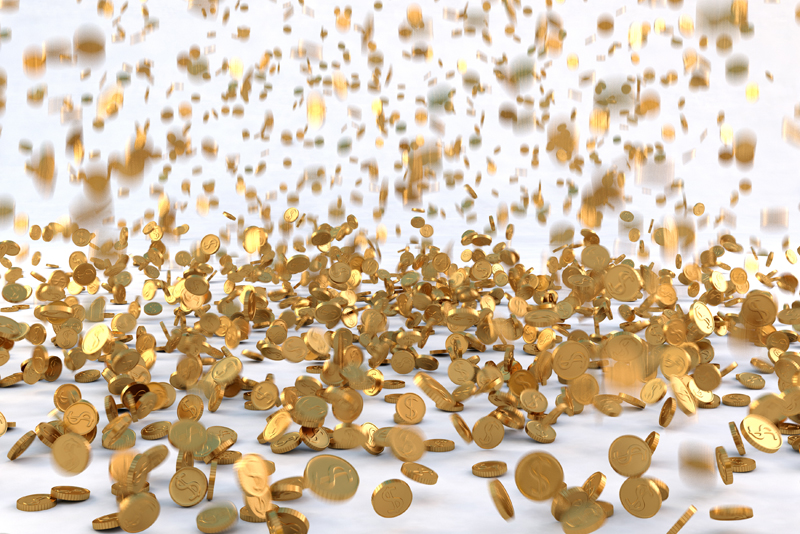 HOW TO STORE COINS SAFELY
Major problems with holding coins are the risks of fire, theft, and impairment of condition through environmental conditions. Accordingly, before you invest a lot of money in coins, resign yourself to the fact that you must invest additional money for the purpose of safe storage.

There are three primary ways to store coins:

(1) At a safe in your home or office,
(2) At a "hiding place" within your home or office, or,
(3) At a safe deposit box at a bank, savings and loan institution, or private safe deposit box company.

Home Safes

Safes possess disadvantages. Unless they are fireproof, the contents can quickly go up in smoke. Good safes are not by any means cheap. And even the best safes can be broken into. However, safes can be purchased that would prevent the average thief from penetrating it.

A good safe which is of high quality would start in the range of $2,500. But by all means, if this is the method you choose to protect your coins, then "BOLT IT TO THE FLOOR." It is amazing how many people will have thousands of dollars in a high quality safe only to see it rolled out the back door by some two-bit thief with a dolly.

The one major advantage of having your coins in your own safe is that you have control over your own valuables. Plus, you can also keep other valuables in addition to your coins such as guns, cameras and jewelry.

Hiding Places

Hiding places have disadvantages too. First, a hiding place can be inadvertently discovered by someone other than yourself. Secondly, you are still vulnerable to fires or floods. Lastly, your coins may be too bulky to fit in a conventional hiding place. Plus, you always take the chance that someone you can't trust may see you hide them.

Safe Deposit Boxes

Most collectors and investors keep their valuable holdings in a safe deposit box. True safe deposit boxes cost money and may offer limited access, but they are truly safe. It is not uncommon for people to report missing items from their safe deposit boxes.

Due to the cost of such storage, it is not practical to store cheap numismatic items in safe deposit boxes. By way of example, it is just not worthwhile to fill safe deposit boxes with common circulated wheat cents or common BU rolls of cents. Prior to making any numismatic investment consider how much room it will take up in a safe deposit box, and allow for the future expense involved. Further, I am informed that in certain areas of the country, bank safe deposit boxes are simply unavailable and you must leave your name on a waiting list for some time before you can rent one.

Safe deposit boxes offered by private companies usually offer the advantage of unlimited access during the day or night, but present the disadvantage of even higher cost than bank boxes.

Regardless of how you decide to store coins, you still may want to purchase special insurance to cover their value in the event of fire or theft.

HOW TO PREPARE COINS FOR STORAGE
Worthwhile coins can tarnish or become otherwise impaired if not properly preserved. If you spend $75.00 for a coin it is worthwhile to spend a few cents more to preserve its condition.

You may or may not purchase coins in such a way that they will be received by you properly preserved in their natural state. Cheaper coins are commonly sold bunched together — in bags, paper wrappers, cigar boxes, or tin cans. It would not be unusual to find worthwhile collections or accumulations arranged this way. When this happens remove the coins, if any, of significant value and proceed to preserve them for storage.

There are many ways to preserve coins. You can use:

Coin boards, albums, and folders,
Vinyl pages,
Tubes (for rolls or partial rolls),
2 X 2 envelopes,
2 X 2 holders,
Plastic holders and
Coin boxes.

For each of these the factors to consider are:

How well the numismatic item will be preserved,
The cost of preservation, and,
The space that will be taken up in a safe deposit box or other place of storage after the coin is so preserved or packaged.
Coin boards and albums are inexpensive as far as a per coin basis is concerned. They do take up considerable room (especially the more elaborate albums). Never place worthwhile coins in conditions of almost uncirculated or better in any board or album, because of the possibility of tarnishing or impairment from handling by human hands.
Vinyl pages in my opinion offer the same advantages and disadvantages as coin boards and albums. Currency is probably best stored with the use of vinyl pages.

Tubes are probably everyone's favorite for storing high-grade uncirculated coins, in quantity, other than rare pieces. First, they are very inexpensive. Second, when filled they do not take up much more room than the actual coins themselves. Thirdly, when closed tight, coins can be preserved as much as possible in their natural state. Do not mix circulated, uncirculated, or proof coins in the same tube. Square tubes are preferred to round ones for convenience, stacking and ease of storage.

2 X 2 envelopes are good for lower grade coins but are probably unsuitable for quality coins in better than extremely fine condition.

2 X 2 holders should probably be used in the same way as 2 X 2 envelopes.

Plastic holders are excellent for rare coins so long as they are airtight. They are relatively expensive and they do take up a lot of room. Anyone who owns U.S. proof sets dated 1968 and subsequent can attest to that fact.


Related Articles
Editor's Picks Articles
Top Ten Articles
Previous Features
Site Map





Content copyright © 2022 by Gary Eggleston. All rights reserved.
This content was written by Gary Eggleston. If you wish to use this content in any manner, you need written permission. Contact Gary Eggleston for details.