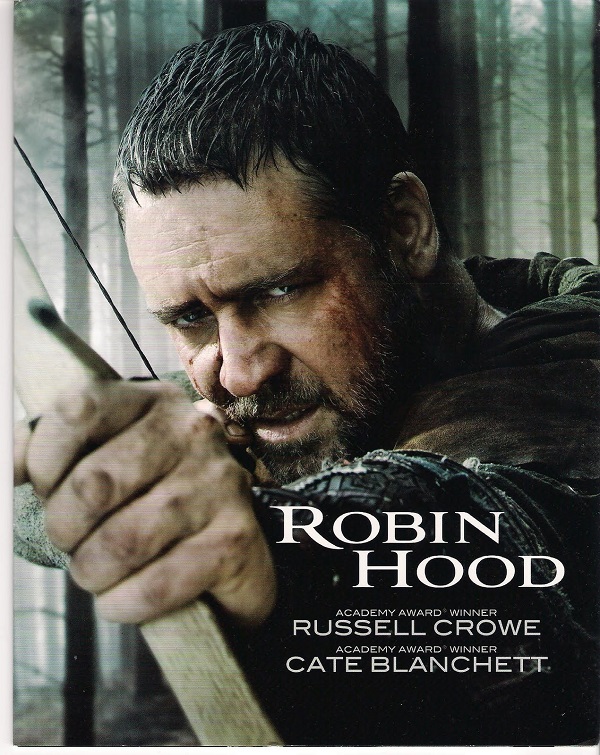 Robin Longstride serves King Richard during the Holy Crusades. After the King is killed in France, Robin and a small group of men come upon one of the king's group led by Sir Robert Loxley who have been attacked and mortally wounded by Prince John's trusted friend, Godfrey, who's on a mission to help the King of France take over England. Promising to return Loxley's family sword to his father, Robin and his friends travel to Nottingham to find an impoverished and struggling people. Loxley's father, Sir Walter, convinces Robin to stay under the ruse of being his long lost son and husband to wife, Marion. Leary at first, Robin soon rises and becomes the leader he was meant to be. Here are a few movie mistakes to look for in 2010's "Robin Hood".

• King Richard and his men are storming Chalus Castle. One of the Frenchmen is standing at the top of one of the castle's towers and picks up a crossbow. His left hand is holding the crossbow toward the end, while his right hand is back at the trigger. He's still holding the crossbow like this in the close-up as he's leaning over the tower wall. It cuts to a view of King Richard when he yells, "for England" and then a quick close-up view of the crossbow firing. In this view, the man's hands are switched on the crossbow, with the right hand being at the end of the weapon and his left back at the trigger.

• Marion is plowing the field when the Sheriff of Nottingham arrives. Her hair is pulled behind her when talking to him. When she says "No, no, no, he's not too proud", the view of her shows her braided her falls in front of her right shoulder. Her hair is pulled back again in the close-up when she says, "He's too poor".

• The Sheriff of Nottingham grabs Marion and asks, "Why do you make an enemy of me?". His right hand is on the left side of her head with his thumb on the side of her face. It cuts to a close-up of Marion and his hand is down.

• CAUTION: May Contain Spoilers! The Sheriff of Nottingham is reading the decree from King John labeling Robin of Locksley an outlaw. In the front view of him, when he says, "By royal decree", the Sheriff's right hand is holding the top corner of the document. It cuts to a farther view when he reads, "and all who shelter or aid him…", and his right hand is holding the bottom of the page. His right hand is on top of the parchment in the next close-up.

"Robin Hood" (2010) stars Russell Crowe, Cate Blanchett, Max von Sydow, William Hurt, Mark Strong, Oscar Isaac, Danny Huston, Eileen Atkins, Mark Addy, Matthew Macfadyen, Kevin Durand, Scott Grimes, Alan Doyle, Douglas Hodge and Lea Seydoux. It runs 140 minutes and is rated PG-13 for violence including intense sequences of warfare and some sexual content.

Get your copy of "Robin Hood" (2010) here:






Related Articles
Editor's Picks Articles
Top Ten Articles
Previous Features
Site Map



Follow @IGMovieMistakes
Tweet



Content copyright © 2019 by Isla Grey. All rights reserved.
This content was written by Isla Grey. If you wish to use this content in any manner, you need written permission. Contact Isla Grey for details.