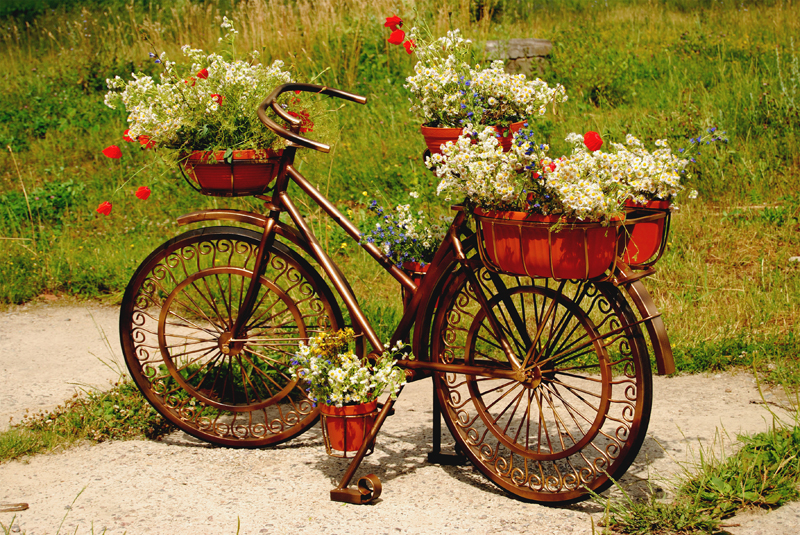 Have you cut down a tree lately? Has a tree fallen down in the rain? Do you have a friendly tree cutting service person who would give or sell you some wooden chunks? Do you live near the seaside and have you found some driftwood? All these questions will have an answer somewhere and with the wood you will find you can make a stumpery.

A stumpery is a garden feature that used to be very popular during the mid-1900s in Victorian England when ferns were very popular too, and while I doubt it ever went out of fashion or use completely, it became less popular as other garden trends took over. While a rockery uses rocks and suitable ?hot? plants, a stumpery uses logs, roots, stumps, bark or even worked timber such as railway sleepers ? and of course plants.

Essentially you fill crevices and the surrounding ground with plants thus replicating a woodland. As the wood rots (takes ages of course) your stumpery provides a habitat for fungi, bacteria and wildlife ? believe it or not a dead tree supports more life than a live one!

What is so nice with the return of the stumpery is that there are a host of plants that can be used and so, with the usual caveats, you would be able to build a stumpery wherever you live come rain or come shine because there are plants and ?fixings? to suit most places. Arranging your choice of plants in an artistic way using the wood that you have is fun and a chance to use your d?cor flair, imagination, colour, texture and all those little pots you may have lying around.

I came across this idea when I visited an open garden recently ? and there was a stumpery which looked like an extension of the garden but was actually a feature constructed in the shady side of the wrap-around patio. Besides using the wood stumps and a beautiful natural piece of dug up root, the gardener had also used a selection of containers that were hidden by plant material and moss. It really did look like a mini-woodland and, on a hot day outside, turning the corner and seeing it just made you cool down.

Her garden was full of surprises and this one was found by walking up a paved garden path where the paving stones were ?salami slices? of a large tree that had fallen down in the rain. These were inter-planted with a Creeping Jenny mat ? oh so pretty and an extension of the ?using wood idea?.

Designing a stumpery for your patio or container space will be as individual as the space, your weather conditions and season and your imagination, so let?s see what you need.

Wood pieces, small logs, tree stumps, crafted sleepers, wood blocks, uprooted trees. Plants like ferns, mosses and lichens, seasonal bulbs in flower, snowdrops or narcissi, Japanese anemones, foxgloves, celandines or primroses and such. Colour your stumpery or keep it cool in greens only, for as with anything in gardening, it?s your choice.

Before settling all in, prepare the space for the stumpery and make a note of the light available for your patch. A deep shade position (or dappled or higher light availability, will dictate the plants you can use. Thoroughly prepare the site, dig up compacted soil areas and incorporate leaf mould or fresh potting soil but avoid compost ? woodland flowers don?t really like too rich a soil mix. Place your tree stumps or whatever for the main design then fill in the spaces with changeable containers as the mood dictates.

East-maintenance stumperies can provide a pleasant alternative to lonely or dark patches in a garden or concrete back step areas that look bare and unfriendly. The bugs?ll love you and birds, reptiles and insects will find a comfortable home. If the conditions are right you may even entice a frog or two ? as for gardens, that?s a lucky thing.

What do you want your container garden to do?



You Should Also Read:
A White Moon Container Garden
Decor Theme Ideas
Frogs and Garden Toads


Related Articles
Editor's Picks Articles
Top Ten Articles
Previous Features
Site Map





Content copyright © 2023 by Lestie Mulholland. All rights reserved.
This content was written by Lestie Mulholland. If you wish to use this content in any manner, you need written permission. Contact Lestie Mulholland for details.