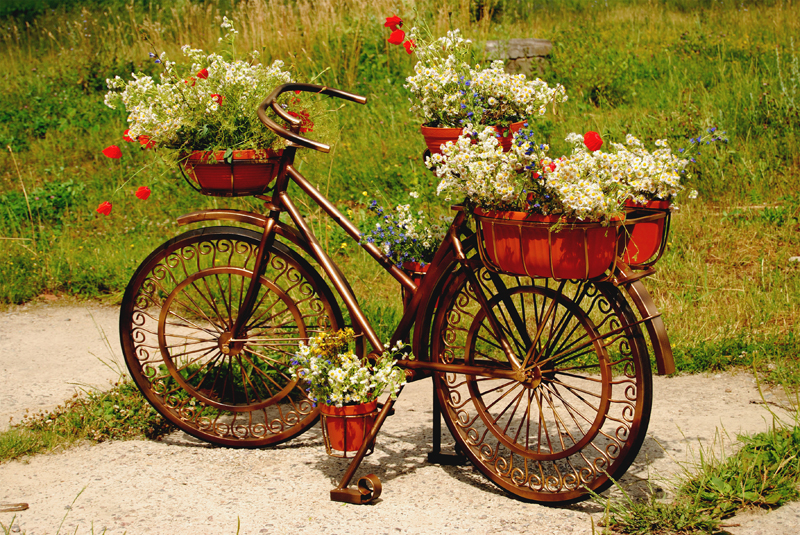 Growing potatoes in pots and containers and bags and raised beds and … yep, you guessed it, potatoes are friendly and will grow anywhere if you ask nicely! So what do we have to do to ask nicely?

Small space gardening means using the space you have with thought and method. Potatoes will take up more space than other containers because they need room to grow, so don't think of a small pot as you might for a flower or fern … to make it worth your while think of a container around the size of half a drum or a big grow bag or four or so tyres stacked on top of each other. Got the space?

Choose a large enough container and ensure, as always, that there are enough drainage holes for good water flow – potatoes do not like wet soil and will not grow or they can rot if the soil is wet rather than moist. Think of a car tyre and translate that size into other containers – or go larger. If you're lucky enough to have a raised bed and more space, great, especially if you are growing enough for friends and family or storage. My most successful potato crop was grown in a discarded black wheelie rubbish bin, cut waist high, given drilled drainage holes. If you are using a 'second-hand' container, make sure it has been cleaned with vinegar water and no 'old' soil is left behind. Also, do not use the same soil for growing potatoes year after year. One crop at a time, the clean and changes pots and soil.

Potatoes do not like clay-like soil, they like nutrient rich composted friable soil with added kraal manure. They also like a slightly acidic soil (you get acidic compost) but PH of 5-6 id good. Keep the soil moist and ensure good drainage adding peat moss will help too. Watch out for your last frost date and plant accordingly – potato soil must be warm enough to be nurturing for the seed potatoes you plant. They are a cool season crop so temperatures of around 16C/60֯ F are ideal.

Sunshine in varying degrees and all plants are friends and your potatoes will need healthy dose of sunshine daily (6-8 hours) with an outside temperature of around 60F would be just right.

Don't allow your potato crop to dry out – keep the soil moist with regular watering and make sure drainage is not blocked. Without a good watering regime, at least weekly, potatoes can turn out small and deformed.

Starting off with seed potatoes (you can buy these from a nursery) choose good stock to start your crop, you will see the eyes sprouting. Cut your larger potatoes into pieces leaving three or so sprouted eyes on each piece, rub off any others, you do not want to get overcrowding 'roots' fighting for nutrients and producing small potatoes. If you can't afford seed potatoes from a nursery then you may meet a friendly farmer who will have some untreated potatoes for you, or supermarket potatoes are okay. Sometimes these are treated with sprout inhibiting sprays, but many are not and if you leave store-bought potatoes in the dark for a while, they may sprout for you quite nicely. This pre-sprouting of seed potatoes is known as chitting.

After you have cut your sprouting potatoes, leave them to dry off for 2 to 4 days before you plant them, this way they get 'calloused' and will not rot (a smelly affair you want to avoid!) Don't worry if the exposed flesh changes colour – it will when it hits the air.

The stage is set and now it will be time to grow some spuds!

I enjoy the hand on approach needed to grow potatoes … it's a step by covered step and every time I come to add soil I imagine the warm nutty sweetness which will be my treat when I harvest. Fill the bottom of your container with around 7 inches of your good soil, place the seed potatoes, sprout-side up, at least 8 inches apart. Then cover with soil … only around 3 inches or so. Water them in (not soak) then wait for nature to get its act together, and it will.

Within about 2 weeks your potted potato leaves will grow up through the soil/mulch. When this happens, 7 inches or so, gently cover them with nutrient-rich soil again and keep on doing this until you reach the top of the container leaving about 3 inches free from the top. By doing this you are 'growing' your potatoes while protecting them from direct exposure to the sun. The solanine found in potatoes is activated by light and makes them green and bitter. Solanine is also said to be toxic, that's why after harvesting, it is best to store your potatoes in the dark and paper bags (not plastic).

As you are hilling (covering your growing potato plants), keep them well watered but not soggy and if you want to, add a dose of liquid fertiliser monthly. All should go well and you should be ready to harvest in around 90-110 days.

When to harvest? The plants will flower (lovely purple/mauve blooms) and then die back and the leaves will turn yellow. When they do, stop watering, wait a week then dig in! Don't leave them to die and dry out completely before you reap your reward, or you will have waited too long.

You can dig in to get the potatoes or just turn the container over and sort through the soil that way. Whatever, remove them, wash and dry them off then let them cure for around two weeks before storage. Of course you can eat them right away.

When it comes to potatoes and pests, the potato beetle, aphids and flea beetles are the most common, but are easily dealt with using organic systemic fertilisers, just follow the instructions on the bottle.

Simple things in life are usually difficult – I belong to the Mash Potato Society – and our members are in search of perfect mash … do have you a secret recipe?

What do you want your container garden to do?




Related Articles
Editor's Picks Articles
Top Ten Articles
Previous Features
Site Map





Content copyright © 2023 by Lestie Mulholland. All rights reserved.
This content was written by Lestie Mulholland. If you wish to use this content in any manner, you need written permission. Contact Lestie Mulholland for details.