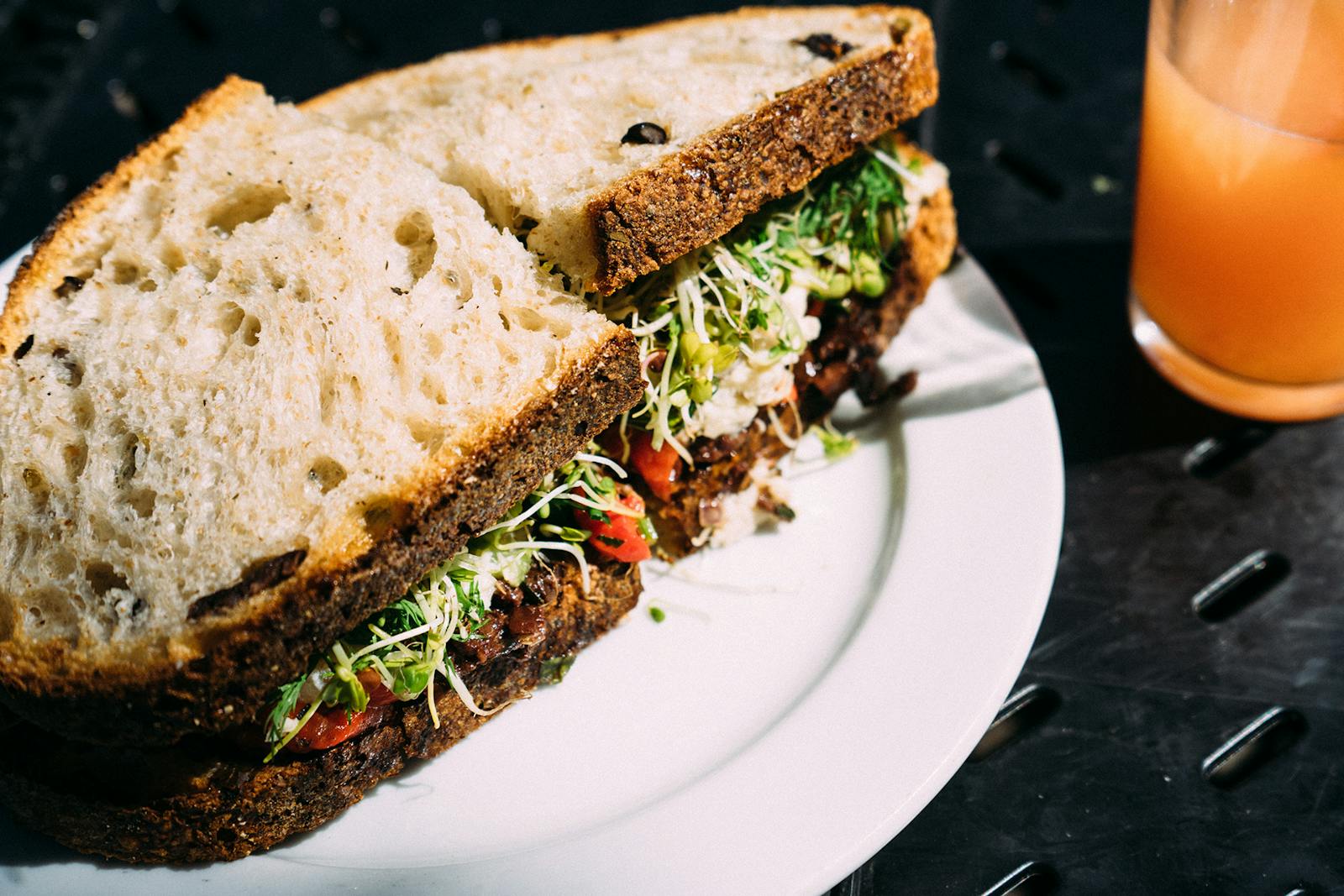 As I was making my Spicy Egg and Sprout Wrap for lunch, it occurred to me that an article about sprout sandwiches would be fun to write.

Over the years sprouts have gained a reputation for being little bacteria carriers. For that reason, I recommend that the fresh sprouts that you use on your sandwiches be grown in your own home. Whaaat? Grow sprouts? Yes, indeed! They are easy to grow and much cleaner and less expensive than the ones from stores. To avoid bacteria, use seeds that are sold for sprouting. They come in a variety of flavors. The secret to good sprouts is to rinse often and keep everything scrupulously clean.

Here is what you do for alfalfa sprouts. Get a quart canning jar and buy a sprouting lid or use a piece of cheesecloth and a rubber band to keep fruit flies out. It is important to wash everything that touches the sprouts thoroughly. Wash the jar, lid and ring, and sprouting lid or cheesecloth before using them. Save the lid and ring. You will need them in a week.

Soak alfalfa seeds for 6-8 hours in warm water. Rinse and drain the seeds. Shake the jar to spread them evenly on one side of the sprouting container. Place the container on its side with the bottom slightly elevated. I use a folded paper towel to elevate the bottom about 1/4- 1/2 inch. Rinse the seeds 2-3 times per day for 3 days. Run water into the jar and swirl the contents. Make sure that you are removing the floating hulls when you rinse. The hulls float to the top, and I run the water very slowly with the lid off, until the hulls float off. Then, I put the lid back on and drain the water. After 3 days, rinse the sprouts 2 times per day until harvest. By the seventh day, if not before, the sprouts will be ready to eat. If you want little green leaves, put them in bright light for the last day or two.

After the sprouts are ready to harvest, rinse them one last time and drain well. I rinse them in a deep bowl under gently running water to let the hulls float off. Then, I put them on a double thickness of paper towel to drain for about 30 minutes. Replace the sprouting lid with the lid and ring, if you want to store them in the washed jar. The sprouts can be stored in an airtight container in the refrigerator for up to 3-4 days. You can also use a clean plastic bag. Discard any unused sprouts after 4 days.

RINSING THE SPROUTS DAILY IS IMPORTANT. UNRINSED SPROUTS CAN MAKE YOU SICK.

10 Sprout Sandwich Ideas

*Wrap with cheese, egg, jalapenos, finely sliced onions, and radish sprouts wrapped into a low carb tortilla.
*Low carb tortilla wrap with beans, cheese, onions, and bell peppers, heated and wrapped around alfalfa sprouts and dressed with guacamole.
*Provolone, pepperjack, and Colby cheeses on sprouted grain bread with a thin tomato slice, alfalfa sprouts, and mayo.
*Hummus in a toasted pita pocket with Pico de Gallo and alfalfa sprouts.
*Grill your favorite flavorful cheese on sourdough in olive oil, lightly sprinkle the outside of the first grilled side of the bread with garlic powder, and stuff alfalfa sprouts inside the sandwich after it is grilled.

* Lamb meatballs with cucumber-dill sauce, red onion, and alfalfa sprouts in a pita.
*Chicken salad sandwich on rye, grilled and then dressed with alfalfa sprouts.
* Salmon patty with American cheese, tartar sauce, alfalfa sprouts, and thinly sliced tomato on a grilled hamburger bun.
* Salami, ham, pepperoni, provolone cheese, sliced peppadews, alfalfa sprouts, tomato, and sliced black olives, spritzed with oil and red wine vinegar in a baguette.
* Breaded and fried cod fillet, with alfalfa sprouts and tartar sauce on a lightly toasted potato roll.

In case you want to try my Spicy Egg and Sprout Wrap, here are the directions. On a microwave safe plate, place a low carb tortilla opened out flat. Sprinkle the flat tortilla with about a quarter cup of cheese. Arrange pickled jalapeno slices down the middle, and then cover those with thinly sliced sweet onion. Put the plate in the microwave, but don't turn it on.

Spray a small pan, about the size of the tortilla, with non-stick cooking spray. Heat the pan and pour a well beaten egg into the pan. Cover the pan and cook on medium heat until the egg is almost done. Turn the stove off and remove the pan from the heat. Set the microwave for 30 seconds and heat the tortilla and cheese. Put the egg flat on top of the tortilla, and then spread alfalfa sprouts down the middle. Roll up like a burrito and place it seam side down. Cut your wrap on a diagonal across the middle of the tortilla. Delicious! You could also add sliced avocado or some guacamole! Enjoy your sprout sandwiches!

You Should Also Read:
Brightly Colored Fruit Salad
Fizzy Drinks for Salad Meals
Chopped Salad Recipe


Related Articles
Editor's Picks Articles
Top Ten Articles
Previous Features
Site Map





Content copyright © 2022 by Connie Mistler Davidson. All rights reserved.
This content was written by Connie Mistler Davidson. If you wish to use this content in any manner, you need written permission. Contact Connie Mistler Davidson for details.