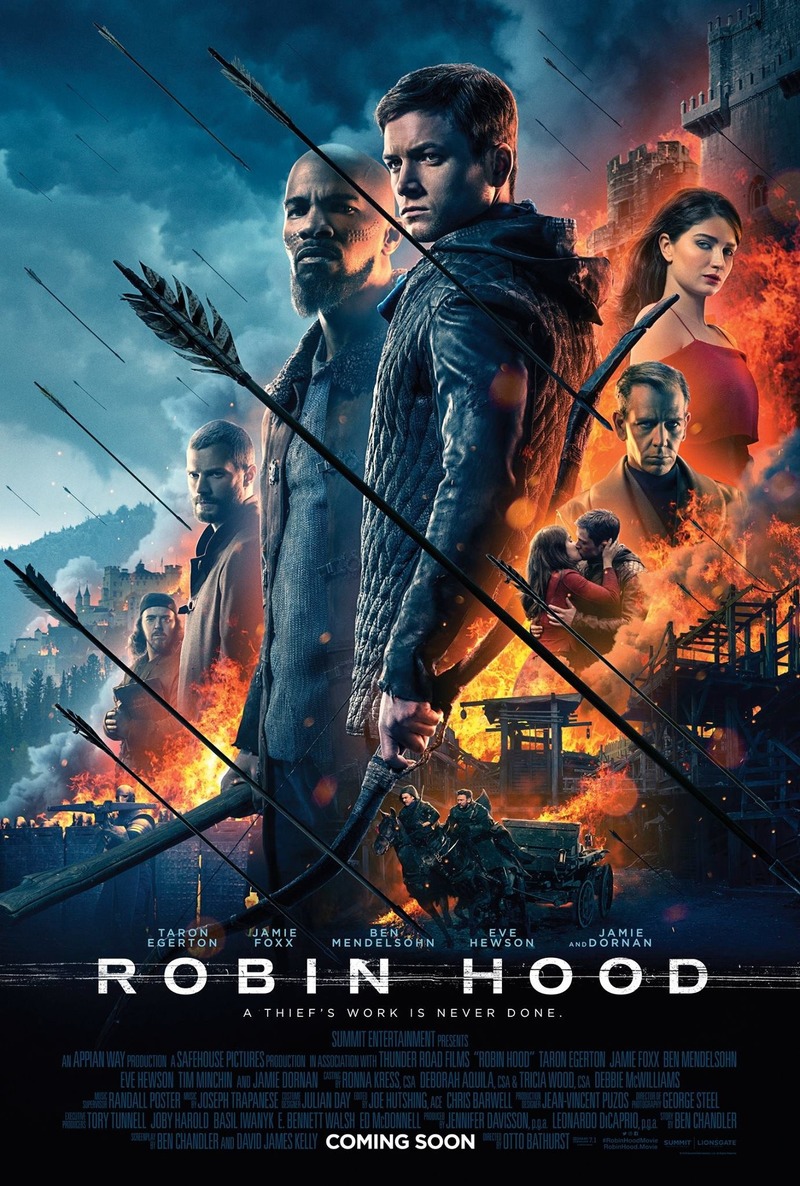 Robin of Loxley has everything—his wealth, estate, and the love of Marian, a girl he meets while she's trying to steal one of his horses. Having to leave everything behind, when he's drafted to serve in the Crusades, Robin returns only to find his property seized and Marian, convinced that he's dead, now living in the mines with Will Scarlet. Seeing the people of the region destitute and living in poverty under the rule and taxation of the Sheriff of Nottingham, Robin, along with his unlikely friend, Moorish fighter, John, concoct a plan to save them from his tyranny. Here are a few movie mistakes to look for while watching 2018's "Robin Hood".

· Marian is captured by Guy of Gisbourne during the attack on the mines. He pushes her into a wooden box on one of the wagons and locks it. The wagon is then taken by John and Robin. As they're being pursued, Robin is able to unlock the box and fee Marian. A few moments later, she kicks the box off the wagon and it splinters on the ground in front of the horses behind them. It cuts to a wider view of the wagon as they're being chased, and the wooden box is still on the wagon.

· Tuck is reading the documents to Robin regarding the payments the Sheriff of Nottingham has made over the years. Tuck is wearing glasses in the close-up. It cuts to a view of his hands on the documents and back to the original view when he makes the "not if we stop them" comment. The glasses he was wearing are now gone.

· The people from the mines are now in the woods, declared outlaws, after the melee with the Sheriff of Nottingham. Tuck starts to say, "I'm actually quite giddy to find myself an outlaw". He's shown in the background walking up to the sacks of coins. His hands are empty and there's nothing on his back. It cuts to a close-up and he ahs one sack of coins on his back. He then picks up more, with two dangling in front and two on his back and starts walking. The scene cuts to a farther view and the bags of coins are dangling on his back, not in the front.

"Robin Hood" (2018) stars Taron Egerton, Jamie Foxx, Ben Mendelsohn, Eve Hewson, Jamie Dornan, Tim Minchin, Paul Anderson, Ian Peck and F. Murray Abraham. It runs 116 minutes and is rated PG-13 for extended sequences of violence and action, and some suggestive references.

Get your copy of "Robin Hood" (2018) here:



Related Articles
Editor's Picks Articles
Top Ten Articles
Previous Features
Site Map



Follow @IGMovieMistakes
Tweet



Content copyright © 2019 by Isla Grey. All rights reserved.
This content was written by Isla Grey. If you wish to use this content in any manner, you need written permission. Contact Isla Grey for details.