Peanut Vegetable Soup Recipe for ADD Nutrition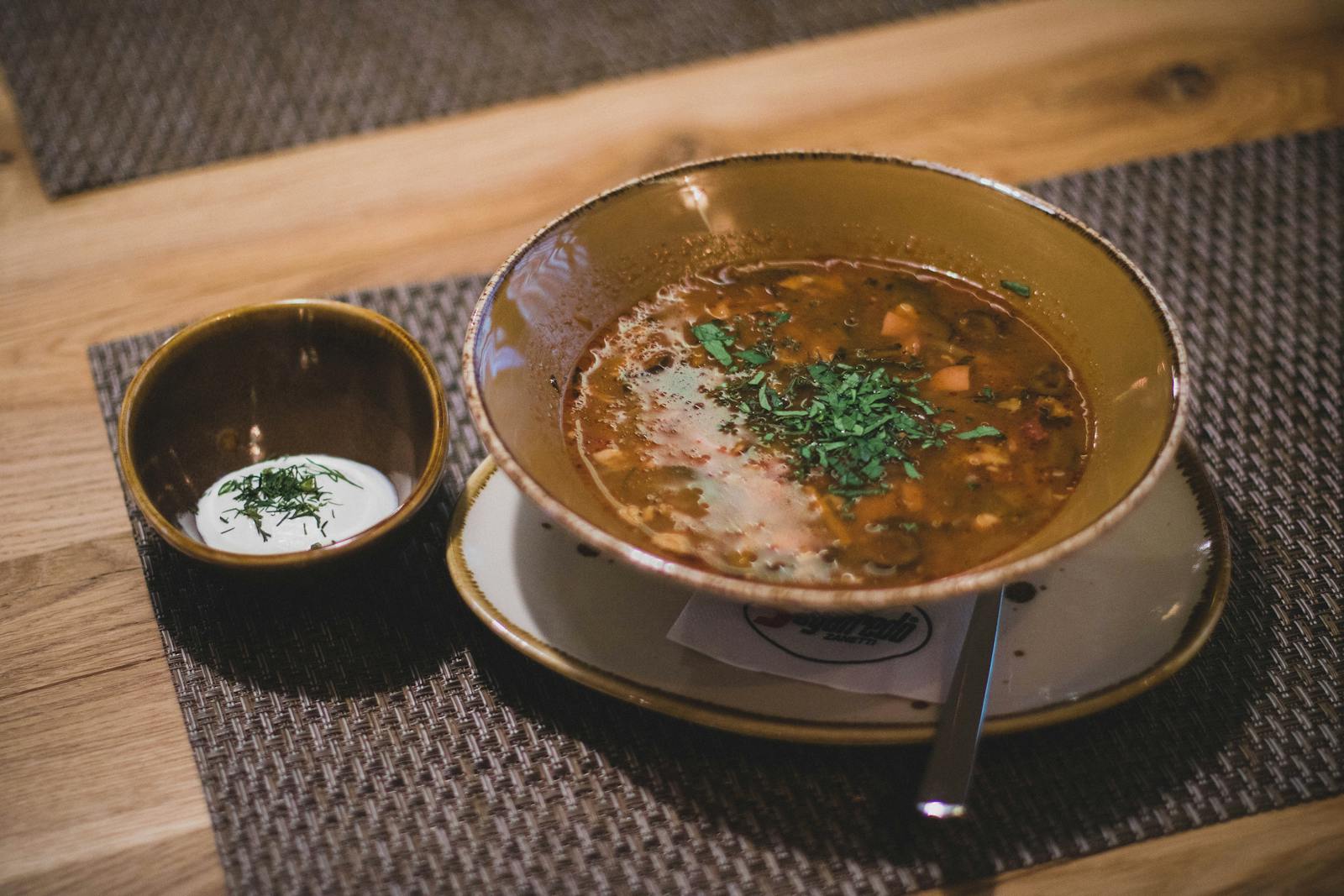 Peanut Vegetable Soup is a delicious soup that is also nutrient dense. What does nutrient dense mean? Just what it sounds like! The soup is filled with good fats, vitamins, minerals, antioxidants, and fiber. Sweet potatoes and collard greens are two of the best foods to eat to get great nutrition. Peanuts are a wonderful source of nutrients, as are onions. Better nutrition means better body chemistry, so the negative symptoms of Attention Deficit Disorder could be lessened.

Sweet potatoes are loaded with Vitamins A, B-5, B-6, B-1, manganese, and carotene. The starch in sweet potatoes raises the blood sugar more slowly than white potatoes or fruit sugars. Collard greens are a fiber-filled miracle food! These tasty greens contain a huge amount of Vitamins A and K. If you are taking a blood thinner, discuss this soup with your medical professional, since Vitamin K can interfere with the action of the blood thinner. Vitamins B-3, B-5, B-6, and C, as well as calcium are also found in significant amounts in collard greens. Folate is found in abundance in collard greens. Peanuts and onions also contain B vitamins and are a rich source of minerals.


Peanut Vegetable Soup for ADD Nutrition

Ingredients:

1 teaspoon of seasoned salt
1 teaspoon of Aleppo pepper (I get this at Penzey's. You may substitute other peppers, but use less of them. )
1 teaspoon paprika
2 teaspoons cumin
1/8 teaspoon Berbere seasoning-optional (Penzey's)
2 tablespoons of olive oil
2 tablespoons of coconut oil
3/4 cup of coarsely chopped onion
2 tablespoons of minced garlic
1 tablespoon of finely grated fresh ginger (Ginger powder does not substitute for fresh!)
1 teaspoon finely chopped jalapeno
3 tablespoons of tomato paste (These are not leveled spoons, I just scoop and wind up with a slightly heaped spoon. I use almost half a small can of tomato paste.)
4 cups vegetable broth (You may use any broth that you enjoy.)
2 cups of peeled and cubed, about half inch, sweet potato (This takes about 1 large sweet potato. If you have a bit more than 2 cups, just throw that in, too!)
14-16 ounces thawed collard greens
1/2 cup chopped fresh cilantro
1/2 cup chopped green onions or chives
Juice of 1/2 lime (About 2 tablespoons.)
1/2 cup of smooth or chunky peanut butter (I use Jif chunky.)
water for thinning the soup

Method:

Measure the dry spices into a small bowl and set aside. Measure garlic, ginger, and jalapeno into another small bowl and set aside. Measure the tomato paste into a small bowl that has been sprayed with non-stick spray, so that the tomato paste will just slide right out. Spray your tablespoon before measuring, too, and the tomato paste will just slide right into the bowl. Measure 2 cups of broth, and have it ready to go. Spray a half cup measure with non-stick cooking spray and measure the peanut butter.

In a large, heavy Dutch oven over medium heat, add the olive and coconut oils and heat them until a piece of onion sizzles when it is dropped into the oil. Add the onions and cook them until they are translucent. Then, add the garlic, ginger, and jalapeno to the onions. Stir for about a minute, and then add the dry spices. Stir constantly for another 30 seconds to a minute, until the spices release their fragrances. Watch carefully, so that they do not burn. Stir in the tomato paste, and quickly stir in 2 cups of the broth. When the ingredients are well mixed, stir in the final two cups of broth. Stir until the broth is evenly mixed into the seasoning ingredients.

Turn the heat to high and bring the mixture to a boil. Add the sweet potatoes and collard greens. Keep the heat high, and bring the mixture back to a boil. Reduce the heat to medium and simmer the soup, covered, for about 30-45 minutes. The timing depends on the age of the vegetables. Stir occasionally, scraping the bottom of the pan to keep the soup from sticking. After 30 minutes, the collards should be very tender, and the sweet potatoes should be very soft. If this isn't the case, continue cooking until they are. You may need to add a little water, depending on how much the extra cooking reduces the liquid.

Turn the heat to low. Mash the sweet potatoes to thicken the broth. I use a flat potato masher. There should still be lumps of sweet potatoes. This is not a smooth soup. Add the cilantro, green onions, and lime juice. Cook, uncovered, on lowest heat for 5 minutes. Stir the peanut butter in and cook on lowest heat for 10 minutes. Adjust the liquid, if needed. If the soup is thicker than you want it, add water or broth, a little at a time, until it is your desired consistency.

Store the cooked soup in the refrigerator for up to 3 days. This soup is even better after the first day!

You may use more or less of the ingredients to suit your tastes. This is a very forgiving soup, where you do not need absolutely tight measurement. You may substitute ingredients, if you do not have a spice. I love Aleppo pepper. It has a distinctive flavor with a little kick of heat. The heat level is about half of cayenne's, so if you substitute another pepper for the Aleppo, adjust the heat accordingly. Berbere is a rich, hot spice that has a flavor like no other. I adore Berbere, and Penzey's is my favorite. If this spice is not part of your spice cabinet, I highly recommend adding it.

This recipe makes a lot of soup. You can serve it really thick, like a stew, or thin it out for a soup. It depends on how much liquid that you add. Many of the soup recipes that I publish take a short while to make. This one takes about an hour and a half to two hours from start to finish. The hardest part is cutting the sweet potato. When my husband chops for me, I have lovely uniform-sized cubes. Mine are pretty randomly sized. That's okay! Whatever works; and with this soup, it is easy to make things work out.


Related links: The Related Links below this article may be of interest to you. These articles on this site are provided for information and are not written by a medical expert. There is no actual or implied endorsement of the BellaOnline article from any professional or organization that is referenced in these articles.

There are times when I recommend an item related to my article and add an Amazon link, so that you can check it out. I am an Amazon Associate, and when you purchase an item after clicking on my link, I do make a commission for purchases made through that link.

NEWSLETTER: I invite you to subscribe to our free weekly newsletter. This gives you all of the updates to the ADD site. Fill in the blank below the article with your email address - which is never passed on beyond this site. We never sell or trade your personal information.





You Should Also Read:
ADD and Internet Nutrition Resources
Nutrition and Attention Deficit Disorder
Blueberry Yogurt Healthy Desserts for ADD


Related Articles
Editor's Picks Articles
Top Ten Articles
Previous Features
Site Map





Content copyright © 2022 by Connie Mistler Davidson. All rights reserved.
This content was written by Connie Mistler Davidson. If you wish to use this content in any manner, you need written permission. Contact Connie Mistler Davidson for details.