Luscious Pork Sandwich Ideas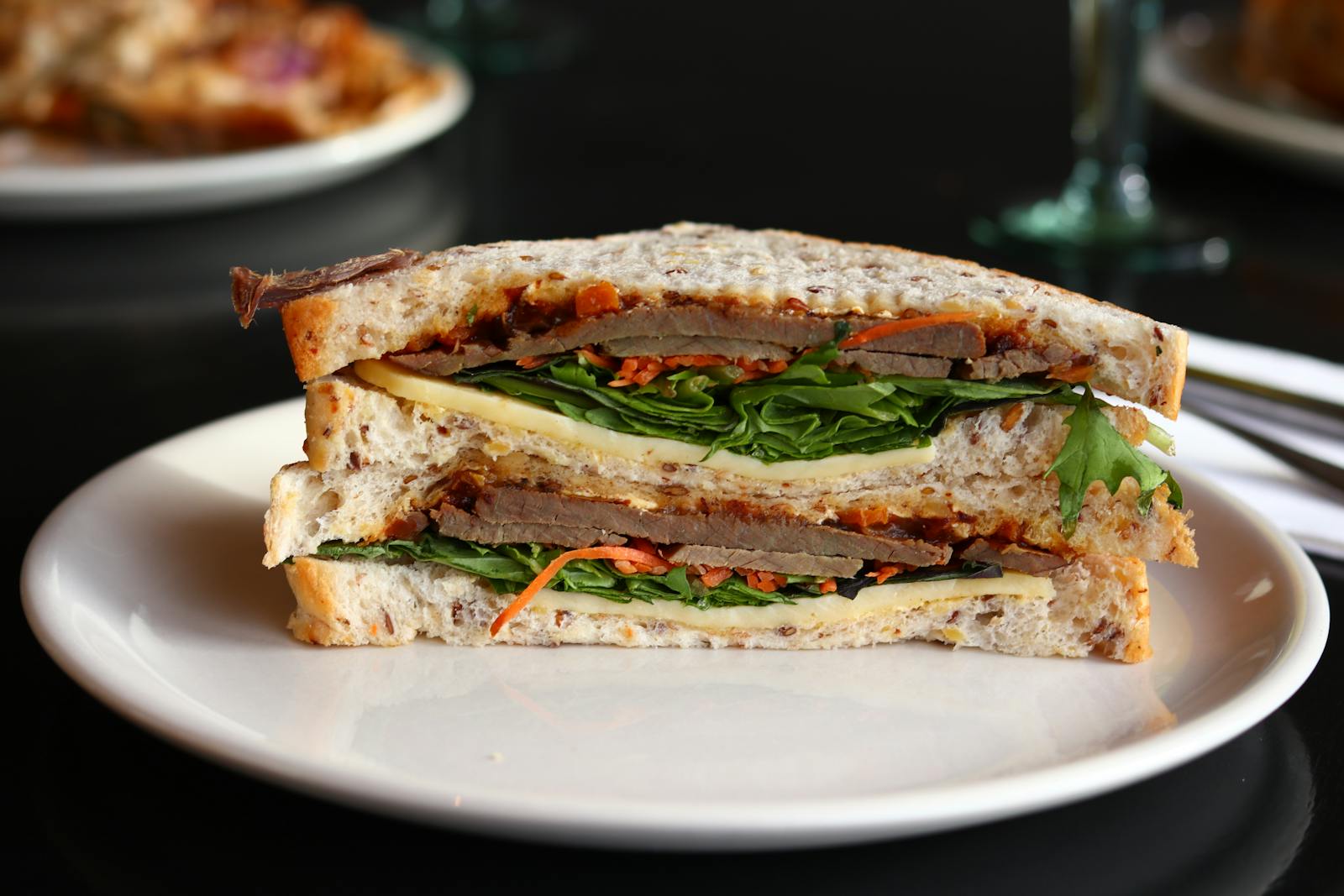 When I was growing up, pork was thought of as a fatty meat. Today's pork is much leaner, especially if you buy it from a local source. Small family farms raise pigs, since they don't take up as much room as cows. If you are fortunate, you can buy a whole or half hog from a family farmer. You pay the farmer for the meat, and then you pay the butcher shop for processing. The farmer delivers the pig to the butcher. They process it. You wind up with superior meat for less money than you would pay in the store.

Recently, we bought a half of a hog. Other than cost, there are several advantages to doing this. First, I do not like to eat meat that was never allowed any freedom. I saw how this pig lived on the farm. I know that it was fed a healthy diet, and it didn't have any antibiotics in the feed. Next, I know where it was processed and that they use humane methods. Finally, I can get the pig processed the way that I want it.

We didn't want a bunch of ham. We have a small amount of cured meat, including bacon, ham hocks and shanks, and their delicious 4 cheese brats. We have ribs for cooking out. We also have both thin and thick cut pork chops. The rest of the meat is ground pork and the Mound City Butcher Block's tasty sausage. For a little over $300, we have almost 80 pounds of delicious, succulent meat. You can bet that some of it will be tasty sandwiches. Here are some pork sandwich ideas.

12 Luscious Pork Sandwich Ideas

*Ground pork mixed with garlic, chives, seasoned salt, Parmesan cheese, Italian bread crumbs, and an egg, grilled until done and served on a brioche roll with pesto mayonnaise and spinach leaves.
*Pork chunks cooked with peppers, onions, and garlic, sprinkled with cheese, and served in a lettuce wrap or flour tortilla.
* Onion ring on a spicy barbecued pulled pork sandwich on a bun.
* Giardiniera, sliced tomatoes, and a ground pork patty wrapped in a flour tortilla with melted mixed cheese.
*Lettuce wraps with minced pork mixed with finely chopped sweet onion, celery, and peppadew peppers served with a dipping made of soy, ginger, scallions, cilantro, and chunky peanut butter.
* Hot pineapple habanero sauce mixed with barbecue sauce and added to chopped, charcoal grilled ground pork patty, then stuffed with dill pickles and slivered onions into a pita.
* Grilled pork cutlet with honey-mustard and Romaine lettuce on a potato roll.
* Egg bun with hot ham and melted Swiss cheese with spicy mustard.
*Lettuce wrap with refried beans, cheese, guacamole, and pork chunks simmered in enchilada sauce.
* Pork brat with cheese grilled and served on a bun with onions, pickle relish, mustard, and catsup.
*Artisan bread with thinly sliced roast pork, melted pepperjack cheese, pineapple habanero flavored mayo, and veggie condiments.
*Sausage patty on an onion bun with mayo, mustard, and lettuce.

In addition to being a succulent meat, pork is versatile. It can easily absorb the flavors that it is cooked with. Be creative! Use your favorite flavors and condiments to build some amazing luscious sandwiches. Then, tell us about them on the BellaOnline Sandwiches Forum.

Related links: The Related Links below this article may be of interest to you.

When I mention stores or products by brand name, these are the ones that I use. I have not received free products from the manufacturers, nor have I been paid to mention the products or stores by name.

NEWSLETTER: I invite you to subscribe to our free weekly newsletter. This gives you all of the updates for the Sandwiches site. Sometimes, this newsletter has information and variations on sandwiches that are not in the articles. Fill in the blank below the article with your email address - which is never passed on beyond this site. We never sell or trade your personal information.


You Should Also Read:
Broccoli Salad Recipe
Creamy Coleslaw Recipe
Potato Salad with Pickles and Pimentos


Related Articles
Editor's Picks Articles
Top Ten Articles
Previous Features
Site Map





Content copyright © 2022 by Connie Mistler Davidson. All rights reserved.
This content was written by Connie Mistler Davidson. If you wish to use this content in any manner, you need written permission. Contact Connie Mistler Davidson for details.